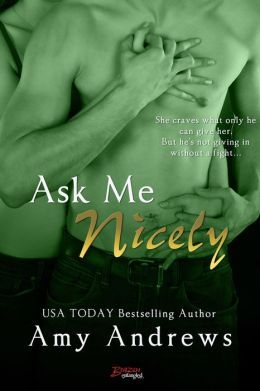 Purchase
She craves what only he can give her. But he's not giving in without a fight...
Entangled Brazen
March 2015
On Sale: March 3, 2015
ISBN: 1633752437
EAN: 9781633752436
Kindle: B00TDQ1S9Y
e-Book
Add to Wish List

Romance Contemporary | Romance Erotica Sensual
Veterinarian Sal Kennedy's lost her mojo and is desperate to get it back. In fact, as the anniversary of the tragedy that destroyed her life looms large, she'll do anything to erase the painful memories, including overdoing the tequila and making a pass at the most annoyingly inappropriate man on the planet. Fellow veterinarian Doyle Jackson is her flatmate and her employee and therefore strictly off-limits.
Unfortunately, Doyle knows how to bring the goods and make her mojo sit up and beg. Doyle is only too happy to oblige Sal in her hour of need, but then she demands more, and she's perfectly happy playing dirty to get it. He wants more, too—more than just sex, that is, and it's something Sal's not willing to give. But Doyle is in this for the long haul now, and he's prepared to fight even dirtier to get what he wants. Even if that means they both keep losing all their clothes in the process…
Comments
14 comments posted.
Re: Ask Me Nicely

Insta-lust yes Insta-love NO
(MaryEllen Hanneman 12:34pm March 4, 2015)
Yes , But it doesn't always work both ways. Thanks for this giveaway , I'm keeping my fingers crossed .
(Joan Thrasher 1:09pm March 4, 2015)
I guess it can be insta love... my mom knew the moment she met my dad he was the one... it took him a while longer...
(Colleen Conklin 3:21pm March 4, 2015)
No I do not believe in instant love. Yes, I believe there
can be an attraction you work on and find things uncommonly
I think if you immediately fall, it is lust. Just my own
worthless opinion.
(Vicki Hancock 6:58pm March 4, 2015)
I guess insta love could happen but I've never seen it.
(Pam Howell 9:46am March 5, 2015)
I believe in insta-love, as you put it, because it happened
to me, too!! The first time I saw my Husband, I knew he was
the man I was going to marry!! I had to carry a torch for
him for a few years, but when he asked me to marry him, I
was over the moon!! We've been together for over 32 years,
and look back and laugh about those early days now. He
always says to me how he wishes he had married me sooner,
and how much time he wasted not being with me right from the
start!! We can't turn back time, but we can love the time
we have left together!! I am looking forward to reading
your book, and have it on my TBR list. I also enjoyed
reading about your love story. I connected to it
immediately, and it took me back to mine, even though mine
was a bit different. Congratulations on your forever-
after!!
(Peggy Roberson 10:13am March 5, 2015)
Yes, beshert and fate.
(Sharon Berger 10:31am March 5, 2015)
Yes to insta-love!
It didn't happen with my husband and me, but I do believe in it. It took us a couple years before we started dating. We've now been together for 23 years.
Thanks for the opportunity to win!
(Kelly Powell 10:41am March 5, 2015)
Yes to Insta-love . It happened with my husband and i but
that was after we heard about each other thru his ex-
mother in law and i lived in Ca and he lived in ia. But
now we both live in ia and have been married 12 years
and so happy with 2 chiwahwahs and several children
between us but we are empty nesters and loving it.
(Peggy Clayton 12:17pm March 5, 2015)
I believe in true love and soul mates, but i think it depends
on the couple whether or not it is insta-love. My hubby and i
knew eachother for 6 months before dating, but everything
after that happened quickly (engagement, pregnancy)It all
depends on the people involved.
(Rachel Collings 12:30pm March 5, 2015)
I enjoy the love-at-first-sight concept, but did not have a great experience
with it. I fell hard for my first husband. From the first meeting, I was totally
intrigued and marriage followed within months. Three years and one son
later, a very bitter divorce. Then I was introduced to a man that had I not
been paired with as his sponsor to help him get settled into his new base,
Torrejon Air Base near Madrid, I wouldn't have given a second thought, let
a lone second look. He became a great friend and feelings grew on me
slowly. We will celebrate 30 years this fall...not to mention 7 boys and 2
girls. But perhaps it happens that way for the lucky few...
(Kelly Knapp 2:05am March 6, 2015)
thanks for the chance

susan gannon
(Susan Gannon 7:25am March 6, 2015)
Im am a believer because like you at age 12 one day I looked
at a very good friend of mine and it hit me that he was mine
not just mine for the moment but eternity. I ran as fast and
as far as I could. |Over the years when the whatever you want
to call it when I was in need of someone most times with out
even knowing it myself he would pop up as if by command and he
would see me thru my struggle then Id disappear because I was
young but when I hit age 15 I was a goner and we started
dating and we,ve been togethet\r 25 yrs next month. I felt
like a Fuke who was pressured but for me it wasnt people but
fste. You cant run from it know matter how hard you try. LOL
(Michele Gardner 9:27am March 6, 2015)
Insta-love- YES 48 years later to prove it!
(Jane Cavanaugh 8:31pm March 6, 2015)
Registered users may leave comments.
Log in or register now!