Amy Andrews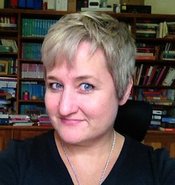 Blogging at Fresh Fiction
Amy Andrews | The One Where I Joined Tinder...
April 28, 2020
When setting a book in a world that involves the heroine going on Tinder, it was important to me to try and understand how Read More...
Amy Andrews | I Like Big Buns and I Cannot Lie
July 16, 2019
I've been published for fourteen years and put out a lot of books – over 70 at last count. Across those 70 Read More...
Amy Andrews | Hot Rugby Dudes Dancing.
July 14, 2016
So, I'm writing a series centred on an Australian rugby team – the Sydney Smoke. Not being the most sport-obsessed person in the world Read More...
Amy Andrews | Love at First Sight
March 4, 2015
My name is Amy Andrews and I am a hopeless, unashamed believer in love at first sight. The romance genre takes a huge hit over Read More...
Amy Andrews | 10 Things to Consider Before Attempting Pages from an Illustrated Sex Guide.
October 1, 2014
After 40 + books as a published author I can tell you that I have researched a many and varied range of topics. Most of them Read More...
Amy is an award-winning, best-selling Aussie author who has written seventy plus contemporary romances in both the traditional and digital markets and been translated into over a dozen languages including manga. She is a USA Today best-seller and a triple RITA finalist.
Her books bring all the feels from sass, quirk and laughter to emotional grit and panty-melting heat. She likes to make her readers tingle, laugh and sigh with lots of sex and kissing and always, always a HEA!
She loves, good books and great booze although she'll take mediocre booze if there's nothing else. For many, many years she was a registered nurse which means she knows things. Anatomical things. And she's not afraid to use them!
She lives near the sea with her husband of 29 years.
Log In to see more information about Amy Andrews
Log in or register now!
Series
Sydney Smoke Rugby | Credence, Colorado
Books:
Asking for Trouble, May 2020
Credence, Colorado #3
e-Book
The Trouble with Christmas, October 2019
Credence, Colorado #2
Paperback / e-Book
The Kissing Contract, July 2019
Wrong Sides of the Tracks #1
e-Book
Nothing But Trouble, May 2019
Credence, Colorado #1
Mass Market Paperback / e-Book
Playing Dirty, July 2018
Sydney Smoke Rugby #6
e-Book
Playing House, February 2018
Sydney Smoke Rugby #5
e-Book
Playing With Forever, October 2017
Sydney Smoke Rugby #4
e-Book
Troy, July 2017
American Extreme Bull Riders Tour #5
e-Book
Hot Mess, May 2017
e-Book
Playing the Player, February 2017
Sydney Smoke Rugby #3
e-Book
Playing It Cool, September 2016
Sydney Smoke Rugby #2
e-Book
Playing By Her Rules, July 2016
Sydney Smoke Rugby
e-Book
Seven Sins, October 2015
e-Book
The Colonel's Daughter, August 2015
e-Book
Ask Me Nicely, March 2015
e-Book
The Hero, February 2015
Hot Aussie Heroes
e-Book
No More Mr. Nice Guy, October 2014
e-Book
'Tis the Season, December 2013
e-Book
'Tis the Season to be Kissed, November 2013
e-Book
The Devil and the Deep, February 2013
Temptation on Her Doorstep
Paperback / e-Book
Baby It's Cold Outside, December 2012
e-Book
Taming the Tycoon, August 2012
e-Book
Italian Count's Baby, October 2008
Mediterranean Doctors
Mass Market Paperback (reprint)
Mission: Mountain Rescue, July 2006
Miniseries: 24/7
Paperback
The Nurse's Secret Son, March 2006
ER Drama
Paperback