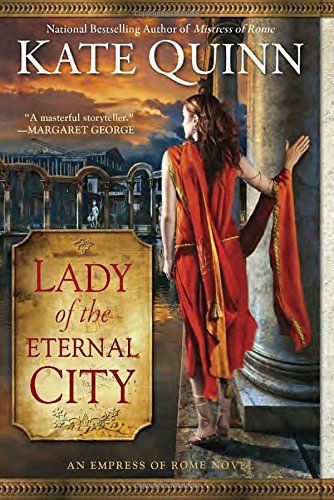 Purchase
Lady Of The Eternal City
Kate Quinn
Empress of Rome #4
Berkley
March 2015
On Sale: March 3, 2015
Featuring: Sabina; Hadrian; Antinous
528 pages
ISBN: 0425259633
EAN: 9780425259634
Kindle: 0425259633
Paperback / e-Book
Add to Wish List

Elegant, secretive Sabina may be Empress of Rome, but she still stands poised on a knife's edge. She must keep the peace between two deadly enemies: her husband Hadrian, Rome's brilliant and sinister Emperor; and battered warrior Vix, who is her first love. But Sabina is guardian of a deadly secret: Vix's beautiful son Antinous has become the Emperor's latest obsession.
Empress and Emperor, father and son will spin in a deadly dance of passion, betrayal, conspiracy, and war. As tragedy sends Hadrian spiraling into madness, Vix and Sabina form a last desperate pact to save the Empire. But ultimately, the fate of Rome lies with an untried girl, a spirited redhead who may just be the next Lady of the Eternal City . . .
Empress of Rome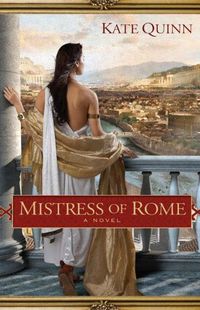 Mistress Of Rome
#1.0
Amazon.com | BN.com | | |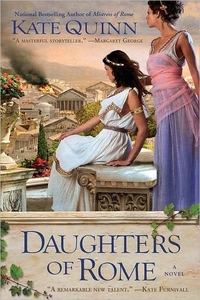 Daughters of Rome
#2.0
Amazon.com | BN.com | | |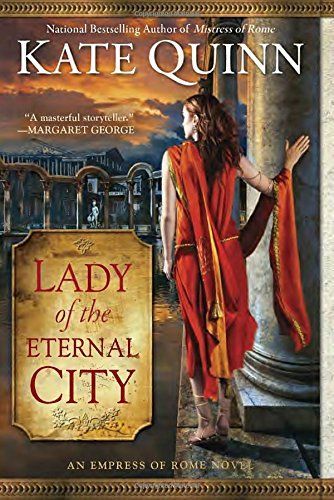 Lady Of The Eternal City
#4.0
Amazon.com | BN.com | | |
Comments
20 comments posted.
I love the History! I haven't read any Empress of Rome...
yet... ;)
(Kelly Braun 1:47am March 24, 2015)
Would Love to win and read. Sounds like a great book.
(Sharon Cook 7:50am March 24, 2015)
I haven't tried this series yet, but I loved The Serpent
and the Pearl! Thanks for making yourself available to
readers in this forum.

Roman history is fascinating for all the drama of course!

Cheers--
(Kara Shamy 8:03am March 24, 2015)
I have enjoyed your books. Appreciate the chance to win a
good book.
(Leona Olson 9:34am March 24, 2015)
I don't get excited by Rome in general. I get excited about
reading anything to do with History as a rule - be it
anything to do with Russia, England, Rome, wherever!! I
took the time to walk away and look at the books that I've
already read, because there have been so many, and it seems
that I read mostly about Catherine the Great, which we know
has to do with Russia. I would be thrilled to read your
latest book, to familiarize myself with the Empress of Rome,
and begin learning more about that History as well. As for
England, I've only read about the Knights, mostly, except
for recent History, which doesn't have to do with you, but
Roman History seems to have gotten away from me.
Congratulations on your latest book, and it will be on my
TBR list for sure!! I love the cover, too!!
(Peggy Roberson 12:13pm March 24, 2015)
Rome is fascinating and Roman history is captivating,
wonderful and extraordinary.Thanks for this great feature and
post.
(Sharon Berger 12:35pm March 24, 2015)
Any country's history is always fascinating because even though it's always taught to us a certain way, it's not exactly truth (because it's only one side of the story). I'd say Rome's history is the most fascinating part of it.
(Lisa L. 1:10pm March 24, 2015)
I love all the history of rome. wish I could go back in time and watch how they did things. the games, ships, etc
(Angela Parrish 4:37pm March 24, 2015)
Hi Kate. It's been a while since I read any Roman historical romance. I
remember being full of politics, war and sexuality.
(Kantu Malhotra 5:33pm March 24, 2015)
I find the theme interesting.Not only a book to enjoy but a
chance to learn also.
(Mildred Mayo 7:30pm March 24, 2015)
The pageantry and history of ancient Rome is fascinating. I have not yet read any books in the Empress of Rome series, but Lady of the Eternal City sounds intriguing and I have added it to my wishlist.
(Bonnie H 9:11pm March 24, 2015)
What excites me about ancient Rome has so much
fascinating history. I love the events that has happened
before, especially in the time that Jesus Christ walked
the earth. History is so awesome and very interesting.

GOOD LUCK EVERYONE TO ALL WHO ENTERS THIS GREAT CONTEST!
(Renae Kelly 1:03pm March 25, 2015)
thank you for the chance
(Susan Gannon 7:56am March 26, 2015)
The history and drama from ancient Rome is fascinating.
(Pam Howell 8:47am March 26, 2015)
Your a new author to me and your books with Rome history sound like a wonderful read. Rome always holds an air of mystery and intrigue to me, and it's people are always so full of emotion. Would love to read this.
(Brenda Rumsey 9:51am March 26, 2015)
I love to read about Rome , would love to be able to go see someday . Thanks for this giveaway and good luck to all .
(Joan Thrasher 10:45am March 26, 2015)
I love the history of ancient Rome. They had so much b
influence over the world. I have never read an Empress of Rome
novel, but would love to.
(Rachel Collings 10:47am March 26, 2015)
Sounds like a great book. I love historical fiction!
(Kathleen Gardiner 2:24pm March 26, 2015)
I love historical fiction!
(Denise Austin 4:20pm March 26, 2015)
History, love and adventure - all my favorites in one book!
Than you for the chance to read!
(Karen Wright 9:01pm March 26, 2015)
Registered users may leave comments.
Log in or register now!