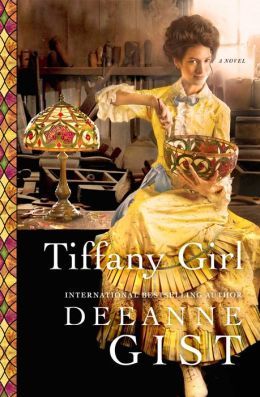 Purchase
Howard
May 2015
On Sale: May 5, 2015
Featuring: Flossie Jayne; Louis Tiffany
544 pages
ISBN: 1451692447
EAN: 9781451692440
Kindle: B00LD1S0G6
Paperback / e-Book
Add to Wish List

From the bestselling author of It Happened at the Fair and Fair Play comes a compelling historical novel about a progressive "New Woman"—the girl behind Tiffany's chapel— and the love that threatens it all.
As preparations for the 1893 World's Fair set Chicago and the nation on fire, Louis Tiffany—heir to the exclusive Fifth Avenue jewelry empire—seizes the opportunity to unveil his state-of-the-art, stained glass, mosaic chapel, the likes of which the world has never seen.
But when Louis's dream is threatened by a glassworkers' strike months before the Fair opens, he turns to an unforeseen source for help: the female students at the Art Students League of New York. Eager for adventure, the young women pick up their skirts, move to boarding houses, take up steel cutters, and assume new identities as the "Tiffany Girls."
Tiffany Girl is the heartwarming story of the impetuous Flossie Jayne, a beautiful, budding artist who is handpicked by Louis to help complete the Tiffany chapel. Though excited to live in a boarding house when most women stayed home, she quickly finds the world is less welcoming than anticipated. From a Casanova male, to an unconventional married couple, and a condescending singing master, she takes on a colorful cast of characters to transform the boarding house into a home while racing to complete the Tiffany chapel and make a name for herself in the art world.
As challenges mount, her ambitions become threatened from an unexpected quarter: her own heart. Who will claim victory? Her dreams or the captivating boarder next door?

Media Buzz
News at 4: Wednesday Reads - June 10, 2015

Awards
Romance Writers of America RITA, Historical Romance: Long, July 2016

Comments
3 comments posted.
Re: Tiffany Girl

Love historical because I always learn something. I am from
Monahans near Odessa. I have added you to my TBR authors.
Congratulations on the awards.
(Leona Olson 10:51am May 6, 2015)
Even though your book shows women starting to branch out on
their own, I really like the fact that back in those days,
men were more reserved, and showed women a bit more
restraint and respect. Now it seems that women are looked
at more as a notch for their bedposts, more than for their
brains, in many cases, which is sad, and to their
disadvantage. I'm so glad that you came here today, not
only to let us know about your latest book, which I'm
greatly anticipating reading, but to thank you for writing
about Historical fiction!! It's a good thing to keep our
past out there for our younger readers as well, so they can
be kept abreast of what earlier decades were like, and how
far we've come as a society. The cover to your latest book
is very striking, and I'm sure that your book is going to do
very well!! Congratulations!!
(Peggy Roberson 12:15pm May 6, 2015)
Thanks, girls! *Tiffany Girl* was a fun book to write. Love that Victorian period, right?
(Deeanne Gist 6:05pm May 12, 2015)
Registered users may leave comments.
Log in or register now!