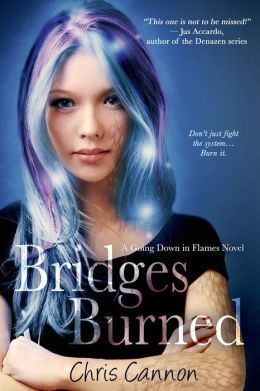 Purchase
Going Down in Flames #2
Entangled Teen
January 2015
On Sale: January 19, 2015
Featuring: Bryn McKenna
ISBN: 1633751716
EAN: 9781633751712
Kindle: B00R69XNHU
e-Book
Add to Wish List

Don't just fight the system…burn it.
Since discovering she is a shape-shifting, fire-breathing dragon on her sixteenth birthday (surprise!), Bryn McKenna's world has been thrown into chaos. Being a "crossbreed"—part Red dragon and part Blue—means Bryn will never fit in. Not with dragon society. Not with the archaic and controlling Directorate. And definitely not when she has striped hair and a not-so-popular affection for rule-breaking…
But sneaking around with her secret boyfriend, Zavien, gets a whole lot harder when he's betrothed to someone else. Someone who isn't a mixed breed and totally forbidden. And for an added complication, it turns out Bryn's former archnemesis Jaxon Westgate isn't quite the evil asshat she thought. Now she's caught between her desire to fit in and a need to set things on fire. Literally.
Because if Bryn can't adapt to the status quo…well, then maybe it's time for her to change it.
Going Down in Flames
Comments
10 comments posted.
Re: Bridges Burned

It was great to learn about you and your book... dragon shifters are one of my favs! Thanks for sharing!
(Colleen Conklin 11:58am January 22, 2015)
Oh, I couldn't have said it better myself!
They're just so powerful and come in so many varieties I could never pick which one I'd be, but I love them all!
(Stephanie B 1:05pm January 22, 2015)
You said it all! Dragons are one of my favorites! I have added Bridges Burned to my must read list.
(Kris Bowers 6:03pm January 22, 2015)
I really couldn't pick a character, because this is not my
normal genre. I'm hoping to be able to read a book and be
able to find out a little more in regards to dragons,
wolves, etc. Perhaps I'll be able to get my feet wet with
one of your books. Congratulations on your latest book.
I'm sure it will do well, since Women love dragons, along
with the other characters.
(Peggy Roberson 9:51am January 23, 2015)
Even though I enjoy reading about all types of shifters, the wolf is still my favorite.
(Bonnie H 8:44pm January 23, 2015)
Dragons are my ultimate facorites. Best wishes.
(Sharon Berger 11:57am January 24, 2015)
I think I would prefer to be one of those that can shift into anything they wanted to be.
(Cindy Gowett 4:11pm January 24, 2015)
I love your sense of humor!
(Denise Austin 7:22pm January 24, 2015)
Love Dragons...especially the eating anything and not gaining weight. Wish that was my superpower!
Thanks.
(Elizabeth Rodriguez 3:00pm January 25, 2015)
I adore dragons. I, too, am a small person and getting shorter (does getting older have any redeeming parts?) Keep flying high!
(Suzanne Walker 1:53pm January 26, 2015)
Registered users may leave comments.
Log in or register now!