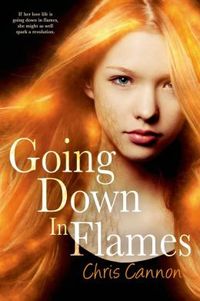 Purchase
Going Down in Flames #1
Entangled Teen
June 2014
On Sale: June 23, 2014
Featuring: Zavien; Bryn
ISBN: 1622665309
EAN: 9781622665303
Kindle: B00KP8AGRE
e-Book
Add to Wish List

If her love life is going down in flames, she might as well spark a revolution.
Finding out on your sixteenth birthday you're a shape-shifting dragon is tough to swallow. Being hauled off to an elite boarding school is enough to choke on.
Since Bryn is the only crossbreed at the Institute for Excellence, all eyes are on her, but it's a particular black dragon, Zavien, who catches her attention.
Zavien is tired of the Directorate's rules. Segregated clans, being told who to love, and close-minded leaders make freedom of choice almost impossible. The new girl with the striped hair is a breath of fresh air, and with Bryn's help, they may be able to change the rules.
At the Institute, old grudges, new crushes, and death threats are all part of a normal day for Bryn. She'll need to learn to control her dragon powers if she wants to make it through her first year at school. But even focusing on staying alive is difficult when you're falling for someone you can't have.
Going Down in Flames
Comments
12 comments posted.
I didn't think that I would give this book a second thought,
but after reading your thoughts on it, along with a bit of
humor, I decided that I would really like to give this book
a try. Dragons have never been on my list of books to read,
but that slight bit of humor that you added, was just the
right touch to give an edge to your book!! Thank you for
making me a possible reader of your books!!
(Peggy Roberson 12:00pm July 10, 2014)
I have not read your books before (my bad! :->) - and this certainly looks to be a great introduction!
(Felicia Ciaudelli 1:23pm July 10, 2014)
I have not read any of your books yet, so hope I win.
(Judy Ferguson 6:11pm July 10, 2014)
I have been seeing this book all over blogs and been trying to
find somewhere to win. I would buy myself, but times are very
tight right now!
(Lori Hopkins 6:25pm July 10, 2014)
Looking forward to reading this.
(Felicia Plastini 8:24pm July 10, 2014)
I've seen your book on other blogs, too, and it looks really
interesting.
(Janie McGaugh 8:36pm July 10, 2014)
Love dragon stories and the comment about the oreos cracked me
up. Adding this one to my list to get.....
(Debbie Wiley 8:06am July 11, 2014)
I haven't read your books before either, but this certainly
sounds worth trying out!
(Tammy Cy 9:22am July 11, 2014)
i saw this on entangled's newsletter and read the exerpt, it went on my to get list. neat to see it on fresh fiction's buzz.
(Daniel Dayton 9:48am July 11, 2014)
My daughter would love this book and even if I do not win a copy, I will purchase her one!
(Linda Barrier 1:19pm July 11, 2014)
Sounds great.
(Sally Lincoln 1:27pm July 11, 2014)
What a fascinating book! Love dragon shifters. Thanks for sharing.
(Bonnie H 9:27pm July 28, 2014)
Registered users may leave comments.
Log in or register now!