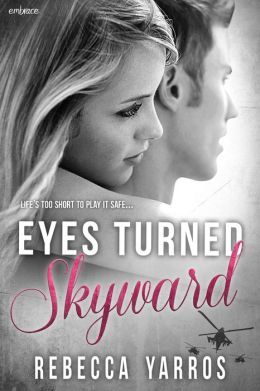 Purchase
Fight & Glory #2
Entangled
December 2014
On Sale: December 8, 2014
ISBN: 163375149X
EAN: 9781633751491
Kindle: B00PP6IKRY
e-Book
Add to Wish List

Other Editions
Trade Paperback (October 2023)
New Adult | Romance Contemporary
Life's too short to play it safe... Since her sister's death, twenty-year-old Paisley Donovan, who shares her sister's heart condition, is treated like delicate glass by her parents. But nothing will stop her from completing her Bucket List—even if it kills her. And it almost does, until Jagger Bateman pulls her from the ocean and breathes more than air into her lungs—he sets her soul on fire.
Jagger is enrolled in the country's toughest flight school. He's wickedly hot, reckless, and perfect for a girl looking to live life to the fullest. Except that Paisley is the commanding general's daughter, and her boyfriend is Jagger's biggest rival. Now Paisley must decide just how much to risk for a guy who makes her heart pound a little too hard.
They're flying through dangerous territory—and one wrong move could make them crash and burn...
Flight & Glory
Comments
2 comments posted.
This would be my first New Adult book, since I've managed to
stay away from them so far. For some reason, you managed to
hook me into wanting to give your book a try. The cover to
your book is absolutely sexy-beautiful as well. It was very
tastefully done, and whomever did the cover, chose the
subjects to put on there, well. Thank you for leaving their
heads on, too!! So many Authors have chosen to chop the
characters' heads off on the covers, and to me, it seems to
take away from the book itself, and looks like a mistake at
the printer's office!! Have a very Merry Christmas, and the
best in the New Year!!
(Peggy Roberson 11:24am December 10, 2014)
5 Things You are able to Do Before Training

Are you really getting the most from your fitness session, even when you are not preparing having a personal trainer? Your time is valuable, and you must know that what you are doing at the fitness center is powerful and is optimizing that time and effort you invest. Work smarter, not harder, to achieve the stronger, thinner and more flexible body you want. And puppy love simply do that by finishing these 5 things before you work out. Each suggestion is made to get you burning more calories, increase your capacity to build muscle and improve cardiovascular fitness.

Drink adequate water at 2-3 hours before you exercise. Of course you should keep your system well-hydrated no matter if you work out or not, but use up only a little more a few hours before hitting the happy love quotes may assist your body enhance the circulation of nutrients, which might have a positive affect on your own capacity to maximize your physical state and reduce your restoration.

2) Eat well the day before, specifically in case you have low blood pressure. The very last thing you ought to happen would be to experience that crash throughout your work out. You know, when you just hit that brick wall and only short love quotes any longer. Eating nicely prevents this from happening, so you could stay at peak performance.

3) do not eat right before your work out. Food that is just been delivered to your gut wants energy to digest, which means that you'll be redirecting precious energy to your own stomach instead of your game. It is awful for gastrointestinal well-being and makes it more challenging to work out, plus the valsalva maneuver confused love quotes Should you eat anything, keep it to a light bite (e.g. banana) and eat it an hour minimum beforehand.

4) De stress and emotionally get yourself ready. Take time to relax, particularly in the event you're appearing from a busy or stressful environment. A positive frame of mind
(Doggnimal Wendt 9:51pm December 18, 2014)
Registered users may leave comments.
Log in or register now!