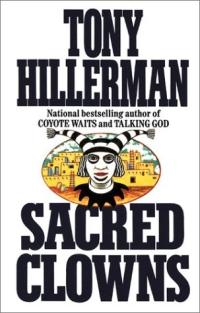 Purchase
Joe Leaphorn and Jim Chee Series, #12
HarperCollins
February 2003
Featuring: Joe Leaphorn; Jim Chee
320 pages
ISBN: 0060538058
Paperback (reprint)
Add to Wish List

Navajo Tribal Policemen Joe Leaphorn and Jim Chee in an effort to unravel a treacherous web of tribal politics and murder. Yesterday a teacher was killed at a mission school on the Navajo Reservation, but today in the Tano Indian pueblo murder seems inconceivable as a tribal ceremony unfolds. The sacred kachinas have danced into the ancient plaza, and the koshare in their grotesque disguises have tumbled down from the rooftops to ape the foolishness of humankind. At first, the crowd welcomes this troupe of sacred clowns with laughter. But something in one clown's red wagon hushes the crowd. And then murder strikes at Tano. To Officer Chee and Lieutenant Leaphorn, now working as an uneasy team, the solution to the killing at the mission school seems straightforward, and the death at Tano seems to be out of their jurisdiction. But the odd behavior of a runaway student connects the two crimes and shows that neither is what it seems. Chee and Leaphorn's search for the truth propels them into a realm where battles as old as humanity's foibles and as new as its high technology are fought to the death. Sacred Clowns brims with subtly drawn personalities, revealing glimpses into proud, ancient cultures, crystalline evocations of the Southwest's stark beauty, and taut yet lyrical prose.
Comments
No comments posted.

Registered users may leave comments.
Log in or register now!