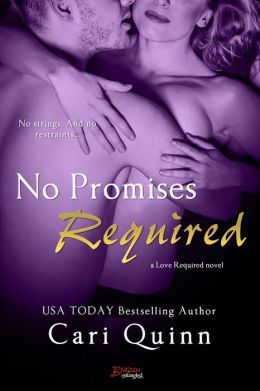 Purchase
No Promises Required
Cari Quinn
Entangled Brazen
November 2014
On Sale: November 17, 2014
Featuring: Bryan Townsend; Jill St. John
ISBN: 1633751422
EAN: 9781633751422
Kindle: B00OXRLQ68
e-Book
Add to Wish List

Romance Contemporary | Romance Erotica Sensual
A sexy category romance from Entangled's Brazen imprint... No strings. And no restraints… Professional football player Bryan Townsend is sidelined for the next two weeks while he recovers from a knee injury. The upside? He'll get to attend his sister's wedding. The downside? He's not sure he'll have a spot on his team when he returns. So when he's confronted by a sexy blast from his past the night of the bachelor party, he sees an opportunity to seduce the very stunning maid of honor. But Bryan had no clue Jill St. John was still a virgin. Or that she was merely looking to expand her sexual repertoire without having to trust anyone with her heart. But with every encounter, Jill can't help but fall for the man Bryan's become. The clock is running down. If he's to win it all, Bryan must make the biggest play of his career—choosing between his team…or the woman he's always wanted.
Comments
15 comments posted.
Bad boys are fun because they live according to their own rules. These books are going on my to read list.
Thanks
(Patti Paonessa 5:37pm November 18, 2014)
Bad boys can be fun, but prefer funny guys
(Susan Jang 10:13pm November 18, 2014)
Bad Boys have a certain confidence that I find appealing and
watching one fall in love is the most fabulous thing.
(G. Bisbjerg 2:04am November 19, 2014)
Hmm Bad Boys may have a certain appeal, but I choose slow and
steady to win the race.
(Amber Kuehn 3:01am November 19, 2014)
I would say because they exude confidence and play outside the lines, sometimes you need to do that.
(Tina McClay 9:46am November 19, 2014)
Love bad boys and their confidence...
(Colleen Conklin 11:51am November 19, 2014)
Would depend largely on how they are 'bad'. Cocky and arrogant is one thing, mean-spirited is completely different. Prefer one with a good sense of humor, especially about himself.
(Carol Gowett 1:31pm November 19, 2014)
For me it's the excitement they bring to the table. They do things that are a bit "dangerous that I'd
never start on my own but wouldn't mind being drug into ;)...the forbidden and thrilling. Then there's
the aspect of "reforming" them and turning them away from the "dark side", lol. I had my fling with a
bad-boy once and it was so hard to say bye-bye when he kept coming back into my life...
(Lenna Hendershott 6:33pm November 19, 2014)
Oh I'd have to say their wide side is what makes a bad boy "bad". They are a little bit dangerous and unpredictable. Not dangerous in a bad sense mind you! Just a little naughty.
(Bonnie Capuano 8:18pm November 19, 2014)
There look and the fact that they are wild.
(Susan Clickner 8:29am November 20, 2014)
love them because they are the ones that we have been told all our lives to avoid or something bad will happen to us.
(Angela Parrish 1:29pm November 20, 2014)
I like that they are confident & protective of others.
(Kv H 6:13pm November 20, 2014)
I love bad boys because I like seeing how the right woman can
see through the mask they put on.
(Jen Barnard 8:30pm November 20, 2014)
I love bad boys because they're always portrayed as sexy
and they are protective of their women.
(Sandy Pochapin 9:53pm November 20, 2014)
Typically it's their stubborness.
(Laura Gullickson 11:36pm November 20, 2014)
Registered users may leave comments.
Log in or register now!