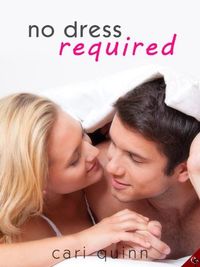 Purchase
Love Required #1
Entangled
January 2012
On Sale: December 25, 2011
ISBN: 0013807137
EAN: 2940013807136
Kindle: B006QRBIKM
e-Book
Add to Wish List

After years of ho-hum dating, Noelle Gregory is tired of fooling around. There's only ever been one guy for her—Jake Conroy, her best friend's older brother. Now that Jake's back in town, she's headed to his sister's New Year's Eve party to make her move. Purse full of condoms? Check. Sparkly dress guaranteed to show Jake the sexy woman she's become? Check.
Carjacker that makes off with both two hours before the party? Check.
When Jake finds Noelle stranded on the side of the road—looking sexier than ever in her striped socks and silly holiday shirt, damn it—he's glad for the snowstorm that cancels his sister's party. His and Noelle's friendship has tormented him for years, and now, Jake wonders if he should dare to sample what he's always wanted…and if he'll be able to walk away when it's over.
Comments
41 comments posted.
i love a good romance book and i would love to win this book. i love all your books
(Denise Smith 12:46pm April 21, 2012)
Sorry to say, I've never read any of your books, but this one sounds great. I have already put it on my "list to read". Before I buy it, I'll wait to see if I win!!

Just for the record- I do like connected books if the story if a good one. Sometimes I get to the end of a book and start to read slower because I know it will be over soon. THAT is when I want more!
(Becky Darmogray 8:00am April 21, 2012)
Thanks for the contest. I would love to win your book. I do like books
that are connected. It saves me from learning a whole new cast of
characters. Lol
(Becky Ledkins 8:56am April 21, 2012)
I like connected books. It is always good to read books with my favorite characters in them!
(May Pau 10:24am April 21, 2012)
I like connected books. They allow you more time to develop the characters and stories because your audience is already familiar with the world you have created.
(Pam Howell 11:14am April 21, 2012)
I love connected stories. I like to catch up with characters from earlier books. I am so glad that your second book will be category length. I loved the excerpt.
(Stacie Deramo 11:15am April 21, 2012)
I love series books, and try not to miss a single one.
Blessings,
Marjorie
(Marjorie Carmony 11:30am April 21, 2012)
I like connected books because the characters get more development.
(Sue Farrell 11:43am April 21, 2012)
I like both kinds, if I can find the next one in the series.
(Wilma Frana 11:48am April 21, 2012)
I am one of those that HAS to read every book in a series; in order and back to back. I love being able to follow a couple the follow-up at a later time to see how they are faring.
Sounds like you've got a fun one going on.
Good luck and happy writing!
(Tracie Travis 12:27pm April 21, 2012)
I like series books. You really get to know the characters. It's always fun to see
glimpses of the characters lives from book one in book five. On the occasion
that I've started reading somewhere in the middle of a series, I always go back
to catch up on the ones I missed.
(Jane Limback 1:30pm April 21, 2012)
I love both series and stand alone books. Some stand alone books are a lot of fun but sometimes it can be disappointing that there is not anything more to the story once you reach the end and it is sad to know you wont get to learn any more about the characters. At the same time sometimes you don't want to wait to find out what happens next in a series and the wait between books can be annoying so with standalone books at least you know how things end and there is no waiting for the next book. Both types are great and have advantages and disadvantages depending on what you are in the mood for.
(Chelsea Knestrick 1:41pm April 21, 2012)
Connected books are fun and I especially love your titles.
You can't miss. Keep writing!ale
Pat Pasc
(Patricia (Pat) Pascale 2:04pm April 21, 2012)
Reading a good romance book on a rainy day is a must. This book sounds interesting and would love to read it. Thank you for the review.
(Diane Castiglione 2:10pm April 21, 2012)
Sounds fun! I like connected books too.
(Lisa Elwood 2:18pm April 21, 2012)
I do enjoy connected books... something so nice about revisiting a place and the characters you got to know before!
(Colleen Conklin 3:02pm April 21, 2012)
HI CARI! YOU ARE NEW TO ME, YOUR EXCERPT SOUNDS AWESOME, AND
I GOTTA CATCH UP!!
(Linda Bass 3:09pm April 21, 2012)
I do most anything to win a contest!
(Clydia DeFreese 3:22pm April 21, 2012)
I like both ways connected and stand by itself and mostly I just love to read. Love the quote with ..."Do you need some service, Ma'am?"
(Alyson Widen 3:26pm April 21, 2012)
I love all books connected or not! Usually I only like a
story line of connected stories for only 3 books because I can hardly wait for the next one to come out in print. Either way, these books sound great and I would love to win!
(Ann Thaxton 4:02pm April 21, 2012)
I love connected books. It's always fun to see favorite characters from previous books pop up again.
(Tara Smith 4:05pm April 21, 2012)
I like both connected books and stand-alone stories. With connected, it's a little disappointing when an author uses too much repetition in the story with the characters involved. The waiting period of up to a year before the next one comes out is also a disadvantage, when left wanting more to read. With stand-alone, the story ends...not to be continued. If the author is a favorite, I'll still want to read future stories, knowing they come to an end and some do a little too abruptly leaving you hanging with questions in your mind.
You are a new author to me, and I'd love to win this awesome book.
(Linda Luinstra 4:20pm April 21, 2012)
I love reading books that are in series. Thanks for giving me a chance to win your books,sounds great.
(Linda Hall 6:18pm April 21, 2012)
I like connected books that can be a stand-alone stories without getting lost. Most of the time I discover connected books and it would be right in the middle of the series. I would not be able to understand the characters without reading the first books. Another thing is the first book of the series is usually difficult to locate in the store when they are out of print. I usually find them in the public library.
(Kai Wong 6:58pm April 21, 2012)
this sounds like a great book.thanks jen
(Jennifer Beck 7:36pm April 21, 2012)
Both of these books sound great! I too love series books where you follow the characters from book to book, new romance to new romance. Thanks for the chance to win!
(Angie Lilly 8:04pm April 21, 2012)
I really don't have a preference. They both have their good points. Connected books are great, because that way you have a chance to see some of your favorite characters grow and flourish as the series goes along. It makes you feel more like the "family" as you go along their journey, so to speak. With the stand alone series, sometimes the story line just calls for a one-time plot. If it was to go any further, it would fizzle fast, so it would be best to leave it as a one-time story. I read both regularly. I think it also depends on the author. Some are very fluent when it comes to writing books in a series. I am looking forward to reading your book very much!!
(Peggy Roberson 8:12pm April 21, 2012)
I read both types of books. I enjoy connected books because I get to "visit" with the characters and storylines from prior books. Sometimes I like a stand alone book jus tto give me a quick glimpse into a story. It just depend what I am interested in at the moment.
(Jennifer Beyer 9:20pm April 21, 2012)
A good book is a good book, whether connected or stand alone. Thank you for the opportunity to win "No Dress Required"!
(Diana Corlett 9:25pm April 21, 2012)
I have been seeking out stand alones lately, but I do enjoy both.
(Mary Preston 9:25pm April 21, 2012)
I prefer connected books - series is best, but even trilogies make me
happy! I love visiting with old friends, seeing how they're doing.
(Kelli Jo Calvert 9:26pm April 21, 2012)
I enjoy both types of books. Connected books just need to set the stage just in case I don't start at the begining I will still feel I haven't missed a large part of the story.
(Diane Chenier 9:32pm April 21, 2012)
Yay! I love connected books--but I sure hate waiting on the next book to come out. The plus is that I can re-visit the characters that I just can't get out of my mind after reading the first book!
(Susan Navidad 10:37pm April 21, 2012)
I like stand alone books the best. I never seem to get all the books in a series and then I wonder what happened or why something happened the way it did. It really fustrates me when this happens. That is why I never watch soap operas even though I have a DVR.
(Kathleen Yohanna 11:15pm April 21, 2012)
Hmmm, this puts me in the mood to celebrate New Years & new opportunities all over again in April
(Susan Jeffers 11:36pm April 21, 2012)
Hi! Great blog. I love connected books- makes me feel part of something!
Looking forward to reading NDR- I'll put it on my TBR list!
(Louisa George 2:11am April 22, 2012)
I already own this one, and I'm her CP...so I get stuff early--heh, so I don't need to be put in for the contest. Cari knows me inside and out, but yes, yes, yessssss a thousand times yes! I love connecting stories.
Heck.
I haven't been able to write a standalone story yet. LOL

Great excerpt! I'm really excited for Dalton. Purrrrrrrr.
(Taryn Elliott 3:23am April 22, 2012)
I love connected stories and discovering what characters from previous books are up to. The only problem is waiting for the next book to appear.
(Mary C 2:56pm April 22, 2012)
Love connecting stories - it's always great to hear more about
characters from a previous story. Makes the new story even
more interesting.
(Rose Miller 8:13pm April 22, 2012)
I'd luvvvvv 2 get a chance 2 read as many of ur bks. Ms. Quinn count me N..yayyyyyyyyyyy!
(Janice Thomas 8:33am April 23, 2012)
I like them both and your book is doing well on Amazon too.
(Tammy Yenalavitch 9:24am April 23, 2012)
Registered users may leave comments.
Log in or register now!