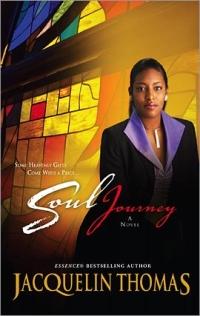 Purchase
Kimani Press New Spirit
March 2006
Featuring: Jacquelin Thomas; Journee Carter
288 pages
ISBN: 1583147179
Trade Size
Add to Wish List

From beloved bestselling author Jacquelin Thomas comes a powerful novel of inspiration, temptation, and redemption, as a determined woman is torn between pleasing the father who raised her β€" and obeying the call of the Father who created her...
Ever since she was a little girl, Journee Carter wanted to be a preacher, just like her father. She loved listening to his sermons and seeing how his fiery words filled the members of the congregation with joy. Journee knew there was opposition to women in the pulpit β€" especially single young women. Yet she never expected her very own father to be one of her biggest obstacles. But he wouldn't be her only challenge.
Kingston Lavery is charming, handsome, and a member of New Faith Baptist Church β€" which, to Journee's excitement, has offered her a permanent position. Kingston is pleased to see Journee there as well. He is drawn to her β€" and not just for spiritual counsel. Although Kingston is engaged, he decides to pursue the pretty pastor anyway β€" with a good deal of encouragement from a most unlikely source. Soon, Journee finds herself trapped in a web of deception worthy of the devil himself, putting her reputation and her career at risk. Or is all this mess simply a test of her faith? She's sure of only one thing: she will not hear the answer by turning a deaf ear to the call on her heart...
Comments
No comments posted.

Registered users may leave comments.
Log in or register now!