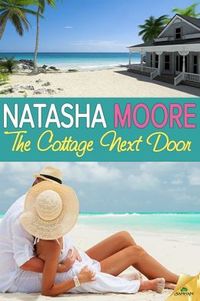 Purchase
Samhain Publishing
September 2014
On Sale: September 16, 2014
Featuring: Sylvie Chase; Hunter McCaffrey
113 pages
ISBN: 1619221713
EAN: 9781619221710
Kindle: B00KE1EC4A
e-Book
Add to Wish List

It's tough to grasp a second chance at love when you're holding on to the past.
After his wife died in a car accident, bestselling author Hunter McCaffrey stopped writing—and stopped living. He's rented a beachfront cottage to try to get his head on straight, and start the long climb up from his pit of despair.
Instead of pounding out a first draft, though, he runs the beach, drinks away his pain, and tries to ignore the vibrant woman in the cottage tucked next to his.
Still floundering months after the loss of her adventure-junkie husband, Sylvie Chase hopes some beach relaxation will help her decide what to do with the rest of her life. Instead she's wondering what to do about her unexpected attraction to Hunter, who makes her body long for the feel of his arms around her.
As Sylvie drags Hunter back to the land of the living, soon they're agreeing to a short fling. Just to get past their sorrow, not because it means anything. But when emotions get in the way, it's a struggle to leave the past behind and dare to love again.
Warning: This story has plenty of sun and sand, with an energetic golden retriever thrown into the mix. Prepare to laugh and cry and cheer for two people who deserve a second chance at love.
Comments
2 comments posted.
I live near one of the Great Lakes, and just moved here a
few years ago, after living in the city my entire life. You
could say that I have the best of both worlds, since I'm
surrounded by farmland as well, so when I've had enough of
the beachgoers, as well as the tourists, I can go back home,
and be surrounded by acreage which is part farmland and the
rest is woodlands. I was fortunate enough to see the
Atlantic Ocean when I was treated to a trip to Atlantic
City, and I was in love. In fact, my Sister and I took
another trip out there, not knowing that on that day, there
was a hurricane that was going to be arriving the next day.
It was really quite the experience to wade in the water,
while it was churning madly, with the hurricane a few
hundred miles away!! Lakes are big, but there are no words
to describe the ocean!! I'm in love with both, but am
grateful to live near the lake. This is where I was meant
to be, and where I've always wanted to live. I can't wait
to read your book!! I'm sure I'll be able to relate to it.
(Peggy Roberson 11:03am September 27, 2014)
ocean ocean ocean - I live close enough to be on a beach in 20 minutes and sometimes when the wind is just right, can even smell it! The sand is hard-packed, the waves very gentle, the water is, well, character-building! But so soul refreshing to be able to walk and walk on that sand and in the water, looking for sand dollars and watching the gulls strut back and forth. Love that Revere Beach!
(Beth Fuller 8:23pm September 27, 2014)
Registered users may leave comments.
Log in or register now!