Purchase
Don't Blackmail the Vampire
Tiffany Allee
What's a little blackmail between consenting adults?
Sons of Kane Book 2
Entangled Covet
May 2014
On Sale: April 28, 2014
Featuring: Charles Wright; Rachel Davis
156 pages
ISBN: 1622665627
EAN: 9781622665624
Kindle: B00JI0KDXM
e-Book
Add to Wish List

Rachel Davis will do anything to get her sister out of a bad relationship with her fiancé. Even if it involves a few fibs, a little breaking-and-entering, and blackmailing the fiancé's potential boss, Charles, for his help. So what if the handsome Charles happens to be a vampire?
Charles Wright has found the perfect way to trap the man threatening his brother's wife: cozy up to him, get invited along on the skiing trip, and then search for incriminating evidence. How much better that audacious but gorgeous Rachel is just as eager to nail the bastard. As far as he's concerned, there's nothing wrong with a little blackmail between two consenting adults. Especially when it's time for Rachel to pay up.
Sons of Kane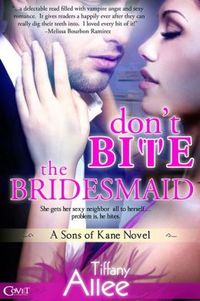 Don't Bite the Bridesmaid
#1.0
Kindle | BN.com | | |
Comments
17 comments posted.
Re: Don't Blackmail the Vampire

Ice skating vampires sounds very amusing. Looking forward to checking that out.
(Pam Howell 7:33am May 1, 2014)
love me some vamps!!
(Barbara Studer 12:17pm May 1, 2014)
Oh this sounds really interesting... you have me very curious about their stories!
(Colleen Conklin 1:04pm May 1, 2014)
I bought it yesterday. It really sounds fun ! I didn't know there was one
before ! (a bit busy, lol). Your vampires sound cool !
(Monique Daoust 9:49pm May 1, 2014)
I do like to see characters out of their comfort zone but only
if it fits in the story, it lets me see a different side to
them I wouldn't have seen otherwise.
(Jen Barnard 11:05pm May 1, 2014)
Oh, yeah! That's what makes an interesting story. This one
sounds fun, too.
(Janie McGaugh 11:06pm May 1, 2014)
Oh yeah. Make them work a bit harder for their HEA. :-)
(Glenda Martillotti 11:26pm May 1, 2014)
hahahaha yeah i love when the characters end in the most
difficult and awkward situations. it gives a little humor to
the story. but the book shouldn't have ALL awkward moments but
also some adventure and danger and romance. :D
(Sarah Hansrote 1:36am May 2, 2014)
Just wanted to pop in and say thanks so much for all the great comments! And Monique, I hope you enjoy the book! While both books do include a lot of the same characters and such, you can definitely read the second book without having read the first. :)
(Tiffany Allee 3:24am May 2, 2014)
love the paranormal books this looks really good
(Denise Smith 1:30pm May 2, 2014)
love to read this one
(Ron Frampton 2:43pm May 2, 2014)
sounds like a really good book
(Ann Unger 2:49pm May 2, 2014)
would love to win and read
(Pamela Faye Howell 4:09pm May 2, 2014)
sounds like a great book and i think that they are around so long that they learn how to do lot's of things.
(Jennifer Beck 7:56pm May 2, 2014)
Having a vampire stuck on a cruise, skiing, and heaven forbid as part of a wedding sounds really mean and very, very interesting! Read a number of you books and loved them.
(Annetta Sweetko 9:10pm May 2, 2014)
love vampires :)
(Tami Bates 8:01pm May 3, 2014)
What a great series! I love a little humor with my vampires.
(Bonnie H 10:24pm May 7, 2014)
Registered users may leave comments.
Log in or register now!