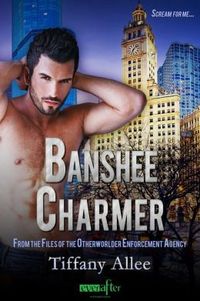 Purchase
From the Files of the Otherworlder Enforcement Agency #1
Entangled
February 2012
On Sale: January 24, 2012
Featuring: Kiera "Mac" McLoughlin; Aidan Byrne
159 pages
ISBN: 1622668820
EAN: 9781622668823
Kindle: B0070J7IEK
e-Book
Add to Wish List

Romance Paranormal | Fantasy Urban
When she's sent to a crime scene and finds her second dead woman in as many weeks, half-banshee detective Kiera "Mac" McLoughlin is convinced a serial killer is on the loose. Incubi are extinct, her boss insists. But what else can kill a woman in the throes of pleasure? When her partner is murdered after using witchcraft to locate the killer and Mac is thrown off the case, her frustration turns to desperation.
Certain the killer is an incubus, Mac works behind her department's back to chase down slim, sometimes perilous leads. While the killer eludes her, she does discover handsome Aidan Byrne, an investigative counterpart from the enigmatic Otherworlder Enforcement Agency. Mac typically runs her investigations fast and hard, but with Aidan at her side, she's running this one "hot" as well. But Aidan knows more than he's letting on—something that could shatter their blazing romance and add Mac to the killer's growing body count...
Comments
35 comments posted.
Re: Banshee Charmer

My heroes must be first of all intelligent, second of all dark, rugged, kind and generous.
(Susan Alles 2:13am January 22, 2012)
He has to be tall, dark, and handsome. I also like intelligence and honor. I love a good mystery as well.
(Renee Brown 9:11am January 22, 2012)
Smart, compassionate, and brave! Good looks is a plus too!
(Dawn Staniszeski 10:22am January 22, 2012)
My heros are good but not perfect. Nothing bothers me more than the "perfect" hero. I prefer a bit of ambiguity or flaws.
(Pam Howell 10:58am January 22, 2012)
I like it when the hero is so attracted to the heroine that no other woman catches his attention. He should be hot, loyal, passionate, funny and be someone you can lean on but he won't treat you like you are too fragile.
Come on is that too much to ask??? this is fantasy after all
(Patti Paonessa 11:22am January 22, 2012)
In my heroes I look for strength, integrity, and a sense of humor. He must love animals, children, and old ladies. He needs to be sexual and sensual and know what and who he wants. Oh and easy on the eyes of course, broad shoulders and strong arms...*sigh*
It's a long list but it all plays an important part in his appeal.
Good luck and happy writing!
(Tracie Travis 11:38am January 22, 2012)
I like a hero to have flaws, be honorable, being sexy is a plus!
(Colleen Conklin 12:49pm January 22, 2012)
A good hero doesn't let failure stop him and will go after what he wants.
(Tabitha Monroe 12:50pm January 22, 2012)
I like strong alpha heroes who aren't afraid to let the heroine play to her strengths as well!
(Rebecca Whitehead-Schwarz 1:10pm January 22, 2012)
I don't like my hero to be perfect. I do want him to evolve into a person
worthy of a good woman. There are some lines that can't be crossed.
(Shelley Bagby 1:16pm January 22, 2012)
Heros are people and they make mistakes, the best ones are those that redeem themselves. They should be strong, honest and sexy as all get out!
(Darci Paice 2:02pm January 22, 2012)
I like for a hero to be tough, caring, good looking, and very smart! Someone that can take care of you and handle all of your problems.
(Christina Vanderford 3:17pm January 22, 2012)
I like a hero who can show real feelings, love for a woman and/or child, etc.
(Wilma Frana 4:51pm January 22, 2012)
A sense of humor is pretty good to offset the toughness of the hero.
(Alyson Widen 4:53pm January 22, 2012)
My hero is my husband, a loyal, honest, funny,and loving man.
Blessings,
Marjorie
(Marjorie Carmony 5:09pm January 22, 2012)
love my heros to be honest, intelligent and faithful
(Shirley Younger 5:43pm January 22, 2012)
I look for loyality, I look for a sense of humor, I look for strong character.
(Lisa Kendall 5:52pm January 22, 2012)
HI TIFF, YOUR BOOK SOUNDS WONDERFUL!!
(Linda Bass 6:05pm January 22, 2012)
A hero should be someone that can laugh at herself, has a gift for making everyone feel at ease. I don't believe you have to do some hugely, fantastic hero feat to be classified as one. I believe we can all be heroes in some small way every day; whether it's taking the time to help someone who's lost, making someone feel better about themselves, being a positive influence on your kids, or just making someone who's not feeling well something good to eat.
(Sharon Hutchins 6:23pm January 22, 2012)
A hero needs to be a little broken so the heroine has something to "fix". But I also want him to be protective, intelligent, loving, funny....gosh, I don't want much, do I?
(Jennifer Beyer 7:38pm January 22, 2012)
A good hero? Has to have a sense of humor and the ability to realize when he's
wrong and I'm right. Which, naturally, is all the time.
(Jt Powell 7:42pm January 22, 2012)
i love alpha hero's!!!
(Jennifer Beck 7:52pm January 22, 2012)
Humor and intelligence top my list.
(G. Bisbjerg 8:21pm January 22, 2012)
WELL HERO CAN BE GOOD AND BAD BUT IT DEPEND ON THE PERSON THEY ARE GOOD AND BAD HEROS AND THEN THEY HAVE LEG AND THEN THEY HAVE MUSCLE ME I COULD CHOSE EITHER AND THEN THE WOMEN LOVE TO BE TO HAVE HERO I LIKE THE BLURB AND THEN I LOVE THE COVER
(Desiree Reilly 10:30pm January 22, 2012)
My favorite heroes tend to be a bit of a smart ass, along with their mad
protector skills.
(Cathy MacDonald 11:17pm January 22, 2012)
Someone who can learn form their mistakes - they have to be smart enough to not make the same oops twice!
(Gwen Hovorka 11:18pm January 22, 2012)
I like them to be rugged with a soft side that he doesn't want the heroine to see and especially doesn't want anyone else to see.
(Jennifer Lower 11:19pm January 22, 2012)
Banshee Charmer sounds absolutely wonderful. If there is anything I enjoy reading in a book it is humor. The hero here provides it beautifully. The nerve of entering a home uninvited and making oneself so at home paints a picture of a guy who will make life (and a story) both fun and entertaining. He's my kind of guy!
(Gladys Paradowski 1:20am January 23, 2012)
I like my hero to be sincere. No playing games to fool or use anybody. He can be a bit of a bad boy but he should be tall, dark and handsome. Your book sounds great. Good luck.
(Kathleen Yohanna 1:31am January 23, 2012)
I like a hero who is strong, loyal and loving. A wicked sense of humor is also a must :) Laughter is good for the soul!
(Na S 1:52am January 23, 2012)
Honorable, quiet inner strength, great sense of humor (not pranks and tricks),
sincere and loyal an a one-woman man, but not perfect. Lovable and liveable!
(Sandra Spilecki 1:52pm January 23, 2012)
Loyalty, Humour and Bravery are essentials for me (and the
bravery can be of the emotional variety if necessary :D)
(Ilona Fenton 2:11pm January 23, 2012)
My hero...Intelligent,& street smart;attractive in a dark tall,chiseled way-a little rugged;gorgeous eyes that see right through you;quiet sense of humour;compassionate, except for those who don't deserve it;has own personal code of honor;protective, but willing to let me make my own decisions & do what I want,as long as my life /safety aren't at risk;sexual,sensual,with eyes only for me;broad shoulders to lean on;not into game playing of any kind where I am concerned;a little leery of legal commitment(aka marriage),but once he knows I'm what he wants,it's no holds barred & "totally mine"! He trusts ME, but not other men!Well, you did say my ideal hero/man!
(Mary Holden 5:41pm January 23, 2012)
Tall, dark and handsome is always good, however, like you to me humor is a necessary element. Life and the situations the characters in the books find themselves in are serious enough. A bit of humor helps keep them sane.
(Patricia Barraclough 8:59pm January 23, 2012)
Kindness is so important in a man. So for me, it's tall, dark, handsome and kind.
Perfection!
(Connie Fischer 2:59pm January 24, 2012)
Registered users may leave comments.
Log in or register now!