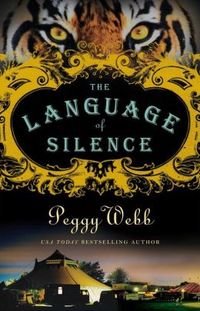 Purchase
The Language Of Silence
Peggy Webb
Gallery Books
August 2014
On Sale: August 5, 2014
Featuring: Ellen; Lola
336 pages
ISBN: 1451684819
EAN: 9781451684810
Kindle: B00BSB2C6A
Paperback / e-Book
Add to Wish List

Following in the footsteps of her tiger-taming grandmother, a woman flees her abusive husband to join the circus in this masterful, heartfelt work of women's fiction.
Peggy Webb won raves for her debut novel, The Tender Mercy of Roses*, with novelist Pat Conroy calling her "a truly gifted writer." Now Webb has crafted a poignant portrayal of a woman on the edge seeking solace in the past.
Nobody in the family talks about Ellen's grandmother Lola, who was swallowed up by the circus and emerged as a woman who tamed tigers and got away scot-free for killing her husband. When Ellen's husband, Wayne, beats her nearly to death, she runs to the only place she knows where a woman can completely disappear—the same Big Top that once sheltered her grandmother. Though the circus moves from one town to the next, Wayne tracks it, and Ellen, relentlessly. At the same time, Ellen learns more about her feisty, fiery relative, and the heritage that is hers for the taking—if she dares. With her violent husband hot on her trail, Ellen must learn to stand up and fight for herself, to break the cycle of abuse, and pass down a story of love and redemption to her children.
Comments
15 comments posted.
I love Southern Fiction!
(Lisa Garrett 3:45pm May 7, 2014)
Your books all sound like amazing reads. I love covers. They're very unique and beautiful. I can't wait to read these.
(Linda Luinstra 7:16pm May 7, 2014)
Thanks, Lisa and Linda. I look forward to meeting many of my wonderful readers as I tour bookstores this summer with these two novels!
(Peggy Webb 9:33pm May 7, 2014)
What wonderful books! Love the covers. Thanks for sharing your writing experience.
(Bonnie H 10:08pm May 7, 2014)
Sound like incredible, compelling, deep reads. Congratulations on your success.
(Lisa Hutson 12:01pm May 8, 2014)
Could you please
post a link for the pre orders? The Oleander Sisters and Language of Silence.
(Lisa Hutson 12:04pm May 8, 2014)
Love your books! Another favorite is The Tender Mercy of Roses
written as Anna Michaels.
(Mary C 12:29pm May 8, 2014)
Love the south. Moved to TX two years ago from PA. Can't wait to read
this!
(Michelle Schafer 1:13am May 8, 2014)
My Mother always loved Strawberry ice cream, and since she's
no longer with me, I would love to have a bowl!! These
books sound wonderful, and I have them on my TBR list!! I
am so glad that you decided to go under both pen names and
write under both genres, so that we get a taste of your
writing skills. These books should be a real treat to usher
in the Spring!! Thank you for sharing your thoughts with us
today, and have a very Happy Mother's Day!!
(Peggy Roberson 9:46am May 8, 2014)
Love the cover and the title!
(Denise Austin 3:26pm May 8, 2014)
Would love to read any of your books under either name
(Rachel Collings 3:31pm May 8, 2014)
Loved The Sweetest Hallelujah....can't wait to read your new release. P.S. I review on Goodreads.
(Susan Coster 5:54pm May 8, 2014)
The books sound great, especially the Southern Cousins series.
(Pam Howell 10:42am May 9, 2014)
Although I am from the north Eastern part of the country, I too, enjoy Southern fiction. These books both sound very entertaining,
(Ann Martinisi 12:26pm May 9, 2014)
I remember being attracted by the "Language of silence", so I think that a
book from the same author could actually be interesting~
(Valeria Beccari 3:39pm May 9, 2014)
Registered users may leave comments.
Log in or register now!