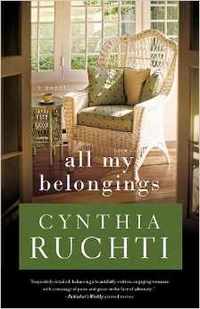 Purchase
Abingdon Press
May 2014
On Sale: May 6, 2014
Featuring: Becca Morrow; Isaac Hughes
320 pages
ISBN: 1426749724
EAN: 9781426749728
Kindle: B00IXPV4EK
Paperback / e-Book
Add to Wish List

After spending years running from the shame her father put on her family, Jayne is determined not to let him steal her future in the same way he stole her childhood. Changing her name to Becca Morrow, she moves to California and settles into a new life and new job caring for the ailing mother of the intriguing but caregiver-challenged young businessman, Isaac Hughes.
But just as she's wondering if she and Isaac are headed for a relationship, Becca's patient passes away under unusual circumstances. Suddenly, her past catches up with her and the unnerving details of her heritage threaten to destroy all sense of home and all hope for love.
Even if she could clear her name, a phone call wraps a suffocating shroud around her heart. Her estranged father needs her help. But can Becca open her new life to the man who ruined her past?
Comments
10 comments posted.
I loved your stories about the kindness of people to the old and ill. This confirms my feelings that there are many good people in the world and they are all around us. Your incorporating scenes and memories of this type into ALL MY BELONGINGS make me want to read about Becca.
(Anna Speed 5:29pm June 9, 2014)
there is good around we need to add to the good and spread kindness, i will
read this book!
(Debbi Shaw 6:57pm June 9, 2014)
Oh, I loved the scenes you related...even better that they really happened. So heartwarming.
(Debbie Kelly 3:22pm June 13, 2014)
Thank you so much everyone! Your comments mean the world to me!
(Cynthia Ruchti 3:46pm June 13, 2014)
You know, if I'm able to 'catch the good' when someone does something unexpectedly nice for someone else, I will stop and say - 'that was so kind! thank you for doing holding the door open/carrying that bag/helping that person'.
(Beth Fuller 11:30pm June 13, 2014)
Great thought, Beth.
(Cynthia Ruchti 12:06pm June 14, 2014)
This world would be a much better place if everyone took the
time to do just one small act of kindness for another
person. It could be something as small as holding the door
for another person, or treating someone to a cup of coffee
that they aren't expecting ( picking up their tab ). If you
teach your children how to be kind to others, they will
remember this as adults. Look around you, and the need is
great!! You're doing your part by putting snippets in your
books to plant the seed.
(Peggy Roberson 8:15am June 14, 2014)
Thank you, Peggy. There's always someone around us who needs a little
encouragement, someone who hasn't had a kind thing done for them in a long
time. At a recent writer's conference with a cafeteria-style dining hall, five
separate times, someone approached me as I tried to pull my wheeled laptop
bag and balance my tray to take it to the return window. They each offered to
carry my tray for me. That's never happened before. And to have it happen five
times in a few days was extra exceptional. Each time, my heart swelled with
gratitude for that simple kindness. I thanked them. But I'm not sure they know
what an impact they had.
(Cynthia Ruchti 12:35pm June 14, 2014)
It is so inspiring to hear good stories of people being treated
well, being treated with love. There is so much 'bad news' out
there every day that it is easy to feel afraid and depressed in our
world. It is so nice to hear the 'good news'. It is comforting to
know that there are loving people doing nice things for others,
being kind and compassionate, demonstrating love, really making a
positive difference!
(Lana Allen 9:37pm June 14, 2014)
And celebrating their kindness just makes it all the sweeter!
(Cynthia Ruchti 9:54pm June 14, 2014)
Registered users may leave comments.
Log in or register now!