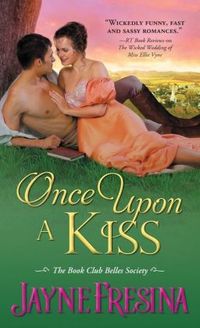 Purchase
Book Club Belles Society #1
Sourcebooks Casablanca
June 2014
On Sale: June 3, 2014
416 pages
ISBN: 1402287763
EAN: 9781402287763
Kindle: B00IJEVNQY
Paperback / e-Book
Add to Wish List

In the sleepy village of Hawcombe Prior, the five young ladies of the Book Club Belles Society are looking for their own leading men.
The Perfect Hero
When handsome, mysterious Darius Wainwright strolls into town, the Book Club Belles are instantly smitten with this brooding good looks and prideful demeanor. It's as if he walked out of the pages of their favorite new novel, a scandalous romance called Pride and Prejudice. But Justina Penny can't understand why her fellow Belles are starry-eyed in the newcomer's arrogant presence—surely a wicked Wickham would be infinitely more fun...
An Unlikely Leading Lady
Justina is the opposite of Darius's ideal woman--not that he's looking for romance. But when he discovers her stealing apples from his uncle's orchard, he can't resist his own thieving impulse. A stolen kiss from the mischievous Miss Penny leaves Darius wanting much, much more. If it's a dashing villain she desires, Darius is more than willing to play the part...
Book Club Belles Society
Comments
27 comments posted.
Re: Once Upon A Kiss

What a wonderful book! Thanks for sharing the humorous excerpts. The most embarrassing thing that ever happened to me at a dinner party is spilling a glass of wine.
(Bonnie H 9:52pm June 17, 2014)
LOL Love it!
(Ki Pha 6:32pm June 24, 2014)
It was on my birthday and I had 3 Dinner dates.. My mother
thought it would be fun to "teach me a lesson" and had all 3
show up when I was to go on the first dinner date. Which
was only suppose to be for half an hour. Here I was with 3
guys ready to go for a night on the town.. Needless to say I
never told my mother about multiple date nights again.
(Tina Ullrich 1:05am June 25, 2014)
Love the book and I enjoy series books so I will be getting
this series. Thank you
(Tina Ullrich 1:06am June 25, 2014)
Most embarrassing thing? My partial plate fell out.
Oh yes.
(Lisa Hutson 1:08am June 25, 2014)
thank you for chance
(Katarzyna Keen 10:26am June 25, 2014)
My Brother-in-Law made his kids sit at the table, until they
finished everything on their plate. I felt bad for the
kids, because the food wasn't anything special, and as I
recall, there were capers on part of the food, which I don't
really care for myself. I really enjoyed the excerpt to
your book, and am looking forward to reading the rest of
it!!
(Peggy Roberson 10:57am June 25, 2014)
Love the comedy of your character. Haven't had any truly embarrassing dinner party moments. Thankfully.
(Pam Howell 11:13am June 25, 2014)
Thanks for the preview. My most embarrassing moment was when at a party is when I leaned over the table to pick something up and my hair caught on fire from the candles that were lit as a table centerpiece. :(
(Quina B 1:00pm June 25, 2014)
Sounds like a great story - and lots of fun. As for an embarrassing moment at a dinner party - I'm very lucky (so far) to not have any such tales to tell.
(Nancy Reynolds 1:49pm June 25, 2014)
Sounds good. Never been to a dinner party. One embarrassing moment was when I went to a convenience store downtown near the library. The cappuccino machine wasn't working so I had to get regular coffee. I must not have been thinking because I didn't use the carafe but tried to fill my cup by pressing the button on the machine, which then overflowed my cup. Lack of sleep may be another excuse for that and I don't normally get regular coffee away from home. Haven't set foot inside that store again, but by now they may have forgotten me.
(Michelle Fidler 5:10pm June 25, 2014)
Thanks everyone for stopping by to read and comment! I think probably my most embarrassing memories are of being shouted at for sipping my soup too loudly at a family wedding when I was about twelve. Oh, and also for spooning the soup from the wrong side of the bowl!
(Jayne Fresina 6:17pm June 25, 2014)
Not remembering what utensils I was suppose to be using for which dishes. I felt so silly :P
(Aimee Robison 6:31pm June 25, 2014)
I think probably the most embarrassing thing that ever happened at a dinner
party was coming out of the bathroom with toilet paper stuck to the bottom of
my foot. I can't wait to read your book, it sounds like a keeper.
(Val Pearson 8:36pm June 25, 2014)
The only thing I can remember right off hand is that I had a cherry tomato spritz me and someone else when I tried to cut it.
(Janie McGaugh 8:55pm June 25, 2014)
Loving these excerpts!

Does a dinner with the boyfriend's boss and his wife count
as a dinner party? Ex-bf was trying VERY hard to be
sophisticated and impressive - ended up being a total jerk
and insulting boss's wife.
(Glenda Martillotti 10:03pm June 25, 2014)
Congratulations on your book I'm looking forward to reading it.
The most embarrassing thing for me at a dinner party would be at a party for a rock band my husband use to work for every one was standing around talking before dinner and my husband gave me his glass of wine and went to the rest room and some reporter was going around talking to the guess and came up to me saying man you like to drink don't you? I just smiled at him but I was so embarrass. Penney
(Penney Wilfort 9:19am June 26, 2014)
Everything but the main course turned out. The reason? I forgot to turn on the
oven!
(Deborah Nagy 9:20am June 26, 2014)
LOL! Loving all these stories. It's good that we can laugh about them later. As my Nan used to say, "What doesn't kill you, can only make you stronger!"
(Jayne Fresina 10:56am June 26, 2014)
i really had never had a Ruin A Dinner Party but i am
enjoying reading everyones stories on here
(Denise Smith 11:33am June 26, 2014)
probably when something struck me so funny that I was laughing
so hard I couldn't speak - and I'd only had one Margaritta.
(Diane Sallans 11:51am June 26, 2014)
love to read your book.always embarrassed to laugh at a silly joke
(Jean Benedict 11:54am June 26, 2014)
On my 21st birthday I bumped into the waiter and knocked over
the platter full of soup. Everyone was ok but I will never
forget it.
(Denise Austin 6:27pm June 26, 2014)
I love the humor in this story!

Well, I fell off my chair once. LOL
(Marcy Shuler 10:38pm June 26, 2014)
As a little kid I was allowed to cut my birthday cake for the first time. I gave the small pieces to the uncles and huge pieces to the aunts.
(Laura Gullickson 10:57pm June 26, 2014)
During one family dinner (Mom, Dad, aunts, uncles, cousins) my Mother decided we needed some wine with the conversation so off to the basement I go for a bottle of Daddy's homemade blackberry wine. Impatient man that he was he tended to bottle the wine before he should and as I was climbing the stairs I failed to notice the cork slowly inching its way skyward. I handed the bottle to my husband to uncork. No need. The cork exited the bottle on its own followed by a beautiful ruby red geyser of blackberry wine bathing my back (and new shirt) on its way toward the ceiling as my Aunt was muttering under her breath, "Devil's brew, Devil's brew". Mama didn't offer wine anymore.
(Debbie Kelly 6:28pm June 28, 2014)
You can learn a lot about the inner workings of a family by
sitting at a table and seeing who is allowed to say what and
which topics are out of bounds.
(Alyson Widen 1:39pm June 29, 2014)
Registered users may leave comments.
Log in or register now!