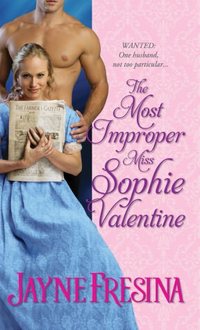 Purchase
The Most Improper Miss Sophie Valentine
Jayne Fresina
Wanted: One Husband, not too particular
Sourcebooks
June 2012
On Sale: June 1, 2012
Featuring: Lazarus Kane; Sophie Valentine
384 pages
ISBN: 1402265972
EAN: 9781402265976
Kindle: B007PUT28E
Paperback / e-Book
Add to Wish List

"Wanted: one husband, not too particular. Small dowry, several books, sundry furnishings, and elderly aunt included. Idlers, time-wasters, and gentlemen with other attachments need not apply."--Miss Sophie Valentine
Sophie Valentine knew placing an ad for a husband in the Farmer's Gazette would bring her trouble--and she was right. When the darkly handsome, arrogantly charming, Lazarus Kane shows up on her doorstep, the nosy residents of Sydney Dovedale, are thrown into a gossiping tizzy. After all, it's common knowledge that Sophie is a young lady In Need of Firmer Direction. But even Sophie isn't so scandalous as to marry a complete stranger...is she?
Lazarus Kane has been searching for Sophie half of his life. She may not remember him, but he could never forget her. The night he first laid eyes on his wayward angel is burned into his memory, but the past is a dangerous thing. And it's best if his remains secret if he wants to tempt Sophie with...
A MOST IMPROPER PROPOSAL
Comments
40 comments posted.
Re: The Most Improper Miss Sophie Valentine

I see why you created a heroine of a less than aristocratic class for your book. Historically, this time period was starting to show some change as far as how the English class system was devised. I appreciate the fact that you're taking a bit different approach to this book.
Susan Shapley
susanshapley@sutv.com
(Susan Shapley 12:44pm June 22, 2012)
A Respectable Trade by Phillipa Gregory looks into the rum and sugar trade operating out of Bristol, and a woman no longer in the first flush of youth who marries a businessman in order not to be dependent on her relatives. Then she discovers that the third, seldom mentioned leg of the Bristol trade is slavery. At the time it was considered respectable even though these people hadn't a clue about the wreckage they were making of the Africans' lives, and the life expectancy for sugar plantation workers was three years. The heroine ends up falling in love with a real man - I won't spoil it for you.
(Clare O'Beara 6:09am June 22, 2012)
I love the idea of this book, such a change from reading about the Ton and their stupid rules. It sounds great!
(Barbara Hanson 8:32am June 22, 2012)
It takes a lot of guts to write a book so different from the norm and I commend you for that. I wish you much success!
(Renee Pajda 9:04am June 22, 2012)
I read a ton of historical romances..being my favorite genre. So, it's so nice to read something that does it a bit different and changes it up. Keeps it fresh and interesting and definitely will make it stand out amongst the others.
(Sharon D 9:22am June 22, 2012)
Your book definitely tantalizes just by its description. So I'd LOVE to win a copy - but even if I don't win, I'll have to get it to read. So best of luck with it!
(Nancy Reynolds 9:41am June 22, 2012)
i met my husband by an ad from the newspaper in our area. i would really love to win this this sounds really good
(Denise Smith 10:15am June 22, 2012)
Sound like an interesting book and I'd love to read it!! Thanks
(Bonnie Capuano 10:26am June 22, 2012)
I love the reading about how people lived back then. The Ton was never going to invite everyone.
(Beth Elder 10:29am June 22, 2012)
YES! I love it if the female lead is independent and goes against the grain in historical contexts. A rebel if you will...tomboys and sharp tongued and reading with humor how other "ladies" from the time react.
(Angie Lilly 11:00am June 22, 2012)
I think this book sounds very interesting and I would love to
read it.
(Mary Hay 11:03am June 22, 2012)
I like the characters. You've combined two very interesting people for your book. I have an idea the different backgrounds won't make any difference by the time the story is complete.
(Anna Speed 11:30am June 22, 2012)
Having different and intriguing characters is always a good start for a compelling read. Thanks for the excerpt.
(G S Moch 12:24pm June 22, 2012)
this sounds like a real historical read
(Debbi Shaw 12:33pm June 22, 2012)
My favorite type of Historical Romance are Regency Period and sometimes I enjoy when the heroine is concealing her true identity and hiding her past. This sounds like a really good book and I am looking forward to reading it.
(Chelsea Knestrick 1:04pm June 22, 2012)
I love the variety out there... always looking forward to enjoying characters and going along their journey no matter the era.
(Colleen Conklin 2:50pm June 22, 2012)
I do enjoy unusal historical romances whether it's the characters or the settings that are unique.
(Maureen Emmons 4:01pm June 22, 2012)
I really enjoy historical romances.This sounds like such a refreshing take on the genre
(Julie Parrish 4:19pm June 22, 2012)
Oh, different is so important in reading! And romance writers are the best at bringing new ideas to the table-- such a creative bunch!
I can't wait to read THE MOST IMPROPER MISS SOPHIE VALENTINE!!
(Chelsea Brooks 5:22pm June 22, 2012)
Sounds really good! I love reading books that are a bit different. Thanks for the chance to win!
(Natasha Donohoo 5:40pm June 22, 2012)
Intriguing excerpt, looking forward to reading the whole story!
(Tracie Travis 7:24pm June 22, 2012)
I just love the title it is a must read for summer
(Shelly Itkin 7:32pm June 22, 2012)
Loved the excerpt. Just know the book is just as good. Can't wait to read The Most Improper Miss Sophie Valentine!!!
(Sharon Extine 7:35pm June 22, 2012)
This seems like such an interesting set of circumstances. Can't wait to hear their story.
(Brenda Rumsey 8:01pm June 22, 2012)
Sounds like a really good book .
(Virginia Lawson 8:08pm June 22, 2012)
I just loved reading your comments on the book. The title alone is so tantelizing. It really sounds like a fun read.
Thanks for giving us a chance to win your book.
(Kathleen Bianchi 8:15pm June 22, 2012)
The book sounds interesting, I'd love to win it.
(Wilma Frana 8:28pm June 22, 2012)
I have this fascination with reading books, especially Romance novels having to do with their settings in England. I have to say that after reading your excerpt, it was like a breath of fresh air to read a romance, having to do with "commoners," for lack of a better term. I am now aching to read the entire book!! This is definately #1 on my list of books to read for the Summer, and I will not be reading another book until I either win this contest, buy the book, or take it out at the library!! I am hoping that I win the book, so that I can pass it around to a few friends who live nearby. Those that don't are going to hear about the book so that they can go out and purchase it. I'm sure that word is going to travel like wildfire about this book, and I wish you the best of luck with it!!
(Peggy Roberson 8:39pm June 22, 2012)
I love books like this!
(MaryAnne Banks 9:49pm June 22, 2012)
I do love historical romance novels and it's great when the authors shake it up a bit. Either with the plot or the types of characters they create. It makes it so much more interesting!
(Michele Hayes 11:27pm June 22, 2012)
Sounds like a very interesting book. Thanks for giving me a chance to win your book.
(Linda Hall 11:54pm June 22, 2012)
I've had a particular fondness for Regencies ever since I was about 15 years old (and that's been awhile, now!). The drawing room romance is fine if it's done well, but I also like a variety of characters and situations.
(Janie McGaugh 11:55pm June 22, 2012)
Wow this one is definately different and I just love different. This is shooting to the top of my list of gotta have it in my hands asap. Thanks for the chance to win a copy and I can't wait to read this one. I can tell I'm going to be finding a spot in my keeper pile for it. Definately not the same old story with different names! Thank you.
(Patti Paonessa 11:56pm June 22, 2012)
Oh yes I do enjoy something different in my books!
(Gail Hurt 6:13am June 23, 2012)
I do indeed like something different in my romances--that's what makes the book fresh and interesting. This book sounds like a very enjoyable read.
(Sue Farrell 12:20pm June 23, 2012)
It's always fun to have a surprise in a romance, something that's a bit different
than the norm, like a character with an unusual career, job, or hobby, etc.
(Barbara Elness 7:25pm June 23, 2012)
I love historical romance novels--with anything goes!!
(Barbara Studer 12:06pm June 24, 2012)
This looks good so far, and I love the new details idea!
(Debra Simning-Chapman 1:24am June 24, 2012)
Mixing it up a bit keeps all of us on our toes and opens the eyes to new possibilities. I like changes mostly when they're good and I appreciate the ones that hppen to my favorite characters and friends.
(Alyson Widen 4:53pm June 24, 2012)
Who wants to read the same story again and again? Something different please.
(Shirley Nienkark 11:48am June 28, 2012)
Registered users may leave comments.
Log in or register now!