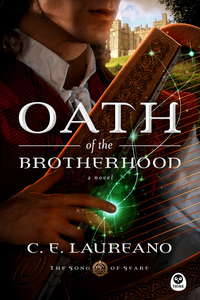 Purchase
Song of Seare #1
Th1nk Books
May 2014
On Sale: May 1, 2014
ISBN: 1612915876
EAN: 9781612915876
Paperback
Add to Wish List

Young Adult | Fantasy | Inspirational
In a kingdom where the Old Ways hold fast and a man's worth lies entirely in his skill with the sword, Conor Mac Nir is a scholar, a musician, and a follower of the forbidden Balian faith: problematic for any man, but disastrous for the son of the king.
When Conor is sent as a hostage to a neighboring kingdom, he never expects to fall in love with the rival king's sister, Aine. Nor does he suspect his gift with the harp (and Aine's ability to heal) touches on the realm of magic. Then his clan begins a campaign to eliminate all Balians from the isle of Seare, putting his newfound home in peril and entangling him in a plot for control of the island that has been unfolding since long before his birth.
Only by committing himself to an ancient warrior brotherhood can Conor discover the part he's meant to play in Seare's future. But is he willing to sacrifice everything—even the woman he loves—to follow the path his God has laid before him?
Song of Seare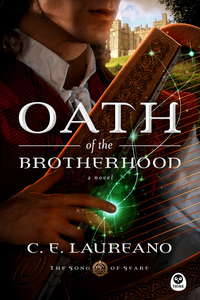 Oath of the Brotherhood
#1.0
Amazon.com | BN.com | | |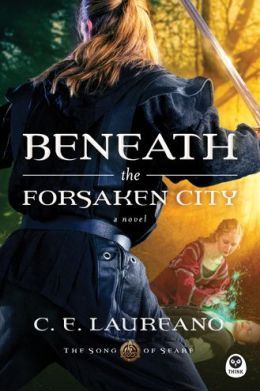 Beneath the Forsaken City
#2.0
Amazon.com | BN.com | | |
Comments
24 comments posted.
Love the cover. Sounds like a very good book.
(Sue Brandes 7:03am February 21, 2014)
The synopsis sounds great. Thanks.
(Pam Howell 7:19am February 21, 2014)
unfamiliar with your writings...but love to read anything re: ireland...and this sounds interesting.
(Mal Kaplan 7:38am February 21, 2014)
i love the cover thanks for the giveaway the book sounds
really good
(Denise Smith 8:55am February 21, 2014)
Can't wait to read this book, it sounds wonderful and I love the cover!!
(Bonnie Capuano 9:28am February 21, 2014)
This one sounds so interesting. I am reading Dominion as a
"what-if" but more on real life. I love books on Ireland even
though this is still on my list to visit. A little magic in a
book always works. Appreciate the giveaway.
(Leona Olson 10:03am February 21, 2014)
This novel sounds captivating and very special. Love this
locale and plot.
(Sharon Berger 12:07pm February 21, 2014)
All I can say is - "What if I were fortunate enough to win your book?" Then I could curl up in my favorite chair, with a Starbucks bevarage, my kitties, and get whisked off to your Isle of Seare, at lease for a while. Great post and awesome cover!! Can't wait to read your trilogy!!
(Peggy Roberson 12:39pm February 21, 2014)
Book sounds great,also love the cover. Thanks for a chance to win.
(Linda Hall 12:43pm February 21, 2014)
Book sounds good. Unfamiliar with this author.
(Tina Lechuga 1:02pm February 21, 2014)
Have not read your books but this one sounds and looks really good. I hope I win! Thanks for the chance.
(Vennie Martinisi 1:38pm February 21, 2014)
Love finding authors that are new to me. Gets me going!
(Barbara Wells 2:49pm February 21, 2014)
Oh this sounds like my kind of series!
(Colleen Conklin 3:36pm February 21, 2014)
love the cover and tehn the blurb on it love to read a d blog on it
(Desiree Reilly 4:56pm February 21, 2014)
Sounds like a very interesting book and who doesn't love Starbucks!
(Denise Austin 9:14pm February 21, 2014)
This book sounds fantastic, my ancestors are from Ireland,and
I've always wanted to visit there; a fantasy book with a land
like Ireland sounds perfect! I would love to win this book!!
Thanks for the awesome giveaway :)
(Sara Doyle 9:56pm February 21, 2014)
This sounds like a great premise!
(Janie McGaugh 10:31pm February 21, 2014)
What if.... I have read all of my life. I adore fantasy,
fiction, romance and all genres in between. That being
said, my husband once said that I could write stories
because I read so much. I was dumbstruck because I do not
have the detailed dreams for the what if... question.
Authors have a story begging to be told that not every one
has. I truly admire the drive and skill that it takes to
put your vision into words.
(Marcia Berbeza 11:16pm February 21, 2014)
Oooo Very interesting! Love the cover too!
(Glenda Martillotti 11:25pm February 21, 2014)
I love the book cover. I also love that the story is in Ireland. Ireland has been a magical country to me but I have never been there. Love to read about their myths and legends.
(Kai Wong 4:48pm February 22, 2014)
What an exciting book! Intriguing cover. Thanks for sharing.
(Bonnie H 11:48pm February 22, 2014)
I can see how WHAT IF?... would be invaluable.
(Mary Preston 5:27am February 23, 2014)
Thanks for imagining a new "What if?" With Ireland as a
backdrop, I bet you'll be turning over new rocks, graves and
changing history - if that's possible. It reminds me of a
kids asking, "How come?"
(Alyson Widen 5:36pm February 25, 2014)
the cover really catches your eyes, looking forward to
reading this book :)
(Sarah Hansrote 4:37am February 28, 2014)
Registered users may leave comments.
Log in or register now!