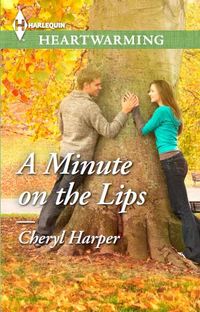 Purchase
Harlequin Heartwarming
February 2014
On Sale: February 1, 2014
Featuring: Andrea Jackson; Mark Taylor
368 pages
ISBN: 1460328310
EAN: 9781460328316
Kindle: B00FNJVT1W
Paperback / e-Book
Add to Wish List

Inspirational Romance | Romance
There are no secrets in Tall Pines...
Sheriff Andrea Jackson can't afford to become the subject of small-town gossip. With an election coming up and her job on the line, public opinion is crucial. That means keeping her distance from newspaper editor Mark Taylor.
Effortlessly handsome and dangerously charming, Mark is hard to resist, but his sudden interest makes Andi wonder if his dinner invitations are for business or pleasure. Andi has to admit she could use his help in solving a local theft, but working with Mark would make her the talk of the town, or worse...it could land her on the front page.
Comments
27 comments posted.
love the cover cant wait to read this
(Denise Smith 11:44am February 7, 2014)
Sigh, #1, 3, and 4 are my faves too:)) Tom Hanks has always
been the sexy little boy/man, Almanzo Wilder was the man's
man, and Darcy was just elegant. All yummy!!!
(Cindi Clubbs 12:38pm February 7, 2014)
You made very good choices, and I have one to add, although I'm sure you might not be familiar with him. His name is Percy Warwick, and his character is found in the book Roses, by Leila Meacham. It happened to be the first book of hers that I read, and I fell in love with the characters, as well as the book!! Although the book is over 600 pages long, I couldn't stop reading the book until I finished it, which meant I stayed up late that night. Percy was a one-of-a-kind kind of guy, and I can't say more than that, without giving the story line away. You just have to take my word for it. I love the cover of your book, can relate to the story line completely, since I knew someone like your main character, and would love to read your book!! Have a Happy Valentines Day!!
(Peggy Roberson 12:57pm February 7, 2014)
can't wait to read this author.
(Tina Lechuga 1:05pm February 7, 2014)
Wow sounds like a great book!
(Denise Austin 1:59pm February 7, 2014)
All of your choices are good. But, I must admit I just love bad boys, no way around it. So, the one I'd add to your list would be Rhett Butler (Gone With the Wind). He was also a sweet hero. I always felt he was heartbroken when he gave up on Scarlett. And, of course the worst possible romantic hero comes from the same novel. Ashley Wilkes was just a plain old loser.
(Ann Martinisi 3:10pm February 7, 2014)
Rhet Butler has got to be the most romantic, and sexy, hero.
(Janet Gould 6:34pm February 7, 2014)
Thank you, Cheryl. I love good-guy heroes! They're hard to
find, so it's great to discover your works.

I suppose my ultimate romantic hero is in my ultimate romantic
film, "Somewhere in Time". Richard Collier falls in love, but
he's up against more than the usual obstacles. She's in a
different time. A touching tale of love vs. fate. He was
played by Christopher Reeve, who's alive and well in my heart.
(Mary Anne Landers 7:25pm February 7, 2014)
Mr. Darcy is my ideal man. He has a way of being arrogant and yet I just can't hate him. He is someone that just grows on me.
(Kai Wong 2:32am February 8, 2014)
Sounds like a very interesting read. Thanks for the giveaway.
(Kathleen Beale 7:48am February 8, 2014)
Sounds great. Congrats on the new book!
(Vicki Hancock 8:39am February 8, 2014)
I love the title and the cover. The book sounds great!
(Melanie Backus 10:42am February 8, 2014)
I like my heroes with just a bit of badness in them.
(Sue Farrell 3:52pm February 8, 2014)
Congrats. Sounds like a great book!
(May Pau 4:37pm February 8, 2014)
Hi there Cheryl,how are you? Thank You,for making this
contest available to Canadians! I enjoyed reading your BIO. Your latest
book,"A Minute on the Lips," sounds like,a very interesting read!
(Elizabeth Calligan 5:01pm February 8, 2014)
sounds like a good read. thanks for the giveaway
(Barbara Studer 11:55pm February 8, 2014)
Would love to read this
(Aaron Polish 7:19am February 9, 2014)
Sounds wonderful. Thanks for the opportunity!
(Marcia Berbeza 10:25am February 9, 2014)
Your book sounds great Hope I win it.
(Carol Woodruff 4:11pm February 9, 2014)
Rhett butler
(Denise Holcomb 4:38pm February 9, 2014)
My favorite romantic hero is my husband.
(Sue Farrell 6:31pm February 9, 2014)
As a girl I fell in love with Almanzo Wilder. Not only was he
a strong self reliant farmer, he was an excellent horse
trainer, and he was so patient with Laura when she was
clueless about her feelings for him. :-)
(Glenda Martillotti 1:13am February 10, 2014)
My husband is my hero
(Carolyn Johnson 2:16pm February 10, 2014)
I would like to read A Minute on the Lips. Sounds like my kind of book.
(Jamie Steadman 5:50pm February 10, 2014)
I have to say Rhett Butler as some others did. Strong and
passionate.
(Leona Olson 9:39am February 11, 2014)
WIFE WOULD LOVE THIS BOOK.
(Jermayne Snelling 11:11am February 11, 2014)
Sean Connery in the early James Bond series makes me swoon.
(Alyson Widen 6:00pm February 25, 2014)
Registered users may leave comments.
Log in or register now!