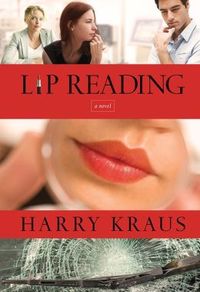 Purchase
David C. Cook
March 2014
On Sale: March 4, 2014
Featuring: Rebecca Jackson
432 pages
ISBN: 0781405343
EAN: 9780781405348
Kindle: B00H8FIZS4
Paperback / e-Book
Add to Wish List

She Could Save Millions, or Save Herself
She just needs a little longer. She's really close. Dr. Rebecca Jackson, a medical researcher, stands on the verge of a breakthrough that will transform medicine. But she soon discovers the reason behind the miraculous progress in her research, and it leaves her with a nearly impossible choice . . . and little time to decide.
More than her research is at stake. And more threatens it than this latest revelation. Something she's tried hard to cover up. There is a high cost to some things in medicine and it's not always the patient who pays. Can Rebecca find the faith and wisdom she needs to make the right call? The clock is ticking and the pressure is on.
Comments
9 comments posted.
Re: Lip Reading

Any books that are written as "preachy," are really written for what I consider to be the easily-swayed person, or someone who can't think for themselves!! I know many people like that. If you plant a seed in their head, they believe it to be the truth, and can't think for themselves. They believe everything they read, and don't bother to look for further information, or don't bother to know both sides. They already know everything!! These are the types of books I normally stay away from, unless the viewpoint is so spot-on to my way of thinking, that I know I'm going to thoroughly enjoy the story!! I have to commend you for your comments and opinions regarding writing your stories, and am looking forward to reading your book!!
(Peggy Roberson 8:23am March 7, 2014)
Your thought provoking post was excellent and left me with no
doubt about your writing ability. Your creativity in writing
and being a surgeon is admirable. Best wishes and much
happiness and continued success.
(Sharon Berger 11:12am March 7, 2014)
I love your platform and would love to read this book. Very thought provoking!
(Denise Austin 2:28pm March 7, 2014)
Great post. I find myself starting to skim whenever I read a
section where a character starts "sermonizing," or
recounting in dialogue the "point" or "lesson" the main
character should be learning.

Good tips, too, for writers--especially the no moer than
three sentences!
(Lynette Sowell 3:50pm March 8, 2014)
For some reason reading your post brought to mind a movie I just watched last night, "Dallas Buyers Club" which was quite good and based on true life events. For a guy that was supposed to live a mere 30 days, he found his own survival cure to live longer, and he lived another 7 years. He spent many hours helping others with his disease and going to lengths to obtain the products needed for himself and others. I'm sure your book has a lot to do with your background in the medical field. It must be a great outlet for you to write in what spare time you do have.
(Linda Luinstra 4:43pm March 8, 2014)
I have never read one of your books, would sure like to win one.
(Judy Ferguson 10:15am March 9, 2014)
Well said! Fiction is my escape, there is plenty of preaching
available online or listening to our politicians and
religious leaders. While inspiration is always welcome, I'll
select instruction when I feel I need it
(Janet Martin 1:50pm March 9, 2014)
i too skip parts of books when the characters start preaching
(Sarah Hansrote 2:42am March 12, 2014)
My first Writer's Group had me worried about how my words
would be perceived. In the class, I learned "show don't
tell." Thanks for your insights about writing the story and
not giving everything away right away.
(Alyson Widen 6:45pm March 14, 2014)
Registered users may leave comments.
Log in or register now!