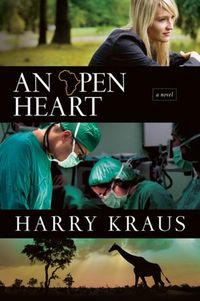 Purchase
David C Cook
June 2013
On Sale: June 4, 2013
Featuring: Jace Rawlings
448 pages
ISBN: 0781405351
EAN: 9780781405355
Kindle: B00BLVGPS8
Paperback / e-Book
Add to Wish List

Their Messages—From Beyond the Grave—Might Destroy Him
They hover between life and death, their hearts stopped on the surgery table. And the messages Dr. Jace Rawlings' open-heart surgery patients bring back from beyond the grave cannot be ignored. For they predict the deaths of people around him, and point a finger of suspicion straight at him.
It thrusts Jace into a firestorm of controversy and danger. A maelstrom blown by the darker winds of political intrigue and spiritual warfare. And the forces working against him will do anything to stop him from uncovering a truth they will kill to hide. He'd come to Kenya to establish a heart-surgery program for the poor. But what he will find in that place where he grew up will put everything at risk–his marriage, his career . . . his life.
Comments
33 comments posted.
Re: An Open Heart

Sometimes "miracles" in fiction do seem more like plot devices, but I agree if the character is struggling to accept what they saw then it makes the reader less likely to feel it is a plot device.
(Pam Howell 9:01am July 21, 2013)
This just shows how naïve I am. I seem to accept the whole story line. But,I do know that it is fiction after all.
(Kathleen Yohanna 9:27am July 21, 2013)
I am captivated with your unique novel which sounds compelling
and special and your talents. being a heart surgeon and a
novelist are a great combination. I am a breast cancer
survivor so would like to hear more about that idea and book.
Best wishes.
(Sharon Berger 9:58am July 21, 2013)
I have read many life after death books. Yours has an interesting twist to it. I think I would enjoy reading it.
(Betty Hamilton 11:22am July 21, 2013)
Under the circumstances, I'm sure that this happens. You wouldn't have to go to great lengths to prove it to me. That doesn't mean I'm gullible, I just have more of an open mind. Your book sounds really interesting, and considering the fact that I love books that delve into this subject, I would love to read it!!
(Peggy Roberson 11:48am July 21, 2013)
I read for escape---so I guess it's pretty easy for me to accept the unrealistic.
(Sue Farrell 11:48am July 21, 2013)
I have to plead guilty...I've gone into reading some books
with a totally closed mind. It could be all the "based on
actual events" only to be blown so far from it...urgh
(Billie Gaskill 12:05pm July 21, 2013)
I WISH I could believe in life after death but I just can't. Once I see a body to go earth, it remains there. Souls, I think not!
(Susan Coster 12:32pm July 21, 2013)
I'm very interested in this.... my great aunt died at 101 and a dear friend asked her if she saw any angels in the room... she said yes.
(Cate Sparks 12:42pm July 21, 2013)
What an interesting premise for a story. Am intrigued.
(G. Bisbjerg 12:57pm July 21, 2013)
I can't wait to read this book!
(Lynn Anderson 1:00pm July 21, 2013)
Not many doctors write about their experience especially serving in non-profit foundations like Doctors without Borders. There are the majority of us that can't travel or have to skills to contribute. We would like to know what goes on in the background. Thanks for sharing your experiences. I do have a tendency to believe in the positive things that are going on and that is because I want and need to see that people do care.
(Kai Wong 1:14pm July 21, 2013)
A fascinating topic, one to keep an open mind about!
(Diane Pollock 3:08pm July 21, 2013)
Wow, Congrats on your new book:AN OPEN HEART and Yes Miracles
really do happen in Life. Thanks for the great book and I
would really love to win it and read it this summer. Thank
You. Cecilia CECE
(Cecilia Dunbar Hernandez 4:34pm July 21, 2013)
I've always been fascinated by the supernatural - your book sounds wonderful!
(Mary C 5:21pm July 21, 2013)
Wow... this books sounds amazing!
(Nicole Swirsley 12:46pm July 22, 2013)
Thank you for sharing. I think there is an awful lot that we don't really understand but I do appreciate it when the central characters struggle with their credulity as well.
(E Felder 2:07am July 22, 2013)
I read with an open mind. It makes the experience so much
better.
(Mary Preston 5:22am July 22, 2013)
Miracles happen everyday. My family has experienced a few
miracles so I know that God is at work. Thanks for raising
this topic so others may beleive.
(Pam Scott 9:03am July 22, 2013)
I think that no one will know fully what happens in moments like this. Some people claim to "see a light" and others say they are in complete darkness. I suppose you will never know until you get there, but I love stories....giving my mind room to imagine!
(Veronica Jarvis 9:23am July 22, 2013)
Since I am not a doctor I can not know what goes on, however, I do believe that doctor's can work wonders and I believe that our higher power will be in charge and guide them so a miracle might be happening on occasions. Wonderful to believe in.
(Deana Connelly 9:57am July 22, 2013)
This book sounds amazing. I've never read a book quite like
this before!
(Cynthia Lam 10:52am July 22, 2013)
As long as a book is listed under fiction I'm open-minded enough to easily accept any supernatural or miracle occurancs. I've heard good things about this book and plan on reading it soon.
(Jamie Fortney 11:58am July 22, 2013)
Sounds fascinating.
(Jackie Stieghorst 4:06pm July 22, 2013)
You are right, I've heard of some things that really happened that can't
possible have really happened to people who you know would not make
things up or let their imagination run away.
(Laura Gullickson 4:09pm July 22, 2013)
Interesting point. :) Your books sound great too!
(May Pau 7:53pm July 22, 2013)
Enjoy your books. Thanks for the nice contest.
(Jackie Robertson 7:55pm July 22, 2013)
I believe in life after death.My Mom passed away on
Valentines Day, 3 years ago. On the first Valentines Day
after she passed I heard a loud disturbance at 6:20a.m. Went
out and turned on kitchen light and canned goods were slowly
sliding out of my pantry. Shelf had tilted. Just her way of
letting me know she was still around. 6:20 a.m. was her time
of death. Thanks for the contest!
(Teresa Ward 10:34pm July 22, 2013)
Sounds like a great book! Can't wait to read it.
(Sarah Bauman 12:01pm July 23, 2013)
I think I would phrase it as suspending disbelief rather than convincing the reader. No matter what you get them to accept in the story, they are not going to close the book and expect to see people walk through walls.
(Clare O'Beara 9:36am July 23, 2013)
As an emerg nurse I can see how it's difficult... I have never read any of
your books but am definitely adding them to be to be read list! :)
Lisa ([email protected])
(Lisa Medeiros 12:21pm July 23, 2013)
I like learning how to shape the intention and focus of the
main character. Thanks for clearing up how to make the reader
half-believe something that is a stretch of the truth by
having the MC (Main Character) accept it and go with the flow.
(Alyson Widen 8:52pm July 23, 2013)
Interesting storyline - would love to read the book, thanks
for the opportunity to win a copy. I have witnessed medical
miracles & my mind is always open to the possibility of
reality in the fiction I read.

bonnieroof60(at)yahoo(dot)com
(Bonnie Roof 9:40pm August 1, 2013)
Registered users may leave comments.
Log in or register now!