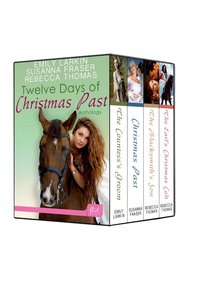 Purchase






Entangled Flirt
January 2014
On Sale: December 30, 2013
ISBN: 1622664604
EAN: 9781622664603
Kindle: B00HBR0PQ4
e-Book
Add to Wish List


Novella / Short Story | Holiday | Romance Historical

The Countess's Groom by Emily Larkin 

Rose, the Countess Malmstoke, is trapped in a marriage from hell. Escape seems impossible—until her horse groom Will Fenmore offers to help her find a way out.

Will has loved Rose since she was brought to Creed Hall as a new bride, but their relationship has only ever been that of mistress and servant. Born worlds apart, Will knows he could never be her husband, but maybe he can be her salvation.

As they plan her escape to the American colonies, Rose learns to trust Will with her life and her heart, but trusting him with her body is another matter. Can she conquer her fear of the marriage bed? Is the future she dreams of—being Will's wife—possible?

The Blacksmith's Son by Rebecca ThomasCaptain Quentin Drake returns home after his Naval commission ends to find a young groom being beaten in the village stables. Weary from his travels, Quentin only wants a good night's sleep, but refuses to turn a blind eye to the lad's mistreatment. He intervenes, taking the lad to his room, only to discover a woman masquerading as a boy.After Ally Lockwood's family dies, she supports herself by assisting the local blacksmith with his horses. She's not allowed to do the work as a woman, so she dresses as a boy, but her ruse is up when, due to injury, she's disrobed by a handsome stranger. What starts as a shared supper, leads to so much more... The Earl's Christmas Colt by Rebecca Thomas
Lady Arabella Sutton is stunned to learn her brother has betrothed her to a stranger despite his promises for a season in London. Although she is the first to admit no man would suit, since she's more interested in horses than marriage, the last thing she wants is to become a brood mare to a stuffy old earl. Facing a future she cannot abide, she takes an impetuous ride to clear her head and ends up tending her injured mare instead.


Oliver Westwyck, the Earl of Marsdale, can't believe his luck when he stops at an inn the night before he's to meet his fiancée. In the stable, while tending the colt he intends to give to his future wife, he happens upon her—rain-drenched but beautiful. She assumes he's a stable hand, a fine joke he means to end...until Lady Arabella declares all noblemen are egotistical, conceited, and arrogant. How can he reveal his true identity before he's managed to change her mind and win her heart?

Christmas Past by Susanna Fraser

Time-traveling PhD student Sydney Dahlquists first mission sounded simple enough spend two weeks in December 1810 collecting blood samples from the sick and wounded of Wellingtons army, then go home to modern-day Seattle and Christmas with her family. But when her time machine breaks, stranding her in the past, she must decide whether to sacrifice herself to protect the timeline or to build a new life and embrace a new love two centuries before her time.

Rifle captain Miles Griffin has been fascinated by the tall, beautiful Mrs. Sydney from the day he met her caring for wounded soldiers. When he stumbles upon her time travel secret on Christmas Eve, he vows to do whatever it takes to seduce her into making her home in his present by his side.
Comments
No comments posted.

Registered users may leave comments.
Log in or register now!