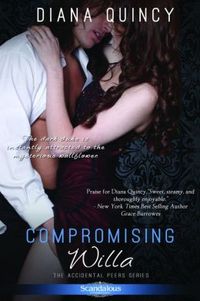 Purchase
The dark duke is instantly attracted to the mysterious wallflower
Accidental Peers #3
Entangled Scandalous
December 2013
On Sale: December 9, 2013
ISBN: 1622664140
EAN: 9781622664146
Kindle: B00GL3NBSS
e-Book
Add to Wish List

England, 1805
Lady Wilhelmina Stanhope is ruined and everyone knows it. Back in Town for the first season since her downfall, Willa plans to remain firmly on the shelf, assuming only fortune hunters will want her now. Instead she focuses on her unique tea blends, secretly supporting a coffee house which employs poor women and children. If her clandestine involvement in trade is discovered, she'll be ruined. Again.
No one is more shocked by Willa's lack of quality suitors than the newly minted Duke of Hartwell. Having just returned from India, the dark duke is instantly attracted to the mysterious wallflower. His pursuit is hampered by the ruthless Earl of Bellingham, who once jilted Willa and is now determined to reclaim her.
Caught between the clash of two powerful men, a furious Willa refuses to concede her independence to save her reputation. But will she compromise her heart?
Accidental Peers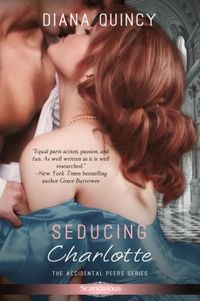 Seducing Charlotte
#1.0
Kindle | BN.com | | |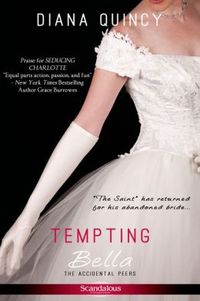 Tempting Bella
#2.0
Kindle | BN.com | | |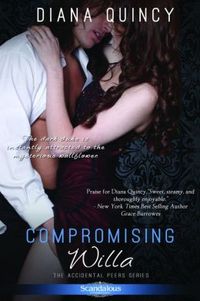 Compromising Willa
#3.0
Kindle | BN.com | | |
Comments
26 comments posted.
Who is your favorite author to read? Thank you for the chance
(Vickie Schultz 10:41am January 8, 2014)
Hi Vickie - It's hard to pick one favorite! But the authors I
enjoy reading include Lisa Kleypas, Joanna Bourne, Loretta
Chase, Sherry Thomas, Mary Balogh and Madeline Hunter.
(Diana Quincy 11:35am January 8, 2014)
It's difficult to select one favorite author. There are so many I enjoy such as Sharon Sala and Catherine Anderson. Right now I'm reading and enjoying one by Sabrina Jeffries.
(Anna Speed 1:08pm January 8, 2014)
My favorite romance author is Heather Graham. My favorite crime/mystery authors are Preston and Childs.
(Vennie Martinisi 1:43pm January 8, 2014)
Loving the sound of COMPROMISING WILLA... Thank you so much for sharing a bit about it with us!
(Colleen Conklin 3:26pm January 8, 2014)
Sounds like a great read. My favorite mystery writer is Gemma Halliday. Favorite historical writer is Diana Quincy.
(Denise Austin 4:11pm January 8, 2014)
At the store I go for the story description I like the most. Like Munroe, Nora Roberts.
(Beth Elder 4:12pm January 8, 2014)
I have found so many authors new to me on this site. Love
the authors! I usually read the story description on books,
I'm an avid reader and don't want to buy two! That has happened to me. I have purchased some of these books and have never be disapointed. Thank you for the giveaway.
(Barbara Wells 4:43pm January 8, 2014)
I read the first two book of this series and love it! I
can't wait for the third book! I love the excerpt
(Sandy Xiong 5:07pm January 8, 2014)
I'm dying to read this book. My heart sped up when reading the
story of your family friend- the romantic in me was hoping to
hear that true love prevailed in the end. Your twist on that
story seems very interesting. :)
(Kezia King 5:51pm January 8, 2014)
This sounds like an enjoyable read.
(Janie McGaugh 8:42pm January 8, 2014)
Hi Diana. I read and thoroughly enjoyed Seducing Charlotte
and Tempting Bella, and am looking forward to Compromising
Willa. My mom has read it and loved it. After reading your
excerpts, I'll be getting to it soon.

My favorite cup of coffee is laced with a shot of Bailey's
and Amaretto :-)
(Maria K. Alexander 8:44pm January 8, 2014)
Hi Anna & Vennie - There are so many talented authors out there! What a luxury it is that we readers will never be without something to read!

Hi Denise - *Blushes* Thank you!

Beth - The back of the book blurb influences me as well. Along with the author and the book cover.

HI Barbara - I hope you won't be disappointed with COMPROMISING WILLA if you end up giving it a try :)

Hi Sandy - Thank you! I'd love to hear what you think of Willa's story.

Kezia - Sadly true love did not prevail. However, my family friend was true to herself and was a very accomplished person.

Janie - Thanks :)

Maria - I'm so glad you Mother enjoyed COMPROMISING WILLA. I hope you will too :)
(Diana Quincy 9:04pm January 8, 2014)
Wow, Congrats on your new book: COMPROMISING WILLA. I like
the book cover too! Your new book sounds fascinating and I
would love to win and read your new book in the New Year
2014. Thank You very much. Cecilia CECE
(Cecilia Dunbar Hernandez 9:20pm January 8, 2014)
There are so many great authors, I like to read It's hard to chose. Book sounds great. Thanks for a chance to win your book.
(Linda Hall 10:09pm January 8, 2014)
sounds like my kind of read. adding to my list. love the carmel brule lattes.
(Barbara Studer 10:49pm January 8, 2014)
I really like the sound of this book. I like a stubborn and feisty heroine.
(Marcy Shuler 11:27pm January 8, 2014)
I have read any of your books. I do love Compromising Willa since the excerpt does interest me as what do Willa do to compromise herself into ruins. Thanks for the interview and excerpt.
(Kai Wong 11:40pm January 8, 2014)
I love it! Bonus excerpts! Compromising Willa looks great!
It's been on my wish list since I saw the first blurb.
(Glenda Martillotti 1:09am January 9, 2014)
I'm really looking forward to reading this book, because it mirrors someone in my own family that did the same thing. They dated for years, until his Mother passed away, then they got married. The thing is, when I saw them, they didn't seem deliriously happy, and were too old by then to have children, so they adopted a child. When the child was in their teens, I believe, he passed away, leaving her all alone to raise the child. There's much more to the story, but I don't think it was a very happy story in itself. They should have married when they were young, and the Mother was still living, in my opinion. I think they dated for over 20 years, which was a shame, and wasted the best years of their lives. Reading your book will probably have a lot of parallels to this person. I'll have to read the others as well, since they sound equally as good!! Congratulations on your book!!
(Peggy Roberson 9:56am January 9, 2014)
Looking forward to reading this book. Loved the excerpts. My favorite author is Julie Garwood's historical books.
(Carol Woodruff 11:10am January 9, 2014)
I love a wallflower story and look forward to seeing Willa
get back at that nasty Earl! I love a strong cup of coffee
with a shot of French Vanilla creamer.
(Diane Sallans 1:55pm January 9, 2014)
Thank you for the fabulous excerpts.
(Mary Preston 9:57pm January 9, 2014)
Sounds like an interesting read. I like to read the works of many authors and love stories of romance. Thanks for the giveaway opportunity.
(Kathleen Beale 9:09am January 10, 2014)
I always love learning new things when I read. That's why I love Historical Romance so much as I am always learning about interesting tidbits of history.
(Sharyn Lewis 11:54am January 10, 2014)
Congratulations on the publication of Compromising Willa! It sounds like a fascinating book. Love the cover. Thanks for sharing the great excerpts.
(Bonnie H 9:05pm January 25, 2014)
Registered users may leave comments.
Log in or register now!