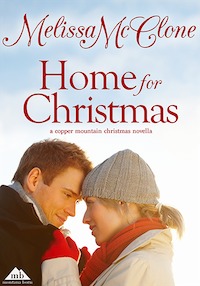 Purchase
Copper Mountain Novella
Tule Publishing
November 2013
On Sale: November 25, 2013
166 pages
ISBN: 1940296080
EAN: 9781940296081
Kindle: B00GEHN8ZW
e-Book
Add to Wish List

Other Editions
e-Book (November 2013)
Romance Contemporary | Holiday
Ginger, nutmeg and cinnamon.
Rachel Murphy loves the scent of gingerbread baking almost as much as she enjoys creating custom edible houses at Christmastime. But she needs a bigger kitchen if she wants to make the most of her impromptu holiday business.
Enter Nate Vaughn, handsome venture capitalist turned Montana dude ranch owner and her brother's boss. Nate's commercial kitchen is perfect for the baker. And he thinks she might be perfect for him…as a business partner.
After being burned by a celebrity baker, Rachel's wary of Nate's interest in her gingerbread houses, not to mention his mistletoe kisses. She should leave the Bar V5 ranch and return to Arizona. Or can Nate convince her she's already home?
Copper Mountain Christmas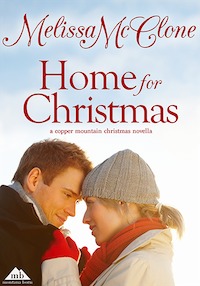 Home for Christmas
#1.0
Kindle | BN.com | | |
Comments
31 comments posted.
this sounds really good i love christmas romance stories
thanks for the chance
(Denise Smith 12:08pm November 25, 2013)
Christmas is a tough time for so many with the dynamics of families so this sounds like a great way to have a feel good evening!
(Darci Paice 1:48am November 25, 2013)
We decorate for Christmas the day after Thanksgiving. All the Thanksgiving
decorations and all-year decorations come down and packed away first. It
usually takes two days to decorate the house. The two trees and
ornaments go up last, because it's the biggest job. My favorite decorations
are the ornaments that my children made or that I have made for them to
remember accomplishments they have achieved. Home for Christmas
sounds wonderful! Thanks for the chance to win!!!
(Linda Brennan 4:47am November 25, 2013)
We decorate the beginning of December. I have scaled down a bit in the decorations since I am getting a bit older. Besides the tree which we put in the front window, we put some lights outside on trees and bushes, and put out some knicknacks and wreaths. Last year my husband bought me several pointsettias which I put around in several rooms - really added a nice touch.
(Pat Lieberman 8:05am November 25, 2013)
Ornaments are my favorite. I collect them and probably have at least 800! I put up 3 trees....big, real one in great room....skinny, fake one in foyer with all the girly ornaments (I have 3 daughters) and a mini, fake one in the dining room for my miniature ornaments. Then since each kid has been born, they have gotten an ornament every year. All of these are on the garland that is on the stairs railing and the loft. These ornaments they will keep when they move out. It probably takes me 3 days just to do the ornaments.
(Sue Galuska 8:50am November 25, 2013)
Before I tell you about me, I had an idea for you. There's no need for you to take down your pictures. You can just tape wrapping paper and ribbon over them, and then you have giant presents to decorate your walls!! Christmas is my favorite time of year, and I love to go all out, but am married to a bit of a Scrooge (bah, Humbug lol), and now have 2 kittens that we haven't had before, so it's bound to be a bit of a challenge for me. I love to put a touch of Christmas everywhere!! My Christmas tree has to be my favorite decoration, because I love an old-fashioned Christmas, and it's filled mostly with ornaments that I've made by hand over the past 30 years. There are 2 ornaments on there that go in the front every year, however. These were made by my Mother and me. They're of Raggedy Ann and Andy. She passed away 11 years ago, and I still remember making them for the family with her like it was yesterday. They say Christmas is for Children, but I think that it brings out a bit of the child in all of us. Have a wonderful Thanksgiving, and a Blessed Christmas!!
(Peggy Roberson 9:52am November 25, 2013)
I love the lights...they are so beautiful on the houses and in our home. This looks like a great book and I can't wait to read it!!
(Bonnie Capuano 10:16am November 25, 2013)
I've always loved the sweet scents of Christmas!
(Richard Proctor 10:33am November 25, 2013)
With my family scattered all over the country, its so difficult to get everyone together, making the holidays a little sad at times, especially knowing that there are family members no longer living that are missed. Decorating, and baking for the holidays has always been the most fun time of the year, bringing so many memories back you can almost see them as if they were immediate and real.
(C Culp 10:37am November 25, 2013)
Sounds like the recipe for a wonderful Christmas!
(Maria Proctor 10:38am November 25, 2013)
I have a favorite decoration that happens to be a nativity
scene. It was purchased at a holiday bazaar from an
international women's group. I believe they said it was
South American. It is a dried hollowed out gourd, a design
burned into the outside, a leather hinged cut out door
opening into papier mache of a starry night with dark blue
sky and nativity figures attached to the bottom interior of
the gourd.
(G. Bisbjerg 10:52am November 25, 2013)
We decorate a few days before Christmas because we always have a real tree. I prefer white twinkle lights on the tree with colorful ornaments on it. Can't wait.
(Carol Woodruff 11:01am November 25, 2013)
One of my favorite things is to drive around and look at all the decorations, but, living in a condo the only thing I can do outside is to put a wreath or swag on the door. Nobody really gets to enjoy it but myself and my across the porch neighbor. But I am truly a sucker for colored Christmas lights!
(Vennie Martinisi 11:45am November 25, 2013)
We start to decorate after Thanksgiving... lights and some cute decorations outside... inside so much more... and all year round we have out a beautiful Nativity set in view.
(Colleen Conklin 12:21pm November 25, 2013)
We live in Arizona, and my favorite Christmas decoration is the saguaro cactus that we decorate with lights and a santa hat! We never decorate before Thanksgiving.
(Sandy Fielder 12:29pm November 25, 2013)
I love ornaments, garland and the lights. My favorites are
our snowflakes and shiny, color balls, but we always love to
watch the colored lights blink and fade at night.
(Wasanaa Smith 12:30pm November 25, 2013)
Can't wait to read.
(Tina Lechuga 12:50pm November 25, 2013)
Love Christmas romances!
(Michelle Schafer 2:18pm November 25, 2013)
Christmas is my favorite holiday. It takes us weeks to decorate the whole house. Each room has a different theme. Gingerbread for the kitchen, Angels for the bathroom, santas for the living room candy canes for the office, bells for the dining room, holly and ivy for a bedroom, and snowmen for the other bedroom.
(Joelle Beebe 3:40pm November 25, 2013)
We really don't do a lot of decorating, but I love to see houses with Christmas lights glowing, especially through falling snow.
(Marcy Shuler 4:01pm November 25, 2013)
I do very little decorating for Christmas, rather spend my time enjoying the holidays in other ways.
(Sheila True 5:55pm November 25, 2013)
I like to drive around and see people's decorations.
(Susan Falkler 7:09pm November 25, 2013)
My favorite decorations are some we got from my grandma. My Mom has enough Christmas decorations and a big enough house that sometimes she does "theme" rooms if she has enough time.
(Laura Gullickson 8:47pm November 25, 2013)
This book sounds wonderful. I have so many favorite decorations, it would
be hard to name a favorite.
(Melanie Backus 10:25pm November 25, 2013)
I love holiday books and go in a frenzy at this time of year to make sure I buy all of the holiday books. Hope I get to win your book if not I will definitely be purchasing it.
(Yaritza Santana 11:09pm November 25, 2013)
My favorite decoration is a handmade ornament from my niece.
(Mary C 11:47pm November 25, 2013)
It's the Christmas Lights. I just love the colors and the way they blink on and off.
(Kai Wong 12:03pm November 26, 2013)
We try to decorate the house and tree Thanksgiving weekend,
especially now that my son is in college. No matter what else
goes up it isn't really Christmas unless my Nativity carved
from olive wood is up.

And, yes I uave had to rescue pieces from the fur babies on
occasion. :-)
(Glenda Martillotti 1:04am November 26, 2013)
I make a display tree from branches that I find in the woods. It is decorated with tree ornaments that were given to me as the ugliest ornament they had. Some really old with paper hangers, some weird colors, some scratched and worn, but all given with merriment. My ugly tree gets more attention than the one I decorate with pretty objects.
(Rosemary Simm 4:27pm November 27, 2013)
loved this story
(Denise Holcomb 9:43pm November 28, 2013)
My favorite ornaments are the ones my daughters made me when they were small. Theyre grown now so they are very special to me.
(Karen Johnston 9:55am December 2, 2013)
Registered users may leave comments.
Log in or register now!