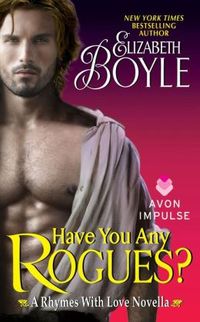 Purchase
A Rhymes With Love novella
Avon
November 2013
On Sale: November 12, 2013
Featuring: Crispin, Viscount Dale; Lady Henrietta Seldon
118 pages
ISBN: 0062322885
EAN: 9780062322883
Kindle: B00ECAUBLM
e-Book
Add to Wish List

The Seldons and Dales have been mortal enemies for centuries …
But that hasn't stopped the roguish Crispin, Viscount Dale, and the impetuous Lady Henrietta Seldon from waging their own battle … of the heart. Every stray glance, every chance encounter threatens to reveal the secret passion that keeps drawing them together.
But finally, after years of flirting with disaster …
Crispin and Henrietta find themselves locked in a wine cellar, and now there is no denying the love and loyalties that have lured them in and torn them apart time and time again. Will this one last chance—this tempting night of desire—ignite a fire that will never be extinguished, no matter the price?

Media Buzz
Fresh Fiction Cast - November 25, 2013

Rhymes with Love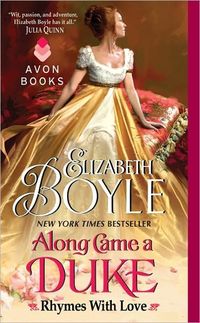 Along Came A Duke
#1.0
Amazon.com | BN.com | | |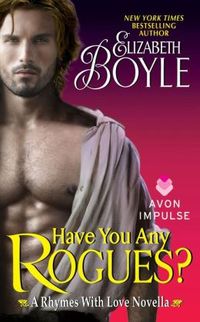 Have You Any Rogues?
#2.5
Kindle | BN.com | | |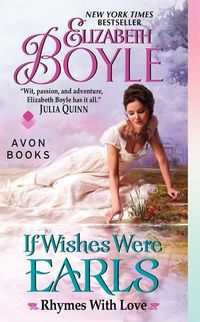 If Wishes Were Earls
#3.0
Amazon.com | BN.com | | |
Comments
20 comments posted.
I loved your story - it proves, once again, that our husbands should always
listen to their wives! Your book sounds wonderful! Thanks for the chance
to win!!!
(Linda Brennan 3:49pm November 13, 2013)
Wow, what an excerpt! I can't wait to read this novella.
(Marcy Shuler 5:22pm November 13, 2013)
I haven't read And The Miss Ran Away With The Rake, but this excerpt from your new project sounds interesting.
(Kim C 7:17pm November 13, 2013)
Great excerpt! I look forward to reading their story.
(Janie McGaugh 10:13pm November 13, 2013)
Ha! Great story!! More evidence that guys tend to be clueless
about so many little details. ;-) Loved the excerpt.
(Glenda Martillotti 11:24pm November 13, 2013)
Keeping my fingers crossed!
(Melanie Backus 12:26pm November 14, 2013)
So romantic.
(Winter Mascara 2:22am November 14, 2013)
Ladies are better at seeing details than men. Sounds like a good story.
(Clare O'Beara 8:55am November 14, 2013)
How observant you are! Sounds like a great trait for an author. Thanks for the excerpt and for visiting today.
(G S Moch 9:03am November 14, 2013)
After reading your excerpt, I felt like a fly on the wall!! It was as if I were there watching the entire episode unfold, but the sad part is that I'm sitting here now, wishing there were more!! You have been given a gift of telling a story with such wonderful description, that you can leave a person captivated with every word!! I'm putting on the tea kettle now, so that I'll be prepared to start reading this book in its' entirety!! What a great way to kick off Fall!! You may have put a hot guy on the cover, but your words inside are so much hotter!! Congratulations!!
(Peggy Roberson 12:11pm November 14, 2013)
I have never read one of your books. Hope to win one then I can reed it.
(Judy Ferguson 2:48pm November 14, 2013)
Great snippet... thanks for sharing!
(Colleen Conklin 3:41pm November 14, 2013)
so glad she's getting her hea )
(d Kenney 6:50pm November 14, 2013)
The sneak peek intrigues me. I'm curious about Crispin and Henrietta.
(Kai Wong 12:01pm November 15, 2013)
Loved your excerpt. Your books are the ones I read over and over. Keep up the good writing!!
(Sharon Extine 3:01am November 15, 2013)
Thank you for writing such captivating storylines. I am so looking forward to reading more of your books, especially with winter coming on, I can take a nice cup of hot tea, sit by the fireplace and read away....
(C Culp 6:54am November 15, 2013)
I like your story! Woman do have that feeling that men don't!
This short excerpt gives me a glimpse of the story you wrote! I am new to your books but would love to read and review it. Thank you for sharing!
(Nicole Laverdure 4:08pm November 15, 2013)
Your excerpt sounds great. Looking forward to reading this book.
(Carol Woodruff 4:11pm November 15, 2013)
Women by intuition know more often than men the signs of an
affair. I don't have any rogues yet, but you have the start
of a grown-up nursery rhyme.
(Alyson Widen 8:47pm November 15, 2013)
Your story had me laughing. Not long before everyone knew.
(Mary Preston 6:34am November 16, 2013)
Registered users may leave comments.
Log in or register now!