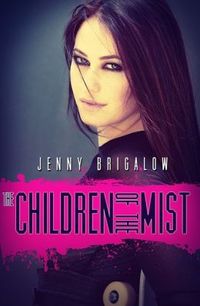 Purchase
Escape Publishing
October 2013
On Sale: October 1, 2013
ISBN: 0857990896
EAN: 9780857990891
Kindle: B00EVAV720
e-Book
Add to Wish List

An original paranormal YA about an unconventional girl, an unconventional boy, their extraordinary transformations, and the secrets of the Scottish Highlands.
When skater girl Morven Smith turns sixteen, she develops boobs, acute appendicitis...and a pair of pointy teeth. While she is stunned by her metamorphosis into vampire, her best mate, the enigmatic Zest, is not. For the young werewolf, Morven's transformation is an answer to his lonely prayers.
But they are unable to celebrate their mutual paranormalcy for long — there are too many dangers, too much suspicion, and too many questions. It's only in Scotland that Morven can learn the truth about her past. But she discovers more than she bargained for when she meets her birth family — an ancient feud between vampires and werewolves. They may both be Children of the Mist, but only one species can survive.
Comments
16 comments posted.
the book sounds really good love to read this
(Denise Smith 1:44am October 13, 2013)
Your book has so many interesting turns to it - keeping you turning each page with anticipation, that you have to just have to have it!
(C Culp 7:47am October 13, 2013)
There were many times I wished I had magical powers, especially when the kids were small. HA This sounds like a great book to read...THANKS!!
(Bonnie Capuano 10:04am October 13, 2013)
I still imagine that I have secret powers or I imagine myself in my favorite books. But if I really woke up transformed with some secret powers, I guess the first thing I would do is try to figure out everything I could about it. Whether there are any books or other people with the same powers, etc. But it would sure be fun.
(Pam Howell 1:50pm October 13, 2013)
As a mom of 4, I wish for supernatural powers every day. Lol
(Sharon Cook 2:35pm October 13, 2013)
I'd love to have some magic powers to just disappear at work some days. Would love to read your book.
(Sue Farrell 2:55pm October 13, 2013)
After I finished panicking and procrastinating, I would try to figure out what I could do. It would be a bummer since I'd have to figure out what was new and not have a clue what I was doing.
(Laura Gullickson 3:01pm October 13, 2013)
First I would freak and probably spent days trying to hide the changes before finally accepting the changes (as long as I don't turn into an insect and as long as I still able to maintain my human form).
(Kai Wong 3:26pm October 13, 2013)
Is that a skateboard I see?
(Callie Stuck 4:56pm October 13, 2013)
I grew up watching Bewitched and always wished I could have these powers..LOL
(Jayne Cameron 6:24pm October 13, 2013)
Wow, Congrats on your new book: CHILDREN OF THE MIST. Yes,
it would be great to have magical powers especially when
others would Bully me in school. I could be like the movie
Carrie. Your book sounds fascinating and I would love to win
it and read it this Fall. Thank You very much. Cecilia CECE
(Cecilia Dunbar Hernandez 6:58pm October 13, 2013)
Your book sound very interesting. Thanks for a chance to win it.
(Linda Hall 11:32pm October 13, 2013)
You write to escape and I read to escape and visit different places.
If I woke up changed, I would hope I could help others more.
How nice to work with your daughter.
(Leona Olson 7:36am October 14, 2013)
Most mornings, I wish I did have magical powers!
(Kathie English 9:54pm October 14, 2013)
It would be scary waking up as something different.
(Mary Preston 10:38pm October 14, 2013)
It would be frightening to awaken with power at my fingertips.
Instead of my usual day.
(Alyson Widen 6:29pm October 31, 2013)
Registered users may leave comments.
Log in or register now!