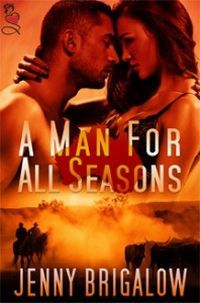 Purchase
Steam eReads
April 2013
On Sale: April 15, 2013
ISBN: 0987458159
EAN: 9780987458155
Kindle: B00CEFVPXU
e-Book
Add to Wish List


When successful rodeo rider and racehorse trainer Chad Cherub steps off the plane at Heathrow, love is the last thing on his mind. He's travelled from Australia to do a business deal with the wealthy entrepreneur and racehorse fanatic, Walter Driscoll. However, he soon finds himself distracted by Wally's gorgeous daughter, Seraphim.

Sweet, spoiled Seraphim, a gifted dressage rider, is also distracted. Engaged to the eminently suitable Barry Wellington-Worth, the arrival of cool, confident Chad forces her to re-examine her life. When she discovers the devastating truth that she does not love Barry, and learns that Chad's cook has been injured, Seraphim jumps at the chance to take up the position on his remote property and escape the confines of her English life.

In the great dust bowl of the Australian Outback the couple find they have more in common than horses. Their love blooms as they work hard to start a new life together. But Seraphim's family, and the past, threatens to tear them apart. It is only when the truth is laid bare that the barriers are broken down.
Comments
33 comments posted.
One superstition I have is when it turns 11:11 on my clock or phone, I ALWAYS
stop to make a wish. I now do it out of habit. As for believing in angels, I do,
without a doubt. It warms my heart to know that there are angels watching out
for me. I can't wait to read A Man for All Season. Thank you for the giveaway.
(Val Pearson 12:40pm April 19, 2013)
Mine is whenever I see a black cat I have to try and pat it
and wish it luck .... (reversing the so called "black cat
curse") Though I had a black cat myself for 21 yrs and never
had any bad luck haha
(Rachael Kennedy 2:54am April 19, 2013)
I definately believe in angels and I think that in times of great stress they helf us to over come great obsticles. They comfort us and help to guide us through difficult times.
(Betty Hamilton 3:25am April 19, 2013)
Hi Val, just wondered, do any of your 11:11 wishes come true? I'm going to be clock watching now.
Hi Rachael, I'm respectful of black cats too. I had a lovely black cat called Salem, much loved, much missed.
Thanks for sharing Betty,a beautiful thought .
(Jenny Brigalow 3:53am April 19, 2013)
Mine is walking under ladders kinda silly I guess but I totally believe in
angels because I have felt my son beside me many times since his death in
1996 I know he is watching over his brother and his sisters and myself we
miss him and we love him and I know he knows we miss and love him and I
am sure he misses and loves us too
(Ava Curtis 6:44am April 19, 2013)
No I don't believe in supernatural angels; I do believe that sometimes we are helped by other people and some might consider them to be angels. Because if there are angels why are there murders and disasters? And would Buddhist or Taoist people have angels to care for them? Would Hindus? Or are angels racist? No, I'd rather just believe in people.
(Clare O'Beara 7:07am April 19, 2013)
With all that has been happening on the news lately I want to
believe in angels. I believe in earthbound angels like out
first responders and the medical and law enforcement folks
that protect and serve.
(Donna Antonio 7:42am April 19, 2013)
Angels can be good or bad, but I tend to think of them as
good, being there to protect, and serve. Superstition is a way
of mind, becoming a habit over time.
(Brittany Savage 8:13am April 19, 2013)
I most certainly do believe in angels - spiritual AND physical angels - definitely!
(Felicia Ciaudelli 8:19am April 19, 2013)
Not really superstitions but I do believe in angels or a presence of those who loved us and are no longer alive. My father was in a bad car accident a few years ago and he said he felt the presence of my Mom and his second wife, both deceased, standing over his shoulder that kept him going until help arrived. And the first person to stop and help was a jogger who never ran that way before but had a feeling that she should do so... she was a trauma nurse.
(Annetta Sweetko 8:47am April 19, 2013)
I definitely think there are both physical and spiritual angels that help us through life. I think your book sounds wonderful. Best of luck with it.
(Nancy Reynolds 9:41am April 19, 2013)
I sort of believe in superstitions...maybe...not really.
I'm a see-to-believe kind of person.
(Mary Hay 10:06am April 19, 2013)
I dont walk on man hole covers or any of those grate type cover...NEVER.
(Lisa Fitzgibbons 10:29am April 19, 2013)
I don't really have a lot of superstitions. But 13 is really my lucky number.
(Pam Howell 10:50am April 19, 2013)
Hmmm, superstitions... I believe positive thinking will bring positive vibes to your life... I believe in angels watching over us...
(Colleen Conklin 12:53pm April 19, 2013)
I believe in angels, and I keep an open mind about magical or
mystical things because I want to them to exist.
(Wasanaa Smith 12:57pm April 19, 2013)
Yes,
I toss salt over my left shoulder to keep bad sprits away if
salt spills, I do believe in Karma and that what you put out
will come back.. I also believe in ghosts, angels, god and
pray for my loved ones every night.
(Jeannie Platt 3:43pm April 19, 2013)
No superstitions. Sitting on the fence on the ghost debate. And there must be an angel watching out for me, or I probably wouldn't be here now.
(Deb Diem 6:53pm April 19, 2013)
I believe in Karma, don't like breaking mirrors, and am sure
a lot more I can't think of right now.
(Vicki Hancock 7:59pm April 19, 2013)
My superstition is those darn chain emails. If I don't forward them, bad luck will follow me. That is why I hate chain mails.

I believe in angels. I have always pray that they would watch over my Mom and sisters. My Mom survived a horrific car accident. My sister just happened to move out of the apartment before the Northridge Earthquake hit. It's the apartment that she was renting while attending Cal State Northridge, that collapsed during the earthquake. So I do believe strongly in angels.
(Kai Wong 9:00pm April 19, 2013)
I can't think of any superstitions that I have but I do believe in angels and they watch over us.
(Tracie Travis 10:13pm April 19, 2013)
Gosh, there are some heart warming and fascinating stories here. Real food for thought. Thanks everyone!
(Jenny Brigalow 10:16pm April 19, 2013)
I believe in Karma.
(Mary C 10:32pm April 19, 2013)
I do believe in angels, I feel they are all around us. Thanks for a chance to win your book.
(Linda Hall 10:57pm April 19, 2013)
I feel that uneven numbers are MORE worthy than even numbers. We can't both be right so, I guess that all numbers must have the same luck it just depends on chance. But, it sure is fun to think about. For instance I think 19 is a lucky number and if I win, I will be sure of it, since today is the 19th. Luck or Chance?
(Kathleen Yohanna 11:12pm April 19, 2013)
Yes, I do believe in Angels and Superstitions too. The 15th
of every month is freaky for me and I will get phone calls
from people I have not seen in years or other things happen.
My son was born on the 15th, my Grandma died on the 15th,
anniversary on the 15th and my English teacher called me the
Ides of March too. God and his Angels have saved my life in
a bad car accident when I lived in Tulsa, OK years ago. Now,
I try to put God First in everything everyday. I love the
song: Angels watching over me every step I take. Thanks for
the great contest. Cecilia CECE
(Cecilia Dunbar Hernandez 12:05pm April 20, 2013)
I DONT KNOW THAT I BELIEVE IN SUPERSTITIONS BUT I BELIEVE IN ANGELS.
(Shelley Summers 12:39pm April 20, 2013)
I am superstitious about the number 13, but I don't really know why. The Bible mentions angels, so they must exist.
(Gladys Paradowski 12:52pm April 20, 2013)
Hi everyone, thanks so much for sharing. It looks like numbers are a significant part of all our lives. As for angels, well it sounds like sometimes things happen that are hard to explain.
(Jenny Brigalow 2:51am April 20, 2013)
I'm not superstitious at all & I do believe in Angels.
(Mary Preston 6:22am April 20, 2013)
I don't know, but would enjoy finding out! A few strange things have happened in my life, so I wouldn't rule them out.
(Janet Martin 6:03pm April 20, 2013)
I'm not sure that angels come with four legs, but I think my Connemara pony, Romeo, is pretty angelic. Honestly, he's a honey.
(Jenny Brigalow 1:20am April 21, 2013)
I do believe in angels, and I feel I have two guardian angels who often keep me out of trouble - my grandmother and my little brother.
(Donna Holmberg 3:30am April 21, 2013)
Registered users may leave comments.
Log in or register now!