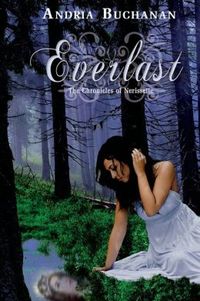 Purchase
The Chronicles of Nerissette #1
Entangled Teen
August 2013
On Sale: August 27, 2013
Featuring: Allie Munroe
320 pages
ISBN: 1622660064
EAN: 9781622660063
Kindle: B00BQMLIPM
Paperback / e-Book
Add to Wish List

Allie Munroe has only ever wanted to belong, maybe even be well liked. But even though she's nice and smart and has a couple of friends, she's still pretty much the invisible girl at school. So when the chance to work with her friends and some of the popular kids on an English project comes up, Allie jumps at the chance to be noticed. And her plan would have worked out just fine…if they hadn't been sucked into a magical realm through a dusty old book of fairy tales in the middle of the library. Now, Allie and her classmates are stuck in Nerissette, a world where karma rules and your social status is determined by what you deserve. Which makes a misfit like Allie the Crown Princess, and her archrival the scullery maid. And the only way out is for Allie to rally and lead the people of Nerissette against the evil forces that threaten their very existence.
Comments
17 comments posted.
Re: Everlast

Wow, Congrats on your new book: EVERLAST. Also, Congrats on
your new series: CHRONICLES OF NERISSETTE. I have always
enjoyed reading about fairy tales and your book Everlast
sounds so fascinating. I would love to win and read your
book this Fall. Yes, I do agree that in the end the good
things in life like love, friendship, and loyalty can defeat
evil things we face in our lives. Thank You for the great
contest. Cecilia CECE from Kansas the True Wizard of OZ!!!
(Cecilia Dunbar Hernandez 12:00pm September 14, 2013)
I grew up loving to read fairytales but never really
considered why I so enjoyed them. Your book sounds intriguing
with the setting in a book of fairytales and the modern school
kid characters who suddenly find themselves there.
(G. Bisbjerg 2:51pm September 14, 2013)
That's the thing with fairy tales. It only show one side of the story. Like Snow White rewritten by Neil Gaiman, I will never see Snow White like I do when I was a kid. Wicked and the Stepsister by Maguire, both are another side of the stories. Ever After with Drew Berrymore as Cinderella is another side of the story from all of the characters' point of view.

They are the kind of stories, I would go back to.
(Kai Wong 2:52pm September 14, 2013)
I would have loved to experienced Nerissette. Sounds
captivating and special. Your book is unique and wonderful.
(Sharon Berger 4:35pm September 14, 2013)
I've read all of Gregory Maguire's books, so I'm familiar with his sense of humor. Wicked was the book that got me started. I'm really looking forward to reading your book, to see your take on these stories, since I've always loved Fairy Tales, regardless of their form. This should be quite the adventure, and I should have quite an interesting start to my Fall reading. Congratulations on your book!!
(Peggy Roberson 4:50pm September 14, 2013)
What a gorgeous book cover! I have always loved fairy tales. There are so many spin-off stories and movies from many of them, which gives us a whole new unique story from the original. Yours sounds different and I would really enjoy reading it very much.
(Linda Luinstra 4:57pm September 14, 2013)
Congrats on the release! I have always been a fan of fairy tales, and I love when
I find a re-telling of the classics!
(Becca Luman 6:27pm September 14, 2013)
I really enjoy reading books like this. Your book sounds wonderful!
(Kathy Morrison 2:06am September 15, 2013)
I love fairytales today and even as a child they are always
happily ever after which is always the best
(Denise Smith 9:36am September 15, 2013)
I love the magic of fairy tales. This sounds like a very good book and I look forward to reading it. Also, I love the cover art. Thanks for the opportunity to win a copy.
(Ann Martinisi 11:02am September 15, 2013)
I loved Wicked. It really made me think and I loved how the author didn't just tell you everything. There were parts I still had questions about after reading the book. Looking forward to reading your take on fairy tales in the new book.
(Pam Howell 12:34pm September 15, 2013)
This sounds like a great read. Carol Conerly 9/15/13
(Carol Conerly 4:53pm September 15, 2013)
A few new books to check out-cool. I like the concept of your book.
(Laura Gullickson 9:11pm September 15, 2013)
I love Fairy Tales and this sounds like an interesting adaptation.
(Marcy Shuler 5:25pm September 16, 2013)
A great post thank you. Fairy Tales can be very dark, but I do
love them still.
(Mary Preston 8:48pm September 16, 2013)
This sounds like an amazing story... Congrats !!!
(Gina Keitz 3:25pm September 19, 2013)
Congrats for your book.
Honestly, maybe i'm too old to read fairytales but i just love it. Nice to read and told it to my students, they are still 4 till 6 years old. They always looked so exited to hear me read it. And that was one of my spirit to start my day and finishing my works well.
(Rina Darmayanti 5:43pm September 25, 2013)
Registered users may leave comments.
Log in or register now!