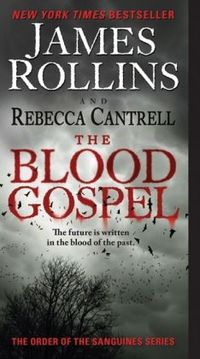 Purchase
The future is written in the blood of the past
The Order of the Sanguines
Harper
September 2013
On Sale: August 27, 2013
700 pages
ISBN: 0061991058
EAN: 9780061991059
Kindle: B0089LOGDE
Paperback / e-Book (reprint)
Add to Wish List

Other Editions
Hardcover (January 2013)
New York Times bestselling authors James Rollins and Rebecca Cantrell combine their talents in a gothic tale about anancient order and the hunt for a miraculous book known only as . . . The Blood Gospel.


An earthquake in Masada, Israel, kills hundreds and reveals a tomb buried in the heart of the mountain. A trio of investigators--Sergeant Jordan Stone, a military forensic expert; Father Rhun Korza, a Vatican priest; and Dr. Erin Granger, a brilliant but disillusioned archaeologist--are sent to explore the macabre discovery, a subterranean temple holding the crucified body of a mummified girl.

But a brutal attack at the site sets the three on the run, thrusting them into a race to recover what was once preserved in the tomb's sarcophagus: a book rumored to have been written by Christ's own hand, a tome that is said to hold the secrets to His divinity. The enemy who hounds them is like no other, a force of ancient evil directed by a leader of impossible ambitions and incalculable cunning.

From crumbling tombs to splendorous churches, Erin and her two companions must confront a past that traces back thousands of years, to a time when ungodly beasts hunted the dark spaces of the world, to a moment in history when Christ made a miraculous offer, a pact of salvation for those who were damned for eternity.

Here is a novel that is explosive in its revelation of a secret history. Why do Catholic priests wear pectoral crosses? Why are they sworn to celibacy? Why do the monks hide their countenances under hoods? And why does Catholicism insist that the consecration of wine during Mass results in its transformation to Christ's own blood? The answers to all go back to a secret sect within the Vatican, one whispered as rumor but whose very existence was painted for all to see by Rembrandt himself, a shadowy order known simply as the Sanguines.

In the end, be warned: some books should never be found, never opened--until now.
Comments
42 comments posted.
Re: The Blood Gospel

I absolutely love how your minds melded.. to create this wonderful book! It left me wanting the next in the series.. as soon as possible!
(Cherei McCarter 12:19pm August 30, 2013)
I think the myth/mystery is too far into the past to truly discern an answer. But
as you've so elegantly put, our life source, our blood that courses through our
bodies is too strong of a source for fiction not to be born.

Take a look at the bibles obsession with blood. Blood on the altar, in cups, on
the ground, etc. It is ingrained in the very fabric of our molding from the
beginning.

I think the vampire monks/priests idea that you and James have come up with is
absolutely brilliant. I cannot wait for Innocent Blood in December. What a great
Christmas gift! Thanks guys! ;)
(Dean Kutzler 12:30pm August 30, 2013)
Would love to win this book for my son, a hugh James Rollins fan.
(Sheila True 12:41pm August 30, 2013)
this book is one of a kind. Everyone should get lost in
its pages.
(Debby Creager 12:55pm August 30, 2013)
Would Love to win this. I am wiccan and there is a lot about
the Catholic church that I dont understand..Would be
interested in finding out somethings
(Sherri Giambra 1:15pm August 30, 2013)
Would love this book. I have a lot of questions about the church also. Might be interesting what you could learn. thanks for the chance to win
(Gayle Pace 1:35pm August 30, 2013)
I'm Catholic and this books sounds like something I would like to read. plus I believe there's some truth in myth.
(Felicia Sidoma 1:35pm August 30, 2013)
This novel sounds memorable and compelling. A book that would
captivate my interest and be unforgettable.
(Sharon Berger 1:35pm August 30, 2013)
The Blood Gospel sounds fascinating. I'm a huge paranormal
lover and I love stories centered around the Church. I can't
wait to read this!
(Tara Woods 4:08pm August 30, 2013)
I think vampires are so popular because of their immortality.
(Maureen Emmons 5:01pm August 30, 2013)
I think the legend of vampires may actually have come from
some kind of disease that causes extreme paleness and severe
light sensitivity. I think they are so popular because
vampires represent beings of power that can live forever,
gain immense experience, and accumulate great wealth. Since
most people never achieve these goals, it is fun to read
about those do and dream about "what if".
(Amy Kincade 5:58pm August 30, 2013)
Oh I got tingles over this one. What an intriguing concept with the vampire priests and I am looking forward to reading. I think the tingles come from the who knows / possibility factor and wow does the imagination run wild :)
(Denise Zaky 7:03pm August 30, 2013)
Wow, Congrats on your new book: THE BLOOD GOSPEL. I know for
sure that I would love this book because I love to read
about Christ and also enjoy Vampires too. I am totally
fascinated and want to know the Truth about the blood of
Christ and blood with Vampires too. I would love to win and
read your book this summer. Thank You very much. Cecilia
CECE
(Cecilia Dunbar Hernandez 7:34pm August 30, 2013)
I would advise anyone who enjoys the thrill of not being
able to put a book down because the story is so intense to
buy this. This is the creation of two wonderful and
different writers meshing their creativity together to make
a wonderful series. I have come to expect this book to be
very edge of your seat, up all night because you cant put it
down type of thriller with lots of real facts merged into
the story to make it even scarier, and more realistic so it
can hit closer to home. I have read every book and own most
of the books by author James Rollins who quickly became my
favorite author for many years now. After the first book in
this series I got to see how co-author Rebecca Cantrell's
writing and descriptions melded together so well with James
Rollins I took an interest in her books as well. I ventured
into mystery reading the first couple books in the Hannah
Vogel series. I had never been big into mystery books
before. I always felt they were predictable and slow but
Rebecca Cantrell surprised me. Her books kept me thinking
and were hard to put down as well. Now I intend to start
collecting more of her books to put on my shelves right next
to James Rollins books. This series will be perfect right in
between the two great authors. I very much hope to win this
book. Its been awile since I have been able to afford a new
book and I would love no book more than this one. :)
(Carissa Roy 7:55pm August 30, 2013)
Since I'm only on page 194, I can't make a significant
comment on the book :) But, as for the fascination with
vampires, I can speak for myself. Because vampires are
fantasy (I don't believe they are real or ever existed),
authors are freed from the restrictions of humanity. Thus,
the world created by an author(s) mind has the freedom to
convey ideas in a unique way.
(Brenda Stone 8:07pm August 30, 2013)
I love the cover of the book. I even love the title. From the title, there has to be something religious plotted in the storyline.
(Kai Wong 8:15pm August 30, 2013)
Not sure about this yet but will try it out. Sounds like lots of secrets.
(Maxie Anderson 8:30pm August 30, 2013)
I listened to the book on CD of this a few months ago and really enjoyed it. Good
job!
(MaryAnne Banks 9:21pm August 30, 2013)
Vampires can be taken is so many different dirrections in a story - from an evil, killer villain to a sexy, life long love. A mysterious twist to the genre linked to the church opens up an entire new avenue to explore.
(Samantha Tennant 9:21pm August 30, 2013)
Interesting. I would never have thought to tie the traditional blood loss in the church to a vampire story. Hmmm...have you tied it into the Spanish Inquisition?
(Marcia Berbeza 10:14pm August 30, 2013)
I don't know the answers to your questions, because I'm really not familiar with this genre, but I believe that vampires have gotten popular due to the Twilight movies. I'm curious about your book to see how you're going to tie this in with the Catholic church. The story line sounds interesting, and that's the reason why I felt that I should comment. I normally wouldn't read this genre, but felt that I would give this a try.
(Peggy Roberson 11:10pm August 30, 2013)
I can see this is going to be a very interesting read. I
love mysteries of which this is one, I'm sure. Thank you both for this chance to win your book The Blood Gospel. Wishing You The Best.
(Esther Somorai 11:13pm August 30, 2013)
Love stories with this subject matter. It's already on my reading list. Hope I win this one!
(Lucy Pinto 11:52pm August 30, 2013)
Reading the other comments I am anxious to read this book. I agree that the bible, and Christianity as a whole, is drowning in blood, much of it innocent (witch trials, anyone?) A mummified girl? Delicious. What will the vatican think? (That question is no reflection on the current pope, Francis, who seems to be made of a different cloth.)
(Paula Whelan 11:54pm August 30, 2013)
Would love this book. Thanks for a chance to win it.
(Linda Hall 12:52pm August 31, 2013)
What an interesting combination for a story line. One with something for everyone's interest, a book that piques my interest as it is a mystery, and sounds like something I can sink my teeth into reading through to the final page. Thank you
(C Culp 6:45am August 31, 2013)
Sounds good to me.
(Charlotte Wills 9:34am August 31, 2013)
My first comment was a bit premature, considering I'd been up about 18 hours and was dead-tired at the time (no pun intended). Now that I've had a chance to sleep on your question, I think back to the old Dracula movie with Bela Lugosi. As far as books in print, I believe that Ann Rice wrote a series of books, that started the craze on Vampires. After that, I'm not sure, but the Twilight movies put vampires into another stratosphere, as far as popularity goes. I am not familiar with this genre, but would still love to read your book, to see how you tie all of this in, because I know that they're related. I just haven't done all of the research as you have. Your research is appreciated. The cover to your book is very impressive as well. Congratulations on your book!!
(Peggy Roberson 10:09am August 31, 2013)
This book sounds very intriguing. I will certainly read the series. Thank you.
(Vennie Martinisi 10:25am August 31, 2013)
I am not sure where vampire origins came from, but I think they are fascinating to society because they are usually immortal. It is a new and interesting twist to have them integrated in the Catholic Church history. That sounds like it would be an interesting read.
(Pam Howell 11:22am August 31, 2013)
Would love to win this book! Thanks for the chance to win!
(Courteney Moore 12:03pm August 31, 2013)
I love James Rollins' books and this collaboration sounds like some heart pounding fun reading. Thanks for the giveaway!
(Ellie Wright 1:08pm August 31, 2013)
so cool cover!! makes me want to read!! thanks for the chance to win! jackie morris
(Jackie Morris 1:38pm August 31, 2013)
What an interesting twist on something with such a long history. Stories
about vampires have been around so long that they have built over time.
They seem to be world wide with a twist depending on what part of the
world you're in. I've read in Asia that vampire lore says they turn into cats.
(Laura Gullickson 1:44pm August 31, 2013)
What an interesting premise. Even if I don't win, I'll put it on my TBR list. Thanks for the contest!
(Norma Storms 3:34pm August 31, 2013)
I am a James Rollin fan would really love to win this book
(Denise Smith 5:47pm August 31, 2013)
A little different than I usually read but sounds very intriguing. Never read this author before!!
(LeAnn Knott 11:43pm August 31, 2013)
It's been a while since I read a Gothic tale. Yes please!!
(Mary Preston 7:46am September 1, 2013)
This would be a foray into whole new territory for me, but I'm always willing to try an unusual path and experience something new.
(Donna Holmberg 1:10am September 2, 2013)
Oh wow! I would love to win this book! It is so fascinating! To co-write with
James Rollin must have been an exciting adventure! I have many thoughts on
the birth of vampires. Sometimes I think of the legend of Dracula, other times
I'm just not sure. I saw somewhere on the news where they found skeletons
dating back long ago with skulls that had fangs. I wonder if that is where the
legends began. ???? Anyway I have been obsessed with vampires since I was a
child. Why?? I like to think that my mother's love for them was passed down
lovingly to me! When I was a small child together she and I would cuddle on
the couch to watch all of the old vampire movies. As funny as it might sound,
what wonderful memories I can say I have with her. .
(Lisa Glidewell 2:37am September 5, 2013)
What an intriguing book! Fascinating combination of Catholicism and vampires. Will definitely be putting this title on my TBR list.
(Bonnie H 11:07pm September 25, 2013)
Sounds like a great read. Can't wait!
(Jennifer Richardson 9:26pm September 27, 2013)
Registered users may leave comments.
Log in or register now!