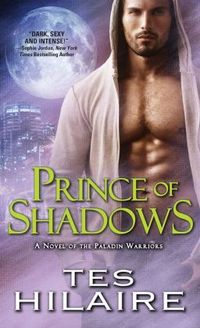 Purchase
Val Cache #3
Sourcebooks Casablanca
December 2013
On Sale: December 3, 2013
320 pages
ISBN: 1402284888
EAN: 9781402284885
Kindle: B00DD4TFUQ
Mass Market Paperback / e-Book
Add to Wish List

A warrior for the Light finds redemption in the most unlikely place-with a vampire temptress. Valin has never quite fit in among the rest of his Paladin brothers. His power to manipulate darkness and slip into the shade puts him at odds with the Paladin's purpose of eradicating evil with the power of God's Light. Only his darkedged humor hides his true nature from his brothers. But when he meets the vampire Gabriella, something he thought was long buried begins to awaken within him. It is forbidden for a warrior of the Light to love a creature of the Dark. But maybe he was never made for the Light to begin with...
Comments
20 comments posted.
sounds really good thanks so much for the chance to win
(Denise Smith 12:10pm December 12, 2013)
Love the sound of this thank you
(Chris Lewis 3:53am December 12, 2013)
Ooooh! This sounds very good! Thanks so much for the
contest!
(Linda Townsend 7:11am December 12, 2013)
Oh WOW love that cover and love paranormal romances!!!! This one is on my list!!!!
(Bonnie Capuano 7:49am December 12, 2013)
After reading your posting, I can see how much thought, care, and heart you've put into your books. I've yet to read a Paranormal Romance, but will have to give your books a try. The cover looks very inviting, too!! They did a great job on it, which is going to get you some new readers. Congratulations on your book, and have a great Holiday!!
(Peggy Roberson 9:50am December 12, 2013)
Congrats on the new release! I hope to get the chance to read
it. :-D
(Karin Anderson 11:21am December 12, 2013)
Hello all! Thanks so much for stopping in and checking out
the Paladin Warriors! I'm so excited to share them with
you, and, like Peggy and Bonnie, doubly excited about the
awesome cover. He is hot, isn't he?

I'll be stopping by a few times today to answer any
questions, talk books, and just say Hi to all you awesome
readers. Thanks so much for keeping me company!

Best,
Tes Hilaire
(Tes Hilaire 11:24am December 12, 2013)
This sounds like a bookI would enjoy during the winter months.
(Victoria Kondovski 11:28am December 12, 2013)
You are a new name for me... going to visit your website... thanks for sharing!
(Colleen Conklin 12:12pm December 12, 2013)
The book sounds great and thanks for the contest!
(Dee Rossler 12:38pm December 12, 2013)
Sounds great! Thanks for the chance to win!
(Michelle Schafer 3:07pm December 12, 2013)
Thanks for the giveaway. Would love to win your book.
(Yaritza Santana 5:33pm December 12, 2013)
Sounds great! Can't wait to read it.
(Jennifer Richardson 6:31pm December 12, 2013)
Wow, Congrats on your new book: PRINCE OF SHADOWS. I love the
book cover too! I love stories about Vampires and Warriors
and I would love to win and read your new book this
Christmas. Happy Holidays and Thank You very much. Cecilia
CECE
(Cecilia Dunbar Hernandez 7:27pm December 12, 2013)
Sounds amazing. Congratulations on the new book. I'm sure the readers will take good care of your "babies".
(Annetta Sweetko 9:01pm December 12, 2013)
Can't wait to read the new book. Congrats on PRINCE OF SHADOWS....love the cover. I love stories like this and can't wait to read it.
(Peggy Allen 10:56pm December 12, 2013)
By the way, thanks for making your book, The Hunger Chronicles: A collection of shorts, free on Amazon. Logan, Roland, Calhoun, now Valin. I would love a book about Bennett, by the way, with him being an empathic warrior. I have loved the Paladin warrior books (read them more than once) and can't wait to read this one.
(Peggy Allen 11:09pm December 12, 2013)
This series is new to me. I love reading anything that has a myth element to it.
(Kai Wong 1:38am December 13, 2013)
Great post. I've heard from other authors that the follow up books are harder too, you're
not alone in that ;-). Thanks for letting us know more of the series and good luck with
the release! MERRY CHRISTMAS and thanks for the giveaway
(Lenna Hendershott 3:27pm December 14, 2013)
This series & book sounds fabulous.
(Mary Preston 5:43am December 15, 2013)
Registered users may leave comments.
Log in or register now!