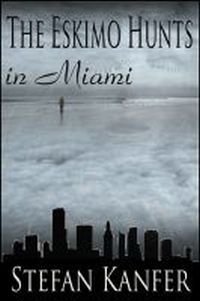 Purchase
The Eskimo Hunts in Miami!
Stefan Kanfer
Jordan Gulok #2
StoneThread Publishing
July 2013
On Sale: July 4, 2013
Featuring: Jordan Gulok
ISBN: 1484867076
EAN: 2940044579064
Kindle: B00D5ZRX9I
e-Book
Add to Wish List

Jordan Gulok is off for a little R&R in Miami, but he must maintain his skills. He frequents a firing range where he stumbles upon a paramilitary group called the 417s. Is an anti-gun US Congressman somehow entangled in a plot to raid several military arms storage depots? The 417s are poised to visit a fresh hell on the Caribbean if Jordan, his lovely ally and her edgy colleagues can't stop them.
Jordan Gulok
Comments
22 comments posted.
Re: The Eskimo Hunts in Miami!

You certainly give a good cultural clash, which I really enjoy reading, so I'll look out for your works.
(Clare O'Beara 9:05am July 31, 2013)
Thank you for a great post today. Your books sound wonderful. Even if I don't win, I'll have to get your books to read. Best of luck with them!
(Nancy Reynolds 10:02am July 31, 2013)
Your post was amazing, fascinating and very unique. The books
sound memorable and special. best wishes.
(Sharon Berger 10:06am July 31, 2013)
Your story lines have to be some of the most unusual that I've come across in quite a while, and that's what has drawn me in. I think that both books are going to be real page-turners, which will make for great reading to wind up the Summer!! These aren't par-for-the course books that you'll find on the shelf having to do with ex-Navy seals, and I also love the fact that you're jumping around from one part of the Country to another. You've also given the main character a minority that few are familiar with. I'm very anxious to read your books. Even the covers have beautiful artwork on them, which is an added plus!! Congratulations, and I know how I'll be spending the rest of my Summer!!
(Peggy Roberson 11:12am July 31, 2013)
I like the diversity!
(MaryEllen Hanneman 1:07pm July 31, 2013)
Both your books sound so very interesting and the type I really like and enjoy reading. Thank you for this chance to win, and I hope I do. God Bless You,
(Esther Somorai 1:25pm July 31, 2013)
This sounds like a great mix of genres. Count me in to win.
(Susan Coster 4:48pm July 31, 2013)
It looks like an exciting story. I enjoy a good suspense.
(Maureen Emmons 4:53pm July 31, 2013)
I love the titles and storylines. I hope I am a winner so I have the opportunity to read both.
(Shirley Younger 5:04pm July 31, 2013)
my knowledge of eskimo culture is nill...your story sounds different and enticing.....
(Mal Kaplan 5:25pm July 31, 2013)
Wow, Congrats on your 2 new books: THE ESKIMO HUNTS IN NEW
YORK and THE ESKIMO HUNTS IN MIAMI. They both sound like
great books to win and read this summer and very interesting
stories ahead for Jordan Gulok and Rose Ho. Maybe a 3rd one
could be THE ESKIMO HUNTS IN ALASKA. Thank You very much.
Cecilia CECE
(Cecilia Dunbar Hernandez 5:32pm July 31, 2013)
Both your books sound so very interesting and the type I really like and enjoy reading. Thank you for this chance to win, I hope I do. All The Best To You.
(Esther Somorai 7:36pm July 31, 2013)
I'm sorry I hadn't heard of your books sooner. They appear to be just what I've been looking for.
(Karen Blossom 9:31pm July 31, 2013)
Enjoyed reading your blog. Don't think I have read any books with an Eskimo as the main character.
(Sheila True 9:46pm July 31, 2013)
Sounds like something new and different. Cool! I'm suggesting my library
buys a copy. My dad would like these books too.
(Laura Gullickson 10:28pm July 31, 2013)
Such an interesting character, the story in NY sounds especially intriguing.
(Gloria Shaw 11:06pm July 31, 2013)
I love the titles. It makes me wonders what Eskimo Hunt series is about especially when they are in two different cities. I'm in for thriller and suspense stories.
(Kai Wong 12:51pm August 2, 2013)
I'm looking forward to reading your books. They sound intriguing.
(Amy Kincade 11:28pm August 4, 2013)
This is truly a great read for me. I have bookmarked it and I am looking forward to reading new articles. Keep up the good work!.
freetarotpsychicreadings.com
(Alex Dainel 7:03am February 24, 2016)
I wonderment why other professionals don't respond your website overmuch m happy I plant this. click to find out more
(Jason Statham 5:25am April 10, 2016)
Incredible data! I as of late went over your site and have been perusing along. I thought I would leave my first remark. I don't comprehend what to say aside from that I have. High quality Data entry gig on fiver ! web2.0 creation
(Jason Statham 6:26pm June 14, 2016)

(Jason Statham 6:31am July 20, 2016)
Registered users may leave comments.
Log in or register now!