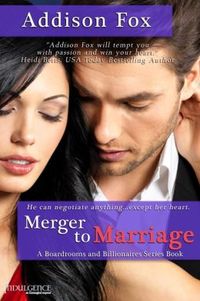 Purchase
He can negotiate anything...except her heart
Boardrooms & Billionaires
Entangled
May 2013
On Sale: May 13, 2013
Featuring: Mayson McBride; Holt Turner
133 pages
ISBN: 1622660919
EAN: 9781622660919
Kindle: B00CGFGRWM
e-Book
Add to Wish List

Real estate magnate, Holt Turner, has earned every penny of his multi–billion dollar empire. Born into a family of thieves, he's spent his adult life focusing on the art of the deal and putting distance between his birthplace and the rarified world he now lives in.
Mayson McBride never thought she'd see her partner in one night of passion again. Little does she know Holt's not going anywhere and is looking to keep Mayson to himself. But when Mayson's family connections put them both in contact with an old–school businessman Holt's been wooing for years, she impulsively implies a fake engagement between them to help him seal the deal.
It's only when she discovers she's pregnant that the ruse begins to seem all too real. They need to decide if this is one deal worth making a lifetime commitment for.
Boardrooms & Billionaires

Tempting Acquisitions
#1.0
Kindle | BN.com | | |

Merger to Marriage
#2.0
Kindle | BN.com | | |
Comments
51 comments posted.
I do love tried and true plots with a touch of the
unexpected in my books. And I love to see how different
author builds up to the resolutions to the conflicts between
the characters. My favorite Lucy moment has got to be the
chocolate assembly line(that one never fails to make me
laugh!)
(Ada H. 4:52am July 13, 2013)
amazingly out of one particular group of friends...the one marriage that has survived for many many years is the one that was always fighting...
(Mal Kaplan 5:10am July 13, 2013)
Conflict drives the stories and make them more interesting, keeping the readers engaged. It's always interesting to read how the author solves the conflict at the end. This series sounds intriguing, I can't wait to read it. I'm going with the chocolates on the assembly line as my fave "Lucy moment"! :)
(Anita H 5:38am July 13, 2013)
I love I Love Lucy too. I live right near Jamestown, NY where she went to school. I've know where her home in Celoron was and I've been to the cememtary. There's a guy that has painted Lucy pictures on some of our biggere buildings. Takes him a summer to do one and I think there's 5 or 6 now. There's the Lucy Museum and gift shop.
(Cathy Thomas 7:55am July 13, 2013)
I Love Lucy...now, that is great TV!
(Lynn Anderson 8:43am July 13, 2013)
I love I Love Lucy too! :) A great show... totally classic!
(May Pau 9:10am July 13, 2013)
Conflict is necessary for character growth (and a shot of reality!) As for my favorite Lucy moment, I'm torn between the chocolate factory and the Vitameatavegamin commercial.
(G S Moch 9:31am July 13, 2013)
As for the tried-and-true novels, or reading to see how the Author solves them, it really depends on my mood. If I want lighter reading, tried-and-true is my choice every time. Otherwise, I'll go with the Author's way of solving them. My favorite Lucy moment is when they decide to go camping. I remember them going down the road, when all of the cupboards start to open, and things come flying out!! It takes me back to the days when I used to go camping with my Husband, and things would go wrong. Even though I didn't have a trailer like that, I could imagine what it would be like!! Thank you for the trip down memory lane, and I'm looking forward to reading your latest book!!
(Peggy Roberson 10:01am July 13, 2013)
Your book sounds like a great read. I LOVE Lucy was great TV - classic TV. I
can't pick just one favorite moment --- but I do love the one where she
"mirrored" Harpo Marx. I loved some of the guest stars that had cameos on
her programs. She was a great actress. I love conflicts and tension in books
- but enjoy it when those conflicts and tensions get resolved. I love to follow
those wonderful story lines. Thanks for sharing your post today.
(Nancy Reynolds 10:06am July 13, 2013)
I Love Lucy is a classic for a reason. The conflict between Lucy and Ricky
was so much fun to watch! Their love outlasted all their troubles. The show
was before my time, but I know all the episodes from my childhood
because of reruns. I introduced I Love Lucy to my teenagers last year, and
they love it , too! There wouldn't be the sitcoms between Lucy and present
day without the brilliance of the comedic acting and the shrewdness of Lucy
and Desi regarding how the show should be filmed. I dont think I can come
up with a favorite Lucy moment, though. I agree with you that conflict driven
books are interesting and engaging. The tried and true plots always work
for me. I've always loved to read, and I would love to read Merger To
Marriage! It sounds like my kind of book! Congratulations!!!
(Linda Brennan 10:10am July 13, 2013)
I used to watch and enjoyed I love Lucy since it was unique
and special. Friction is a fact of life and how we deal with
it is interesting. Your book sounds wonderful.
(Sharon Berger 10:30am July 13, 2013)
The chocolate episode is my favorite one because that would be my dream. And I would love to try to eat that much chocolate.
(Pam Howell 11:15am July 13, 2013)
alas, since my mom didn't care for the show we never watched it in my house, so I have no fave I Love Lucy moment (though she was lovely & talented in some of her early movies). sometimes a tried & true plot is just what you're in the mood for :)
(d Kenney 11:35am July 13, 2013)
I never tire of tried and true plots because each author adds her own "take" to the story. I must have the HEA ending to stories, so it is fun to watch the journey there.
(Cheryl Castings 11:43am July 13, 2013)
Never seen I Love Lucy. Feel like I am missing out. I do agree
that a little playful conflict is added sparks to a healthy
relationship. That way, you're always aware of the others
opinion.
(Lazydrag0n Puff 12:32pm July 13, 2013)
Lucy had some really great and amusing moments on her show... I love going through a character's journey with them whether there is conflict or not... I love to see how they get to their HEA.
(Colleen Conklin 1:16pm July 13, 2013)
Lucy is just classically funny...love the one when she works in the chocolate factory.
(Michelle Bauer 1:37pm July 13, 2013)
I'm so glad ya'll have joined me today!!! Clearly lots of love for the chocolate
factory episode (which, funny enough, was on yesterday!)

Keep the fun moments coming!
xo,
Addison
(Addison Fox 1:55pm July 13, 2013)
When Lucy & Dezi wanted to do the show, the bigwigs said no. Then Lucy & Dezi went on the road and were a huge hit with the public. They were a part of the big change in Hollywood that filmed with 3 cameras; they formed their own production company.... but the timeless comedy is awesome! Tried and true situations always work.
(Cate Sparks 2:00pm July 13, 2013)
That was a wonderful show and I loved the Harpo Marx episode!
(G. Bisbjerg 2:19pm July 13, 2013)
I like plots with unexpected twists. Loved Lucy---grape stompting has to be my favorite.
(Sue Farrell 2:31pm July 13, 2013)
I love this kind of story, always a fast read and over too soon, but can't help reading fast to see what's next.
(Jacqueline Wyllys 2:59pm July 13, 2013)
I have a friend that has mentioned Addison Fox a few times. She loves her stories and I keep meaning to read her. There is never enough time!! ahhhhhh.....
The chocolate factory was fabulous! And I love all types of stories, the author can make it great or not. No matter what ''kind'' of story it is. :-)
(Lisa Hutson 3:28pm July 13, 2013)
The chocolate factory assembly line episode is definitely my favorite. Very funny! I think all her facial expressions she could make were very funny when she'd get herself into all types of situations. You can never tire of watching a repeat episode of Lucy. They're all good and amusing. Love conflict in stories.
(Rich Cook 4:05pm July 13, 2013)
I don't mind a tried and true set up since each author handles it differently.

While I love the chocolate factory episode, my favorite one if where Ricky is singing a requested song at Club Babaloo for someone who wants to tell her hubby they're having a baby. It still gets me when he finds Lucy in the audience and realizes that he's the one about to be a father.
(Marcy Shuler 4:13pm July 13, 2013)
Yes I like the conflict to be solved. The Lucy's Vitameatavagamin commercial is the best.
(Deb Pelletier 5:37pm July 13, 2013)
I always enjoy seeing how the author resolves conflict. I enjoyed I Love
Lucy!. I will never forget Lucy and Ethel working in the candy factory--I
laughed myself silly!
(Susan Mahaffey 6:00pm July 13, 2013)
I like the candy factory episode....LOL!!!
(Terri Quick 6:48pm July 13, 2013)
Readers could identify with tried and true scenario. If the story cannot connect with the people, no one would want to read or pay attention to it. It would be less entertaining.
(Kai Wong 6:54pm July 13, 2013)
I like tried and true. I like the episode where Ricky is singing She's Having
My Baby, where he finds out its him and Lucy. Romance and comedy in
one.
(Susan Falkler 7:06pm July 13, 2013)
As a reader of romantic suspense &/or mystery, I enjoy character development that leads to a conflict solution.

My favorite Lucy episodes dealt with Lucy's pregnancy and little Ricky's birth. This was a television first.
(Joanne Hicks 9:33pm July 13, 2013)
I think my favorite Lucy episode was when she was doing the commercial for "vegavitamin" (that's probably spelled wrong!) I loved all the episodes though.
(Martha Lawson 10:16pm July 13, 2013)
I don't think where is the author going with the story or a certain situation, I just read where the author leads. As far as the I Love Lucy show, I do remember the ones you mention, but it has been so long ago since I've seen any. I really can't think of a favorite "Lucy moment" though I think the grape stomping one is the funniest and messiest.
Your Merger To Marriage book sounds like it will keep the characters on their toes, as well as the reader. Thank you and Fresh Fiction for this chance to win.
(Esther Somorai 10:20pm July 13, 2013)
I like tried and true. I love Lucy on the chocolate assembly line. I've seen it many times, it's hilarious.
(Rita Wray 10:36pm July 13, 2013)
I like surprises, so an author doesn't have to be
predictable. Both the scene where Lucy stuffs her face
along with Vivian at the chocolate assembly line and the
grape stomping where she has a food fight with grapes and
eventually gets dunked into the wine vat are favorites of
mine.
(Alyson Widen 10:42pm July 13, 2013)
I love surprises and twists. Yes to the Lucy chocolate factory episode. And Family Ties, Mallory learning to drive with a pretend practice set up in the living room and Alex's baby brother going to school with Alex teaching his, what his is his.
(Pat Lieberman 11:03pm July 13, 2013)
Who doesn't love a romance novel where the two main characters still find their way into love in spite of the obstacles they face (and a wicked mother-in-law is certainly no small obstacle).
(Nicole Swirsley 4:27am July 14, 2013)
I like the episode where Lucy pretends to "Vamp" her co-star. I think his name was Ernie Kovacks but I might be wrong. Yes, there sure was a lot of conflict on the show but sooo funny. Your book sounds interesting.
(Kathleen Yohanna 6:40am July 14, 2013)
I enjoy tried and true storylines, but I like to see when a writer puts there own special twist on them. My very favorite Lucy moment is definitly the assembly line at the candy factory. There's a reason that show is such a classic, and it's because it's fabulous.
(Jamie Fortney 8:45am July 14, 2013)
My favorite Lucy moment is when she tried to make soup out of ketchup and hot water at the automat.
(Marguerite Beal 9:18am July 14, 2013)
i love the scene when they were working in the candy factory
and the gate where the candy comes out it go`s so fast they
start to eat them so funny love lucy
(Denise Smith 9:42am July 14, 2013)
I love reading a good book. I never try to figure out why I like a book, I either do or don't like it. Your book sounds great. I like the chocolate factory story-line on Lucy the best.
(Carol Woodruff 11:23am July 14, 2013)
I like the tried and true.
It's hard to choose a favourite Lucy moment. The chocolate factory I think.
(Cheryl McEwen 5:07pm July 14, 2013)
love all the Lucy shows. looks like a good read:)
(Barbara Studer 5:22pm July 14, 2013)
I like both tried & true and story lines that are very
different.

The assembly line episode is hilarious.
(Mary Preston 6:52pm July 14, 2013)
I love reading "truth" in fictional situations. I find
the closer I relate to the characters and situation
I can't wait to turn the next page
My favorite Lucy moment is when she tells Ricky
she is expecting. Funniest is the episode when
she wears a fake nose and it catches fire.
(Carla Carlson 7:13pm July 14, 2013)
Each week there was always another I Love Lucy hilarious show, but I have trouble identifying a favorite one. All I remember is laughing until tears rolled down my face. I haven't watched one in recent years, but the actors created magic.
(Anna Speed 7:25pm July 14, 2013)
I LOVE I Love Lucy! I would have to go with the grape scene. It just gets me every time!
(Chelsea Brooks 7:26pm July 14, 2013)
Oh I Love Lucy is a show i love too! And thanks for the giveaway!
(Sarah Bauman 7:55pm July 14, 2013)
I need good characters to read about. Fresh take or tried and true always
work better with good characters. I always love how Lucy tries to hide
things from Ricky and never seems to get away with it.
(Laura Gullickson 10:21pm July 14, 2013)
I tend to like the tried and true. Favorite Lucy moment is definitely the grape stomping (and fighting).
(Janie McGaugh 11:48pm July 14, 2013)
Registered users may leave comments.
Log in or register now!