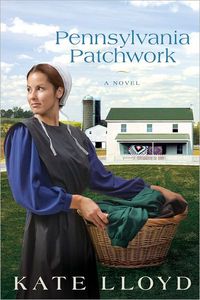 Purchase
Pennsylvania Patchwork
Kate Lloyd
David C Cook
June 2013
On Sale: June 4, 2013
384 pages
ISBN: 0781408733
EAN: 9780781408738
Kindle: B00BLVGPU6
Paperback / e-Book
Add to Wish List

ONE HEART. TWO LOVES. ONE CHOICE.
Seattle native Holly Fisher is smitten by Lancaster County, its simplicity and her long lost relatives. In the sequel to bestselling Leaving Lancaster, Holly embraces the Amish culture, learning to slow down to see what - and who - really matters.
Meeting the family that her mother had kept hidden from her, Holly comes face to face with her real life and blood legacy. She also falls for the charming Zach, a handsome Mennonite veterinarian who is everything she's ever wanted in a husband: confident, kind, successful, and authentic. And Zach proposes marriage. Is this too soon? Is this the right choice? Mother and Amish grandmother think she's rushing into too much of a lifestyle change. Holly is in love with Zach and that precludes everything. Until she meets an attractive Amish man. And an old suitor shows up.
Pennyslvania Patchwork is the moving, richly told story of one woman's heart, her faith and trust, and the choices she makes. Never easy, but one choice can change your destiny.
Comments
55 comments posted.
i live in pa i live near lancaster it is about 2 hours away.
the book looks really good cant wait to read it
(Denise Smith 8:12am July 10, 2013)
I used to visit Lancaster as a child and teen,
collected the dolls, quilts, carpentry. I loved their
homemade candy, especially chocolate licorice.
(Carla Carlson 8:30am July 10, 2013)
Your book sounds fascinating and memorable. Thanks for your
lovely post today.
(Sharon Berger 9:09am July 10, 2013)
I'm looking forward to reading your book very much!! The Amish people have always drawn me to them, yet I don't know why. Perhaps it's their secrecy. Maybe it's their dress. It could be their lifestyle. Whatever it is, I love to read about them, and have enjoyed the books that I've gotten their hands on. I always wanted to write, but my hopes were dashed years ago by my Mother, for reasons I don't care to get into. I shouldn't let that get in the way, and not let it bother me now, since she's been gone 11 years now, but my life has been so busy, that I haven't had the time to put pen to paper. I was encouraged by several teachers in school to write, and have to either learn to organize my time better so I can attempt my dream, or just let it go.
(Peggy Roberson 9:19am July 10, 2013)
I enjoyed your post today - and your book sounds quite interesting. Thanks for a chance to win. I wish you every luck with the book - and all future endeavors.
(Nancy Reynolds 10:03am July 10, 2013)
Your book does sound interesting. Not sure if I have the guts to step into the unknown like you did!
(May Pau 10:08am July 10, 2013)
Thanks for leaving your comments, everyone! Good luck on today's contest!
(Kate Lloyd 10:14am July 10, 2013)
Great post. Thanks for sharing.
(Tonja Saylor 10:51am July 10, 2013)
I used to live 30 minutes from Lancaster PA. It's a lovely
area. Kate's books are going on my TBR list. Thank you for
sharing! :)
(Sabrina(Mippy) Templin 11:01am July 10, 2013)
Love Katie's books. Would love to win this prize!
(Martha Franks 11:07am July 10, 2013)
I live near Shipshwana IN, and love reading Amish type books!
(Shondra Brown 11:12am July 10, 2013)
Love your books Kate! They draw you in, and make you feel like you are right there! Keep up the wonderful writing!
Would love to win your book! I am an Amish fiction junkie!
(Cheryl Baranski 11:33am July 10, 2013)
Wow. . . you can tell that it was meant for you to write these books. Very interesting post!!
(Sheri Pruitt 11:39am July 10, 2013)
I would love to win your book! I love reading Amish fiction.
Love the closeness of the Amish people. Thanks for the
chance to enter. God Bless.
(Donna Taylor 11:55am July 10, 2013)
I've really enjoyed PENNSYLVANIA PATCHWORK & keep wanting more about this family . It really draws you in .
I grew up in Wayne County,Ohio & always wondered about my Amish ancestors 2 generations back . Grandpa & Grandma Troyer grew up Amish . Left the Amish shortly before getting married . As in your story our family didn't talk about them being Amish at one time . A few German words were spoken over the years but no real info about our family back then . I really didn't know they had been Amish till my cousin told me things her mom told her over the years . I thought our Amish ancestors went farther back .So I have been reading Your books and others hoping for more info about what their lives were like .

Thanks for doing so much research & making it so interesting & fun to read .
(Mary K Troyer Rabatin 12:05pm July 10, 2013)
I love discovering new Amish fiction authors! Thanks for the
information on your books Katie, and I look forward to reading
it!
(Gloria Johnson 12:20pm July 10, 2013)
Would love to win this book. I visit Lancastrer often and love the area.
(Colleen Bartell 12:37pm July 10, 2013)
I have been wanted this book since its release!
(Amy Campbell 1:04pm July 10, 2013)
I can't wait to read this book. Sure hope I'm the winner.
(Michelle Altman 1:07pm July 10, 2013)
The Amish country is wonderful and the food is marvelous. I think the Amish occasionally do leave Lancaster because I know there were some Amish who came to Monmouth County, NJ to build a barn for someone. I know they didn't come by buggy. I envy them. I hate this rat race of modern life and the disconnection from family. I will put this book on my TBR list and I thank you for this giveaway.
(Irene Menge 1:23pm July 10, 2013)
Would love to read a book by Katie. It would be my first. It
sounds like an awesome read.
(LeAnn Mooneyham 2:00pm July 10, 2013)
I like to read stories about the Amish, and I would love to win and read your Pennsylvania Patchwork book. I've always felt that I should have been born in the pioneer days. My dad did some logging in northern California one summer and our family lived in a tent among the redwoods, it was great.
(Esther Somorai 2:42pm July 10, 2013)
Kate, I love your books. You're a terrific author. I love to
read Amish fiction and I have a respect for the way they live.
Would love to win. Thank you for entering me in the giveaway.
Barbara Thompson
barbmaci61(at)yahoo(dot)com
(Barbara Thompson 2:49pm July 10, 2013)
I would really like to win this book. I live close to Lancaster and have been there many many times. I am really into anything Amish , foods , books, markets , goods you name it. thanks for the chance to win
(Ann Hengst 2:54pm July 10, 2013)
Thanks for entering, everyone, for your encouraging comments and for sharing
your own stories!
(Kate Lloyd 3:31pm July 10, 2013)
Kate,
I can't wait to read your Amish books! With all the research you put into getting them written with accurate facts, I'm sure they'll be very interesting. Would love to win, but I may check to see if our library can get them in for me. I'm wondering how sociable the Amish are if you were to start a conversation and ask them questions about their lifestyles when they're out in public selling their foods and goods.
(Linda Luinstra 5:55pm July 10, 2013)
I can't wait to read Pennsylvania patchwork. I love your books Kate. mommiecares1@yahoo.com
(Tambi Abundiz 6:42pm July 10, 2013)
Linda Zaragoza-Zrubek & Diana Montgomery tried comment, but couldn't see
their posts. They want to enter the contest! Thanks!
(Kate Lloyd 6:46pm July 10, 2013)
Looking forward to reading Pennsylvania Patchwork. I read
Leaving Lancaster and really enjoyed it.
(Karen Gervais 7:33pm July 10, 2013)
I can't wait to read the book! I love how you researched to get the feel for
the book :)
Lisa
deiselbuffs@gmail.com
(Lisa Medeiros 8:58pm July 10, 2013)
Really Would Like To Win!!
(George Zimmerman 9:32pm July 10, 2013)
I like to read about the Amish and had cousins who attended
an auction where the townspeople let the Amish have the
goods cheaper. There's good cooking in Amish country with
buttery rich breads and baked goods at the Farmer's Markets.
The food is delightful at the Der Dutchman Restaurant in
Ohio with the date pudding that I still dream about.
(Alyson Widen 11:09pm July 10, 2013)
I love Amish stories and a new author and trilogy- this will make for such great reading. I already put the book on my wishlist- if I don't win, so I'll get in my next book allowance. :)
(Suzanne Bischoff 12:47pm July 11, 2013)
I read every Amish story I can find. Thanks for the contest!
(Lia Marrazzo 1:03am July 11, 2013)
Really enjoy Amish fiction. Would suggest a topic not seen
much about is how the Amish started here and originally in
Switzerland. Olivia Newport has done some of this in her
VALLEY OF CHOICE SERIES, but she's the only one I've read on
the topic. Would love to win your book. sharon, CA
(Sharon Miller 2:24am July 11, 2013)
Love anything Amish - have been to Amish settlements in Pa.
& In., love visiting their farms & roadside stands, shopping
for their crafts, & eating their home-cooked meals (one in
an Amish home). Thanks for the giveaway opportunity!

bonnieroof60(at)yahoo(dot)com
(Bonnie Roof 7:08am July 11, 2013)
You're a great author. Keep up the good work!
(Lynn Anderson 7:24am July 11, 2013)
Sounds like this is going to be a good follow up to a great story.
(Janet Shook 7:25am July 11, 2013)
I applaud your research and your research methods.

I suspect that what may be the most reliable way of being an
authorial part of a new trend is to tap a quirky part of
one's own experience. Of course, that's not likely to be
what agents or publishing houses are looking for right now.
But what's better than to found what they're looking for
after your work?
(Mary Ann Dimand 8:18am July 11, 2013)
love amish tales, so thank you very much
(Debbi Shaw 9:12am July 11, 2013)
Love the Amish stories. Research is always fun.
(Pam Howell 10:11am July 11, 2013)
I love books like this, I'd love to win it.
(Wilma Frana 11:45am July 11, 2013)
I would so love to win a copy of this book! I have a copy of Leaving Lancaster and it would be great to read them back to back! Thanks for your post, thanks for the chance to win!

Blessings!
Judy B
judyjohn2004(at)yahoo(dot)com
(Judy Burgi 2:47pm July 11, 2013)
Our family is going to be spending a week in Penn. Dutch Country/Lancaster County in November to celebrate my husband's and my 50th anniversary. I am trying to get as many novels read that I can to give me some background information other than what is found online about the Amish. I would love to be the recipient of this giveaway more than you know. Thank you so much for the possibility and keep up the great writing.
(Cynthia Blain 7:28pm July 11, 2013)
This sounds like a wonderful book. Thanks for the contest and i hope i
win.
(Sarah Bauman 8:15pm July 11, 2013)
Love your post and I'm from Pennsylvania so the prizes sound wonderful
(Shirley Younger 10:21pm July 11, 2013)
I always enjoy stories about the Amish. Beautiful country.
(Mary Preston 10:29pm July 11, 2013)
I love Amish stories, I have read many of them.
(Rita Wray 11:17pm July 11, 2013)
me win
(Kent Cook 11:38pm July 11, 2013)
This is different from the genre of most books I read but it
sounds interesting!
(Kelsie Budhu 11:44pm July 11, 2013)
I love the Amish people and my Mom and I used to stop and
eat at their restaurant in Yoder, Kansas when we were going
to Hutchinson, Reno county, Kansas. The Amish are so
fascinating and I grew up on a huge farm and really can
appreciate their hard work and lifestyle. I love your book
cover and it looks like our big farmhouse we had in KS. I
would love to win and read your great book: PENNSYLVANIA
PATCHWORK. Thank You very much. Cecilia CECE
(Cecilia Dunbar Hernandez 11:48pm July 11, 2013)
I think I am becoming more aware of the different lifestyles and have read an Amish novel and it was a really great read.
(Darci Paice 11:51pm July 11, 2013)
I don't live any where near any Amish communities. Their life style just seemed so simpler and they seemed to enjoy life better than we do our.
(Kai Wong 1:16am July 12, 2013)
Hope it's not too late to win your contest. Have been wanting to read about the Amish for some time. Your books sound great.
(Carol Woodruff 11:18am July 12, 2013)
Hi Kate I would love to win your book. Fingers crossed,
Blessings
joeym11@frontier.com
(Diana Montgomery 12:19pm July 12, 2013)
Registered users may leave comments.
Log in or register now!