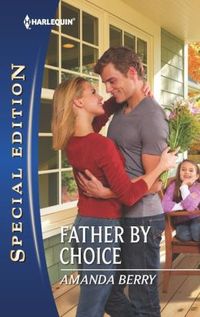 Purchase
Harlequin Special Edition
May 2013
On Sale: May 1, 2013
224 pages
ISBN: 0373657447
EAN: 9780373657445
Kindle: B00B0A5VVW
Paperback / e-Book
Add to Wish List


From corporate raider to daddy-in-training

A family was the last thing workaholic Brady Ward had ever planned on. So after eight years abroad, he was shocked when a blast from his passionate past walked into his office—and informed him that he was a daddy. Now he was faced with a choice: to keep climbing the ladder of success, or build a life with the daughter he left behind.

Maggie Brown wanted their little girl to know her father, but bringing a man as ambitious as Brady into their lives was a huge risk, one she wasn't sure she should take for Amber or herself. Because even after eight years, he still got her heart racing like no one else. Yet would he really give up the corporate lifestyle in the big city for life in a sleepy small town? Maybe if he realized that family was a gift that only came along once in a lifetime….
cricket world test championship
Comments
39 comments posted.
Re: Father By Choice

I dont usually read novels with children in them but would be interested in trying it out!
(Darci Paice 1:39am April 30, 2013)
I agree that children really don't add to romance books.
(Pam Howell 7:43am April 30, 2013)
I have no preference, with or without kids. I think as long as the issue of
children is handled sensitively then it's fine.
(Liesl Lane 8:18am April 30, 2013)
i have kids but i have no preference either if there is
something in a book that i read or think it might be
interesting to read it really doesnt matter i love to read
books i love to read!
(Denise Smith 8:56am April 30, 2013)
A LOT of romance books have kids, today's world shows us that there are a lot of single parents, either by choice or circumstances, so to incorporate a child/ren into a book is a great thing, my son and now a granddaughter was/is a vital part of my life and I can't imagine him not being mentioned as such.
(Deana Connelly 8:58am April 30, 2013)
No like or dislike. I just think its a little more realistic if there were children. Whether
they belong to the hero/heroine or just part of the story. Children are a joy, and if written
right, readers like me can be captured in the innocence of the children. They bring a light to
a story.
(Lazydrag0n Puff 9:54am April 30, 2013)
I don't have a preference but having two children they can be a joy and could very well make a great story.
(Summer Grinstead 11:00am April 30, 2013)
I love the family atmosphere that pregnancy, babies, and children bring to the story line.
(Betty Hamilton 11:36am April 30, 2013)
Books with kids are great!
Blessings,
Marjorie
(Marjorie Carmony 12:48pm April 30, 2013)
I see nothing wrong with having children in the scenario/story as long as there is love and happiness where they are concerned, or ultimate happiness at the end of the story. It would be refreshing to have a mix of ages/characters.
(Cynthia Blain 1:03pm April 30, 2013)
I enjoy kids in books if the setting is right... especially the ones that try to find a spouse for their single parent. I think having a family atmosphere adds a touch of reality. I know a number of families that are blended and I love when they claim each child whether theirs by birth or by the heart. One friend said "how could I not love that little girl, she's a part of the woman I love."
(Annetta Sweetko 1:17pm April 30, 2013)
I'd love to give you a chance to convert me!
(Mary Hay 1:31pm April 30, 2013)
I never thought about books having kids in them or not. They are a fact of life and sometimes add charm to a romance!
(LeAnn Knott 1:34pm April 30, 2013)
I enjoy children in a book if it is handled in an honest and you know how to do it. Keep Writing!
Patricia Pascale
(Patricia (Pat) Pascale 2:06pm April 30, 2013)
I recently read a book about a woman who had a young daughter. She was adorable and really funny.
(Rita Wray 2:11pm April 30, 2013)
I am a fan of books with babies, kids, pregnancy & animals... I feel they add more to a story... thanks for sharing!
(Colleen Conklin 2:47pm April 30, 2013)
I love stories with children in them.
(Wilma Frana 2:49pm April 30, 2013)
I like books with kids. Thanks.
(Dianne McVetty 2:55pm April 30, 2013)
I think that children add another dimension to the characters, they also have a way of bringing the best and worst out of a character. Also believe that children have an innocence that allows them to view and judge without blinders or pre judgement.
(Carla Carlson 3:14pm April 30, 2013)
Kids always add to the story because they are all so unique on their take on things.
(MaryEllen Hanneman 3:14pm April 30, 2013)
I love stories with children in them . Would love to win.
(Amy Milne 3:55pm April 30, 2013)
Having children as characters in a story help to bring it
alive. As a grandmother of 7 I am constantly amazed and in awe
with the things and words that come out of my grandchildren's
mouths. They are always so honest and guileless.
(Angelina Daniels-Shaw 5:13pm April 30, 2013)
I love Harlequin Special Edition books.
(Susan Falkler 7:50pm April 30, 2013)
i like the fact you have stories with kids and family in them..sounds like a great read
(Kimberly Hoefs 7:55pm April 30, 2013)
This sounds like a fun book.
(Cindy Olp 8:25pm April 30, 2013)
I like books with kids in them. Some of the things kids say in fiction or real life are so funny.
(Laura Gullickson 8:27pm April 30, 2013)
I enjoy books with kids in them. Sounds like a good read.
(Becca Luman 8:58pm April 30, 2013)
I was trying to think back to the books that I've read before, and any of them that involved children, they were already grown and on their own. Yours would be the first one that I can think of that would have to do with babies. I would love to read your book, since it sounds like you put a lot of consideration into the story line involving babies. You didn't just throw the baby in there, so to speak, just so that it appeared to be a part of the book. Congratulations on your book, and I'm looking forward to the opportunity to reading it.
(Peggy Roberson 9:14pm April 30, 2013)
In certain situations, babies or children work perfectly. One author works
in her books the difficulty of to active, alpha personalities dealing with
having to leave their child with someone else, with having to find someone
they trust to leave their child with. She has also worked in her gay couple
planning to adopt or have a baby through surrogacy. I also like the single
parent who is super picky about a new partner because of their child(ren).
Children can work in a Romance! :)
(Kelli Jo Calvert 10:12pm April 30, 2013)
I like to read well written books. The age of the characters have nothing to
do with that. :)
(Penny Mettert 10:42pm April 30, 2013)
I love stories with children. Sometimes, the story does need children to make the plot and conflict work.
(Kai Wong 11:01pm April 30, 2013)
I enjoy all scenarios, it gives a taste of different stories that need to be told but even better have the HEA.I love to see a big strong man change by the innocence of a child. Right now I am reading Lucky Penny by Catherine Anderson and the hero has me melting with his immediate love and devotion to a child he believes is his. *sigh*
(Tracie Travis 11:20pm April 30, 2013)
I've read several books featuring a single mother with kids. I think it gives the stories more realism.
(Sandy Giden 11:22pm April 30, 2013)
I enjoy romances with children. Though I have no children, I've been babysitting since I was about 10, first 2 brothers and by 12 that included a sister. I also had 7 in a French family when I was an au pair in France, aged 3 months to 12 years, when I was 18. Now that was fun.
(Sigrun Schulz 11:23pm April 30, 2013)
I have read both. With the breakup of families nowadays, I guess romances with children involved are realistic.
(Gladys Paradowski 11:57pm April 30, 2013)
Children can certainly add another dimension to a story. I
like that.
(Mary Preston 7:48am May 1, 2013)
I love romance with kids. It's refreshing for a story!
(Roxana Perez 10:20am May 1, 2013)
Having kids in the story makes it feel more lie real life.
It's a good way to introduce characters that tug on your
heart.
(Alyson Widen 8:50pm May 1, 2013)
In historicals there are nannies only in rich families. I much prefer reading historical tales of ordinary women, the ones who toiled in china clay producing firms or went into service or worked on farms or mills or canal boats, or factories making matches or needles, the women who waited for sailors to come home from whaling or herring fishing, the women whose work made the country. Compared to their lives the lives of rich kids were stultifying dull!
(Clare O'Beara 11:31am May 4, 2013)
Registered users may leave comments.
Log in or register now!