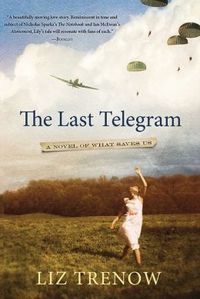 Purchase
Sourcebooks Landmark
April 2013
On Sale: April 2, 2013
Featuring: Lily Verner
416 pages
ISBN: 1402279450
EAN: 9781402279454
Kindle: B00APIVR3G
Trade Size / e-Book
Add to Wish List

Historical | Romance Historical
We all make mistakes. Some we can fix.
But what happens when we can't?
Decades ago, as Nazi planes dominated the sky, Lily Verner made a terrible choice. She's tried to forget, but now an unexpected event pulls her back to the 1940s British countryside. She finds herself remembering the brilliant colors of the silk she helped to weave at her family's mill, the relentless pressure of the worsening war, and the kind of heartbreaking loss that stops time.
In this evocative novel of love and consequences, Lily finally confronts the disastrous decision that has haunted her all these years. The Last Telegram uncovers the surprising truth about how the stories we weave about our lives are threaded with truth, guilt, and forgiveness.
Comments
27 comments posted.
It looks like you did a lot of research for this book. I can't wait to read it. I love historical novels and this one sounds great.
(Kathleen Yohanna 3:06am April 25, 2013)
I think you honored your father by writing something inspired by him and his family. What a great and amazing history!
(Carla Carlson 10:01am April 25, 2013)
Your book sounds fantastic. I love the information you shared about how the book came to be. I already have my name on the waiting list at my local library for your book - when it comes in. I would LOVE to win a copy - so thanks for even the chance to be a winner. Best of luck with your book.
(Nancy Reynolds 10:11am April 25, 2013)
I enjoyed learning about your wonderful novel, The Last
Telegram, and the background which sounds fascinating and
special. I am interested in all novels that are written
about the World War Two era and rescuing Jewish people from
the Holocaust. Your father sounds like a remarkable and very
special individual for his concern and kindness. This story
would be unforgettable and I look forward to reading this
great book. Wishing you the best of happiness and success.
(Sharon Berger 10:46am April 25, 2013)
What an amazing family history!!!! And your book sounds
excellent!!!!
(Vicki Hancock 11:07am April 25, 2013)
How fortunate you are to be able to go back 300 years and know something about the rich history of your family!
(Anna Speed 11:38am April 25, 2013)
Your family history is amazing. And it is great to have a picture of where you write.
And there is nothing wrong with a bit of mess.
My work desk has a sign that says "A Clean Desk is the Sign of a Sick Mind."
(Pam Howell 12:26pm April 25, 2013)
Hey guys, thank you so much for your lovely comments. It means such a lot to me to have been able to commemorate my dad in a book which so many people are reading. He died two years ago this month and his memory is very precious to me. I really hope you enjoy the book, and look out for my next one: The Forgotten Seamstress. Best wishes Liz Trenow www.liztrenow.com
(Liz Trenow 12:35pm April 25, 2013)
I am a lover of all things textile, and silk weaving sounds awesome! I loved reading about the true background stories that formed the basis for some of the characters in your novel and I also love that you didn't "tidy up" before taking the pic of your working space! My desk is piled high with books (not enough bookshelves) and a somewhat untidy stack of papers, so when I see someone with an immaculate desk, I have to ask myself "Hmmm...if a cluttered desk is the sign of a cluttered mind, what does an empty desk signify?" :)
(Julie Smith 1:21pm April 25, 2013)
I love novels based on history and this one is actually on my
to-read list. Very excited and hoping to win!
(Brittany Savage 1:21pm April 25, 2013)
I've been reading several of the historical fiction books out lately about WWII.
Interestingly enough, they've also sparked a real interest from my teenager, who
has been asking me to read the books too. I'm surprised, but glad, because so
many of today's kids are so far removed from even recent world events that it's
refreshing to see one that cares enough not to forget. We'd love to read this one!
(Debbie Burdeen 1:42pm April 25, 2013)
If you think that you are not especially tidy, you should see my desk, and I am not a professional person, having retired many years ago.
Love your info about silk and your family. I remember well WW II.
Blessings,
Marjorie
(Marjorie Carmony 1:46pm April 25, 2013)
How very interesting that your story was based on your father's memories, that's wonderful.
By the way I don't think your desk is messy at all.
(Rita Wray 1:57pm April 25, 2013)
How wonderful! I would love to read this!!
(Betty Hamilton 2:15pm April 25, 2013)
Would love to win and review one of your books. Would love to learn about silk weaving - sounds so interesting. Your desk is not cluttered. Should see mine.
(Jane Squires 2:30pm April 25, 2013)
One thinks of the paratroupers and the airplanes---but not of how those parachutes were made. Very interesting. I'd really enjoy reading this book.
(Sue Farrell 2:30pm April 25, 2013)
I love the story line of your new book, and look forward to reading more going forward. Thank you!
(C Culp 2:54pm April 25, 2013)
I love reading historical fiction. Book sounds wonderful. Thanks for a chance to win.
(Linda Hall 4:11pm April 25, 2013)
I love how you\'ve incorporated some of your family\'s real-life events into your book. I didn\'t realize there was one of the oldest silk weaving company\'s in Britain, and that, it\'s still in operation. I know I\'d enjoy your book based around the WWII era which I\'m familiar with since my father served our country during that war. Sounds so interesting!!
(Linda Luinstra 5:33pm April 25, 2013)
Sounds like a great subject for a novel. Enjoyed reading your blog.
(Sheila True 5:53pm April 25, 2013)
My cousin lives in Great Yarmouth and I have a penpal in Ilkeston. I haven\'t never been to the UK but hope too soon. Your book sounds so intriguing!
(Susan Coster 6:32pm April 25, 2013)
After reading your posting, I knew this was a book that I had to get my hands on!! I love reading books from WWII, since my Father fought in the war. Any story having to do with History, has my undivided attention. I have never seen a book written before with this perspective, and it sounds so good!! I\'m glad that you took the time to keep History alive by going through the trouble of interviewing all of those people - especially your Father, and writing your book!! This is one book that I will be keeping my eye out for and will be at the top of my list to read this Spring!! Having it written about English History is an added plus!! Congratulations!!
(Peggy Roberson 8:58pm April 25, 2013)
Marvelous memories on which to base one\'s book!
I look forward to reading a book about such an
historically interesting time!
(Patricia Cochran 9:02pm April 25, 2013)
Love historical fiction - thank you for sharing a part of your family history.
(Mary C 9:14pm April 25, 2013)
Historical fiction is my favorite read. This looks like a good one.
(Lisa Fitzgibbons 9:29pm April 25, 2013)
I wrote my thesis on World War II for my Bachelor degree. I have always been fascinated of this war period.

Looking forward to reading your book.
(Kai Wong 10:01pm April 25, 2013)
Thanks everyone for your wonderful comments. I love hearing from readers who like the same things as me, and I do hope you have enjoyed reading The Last Telegram. Best wishes to you all, Liz Trenow
(Liz Trenow 3:43pm May 3, 2013)
Registered users may leave comments.
Log in or register now!