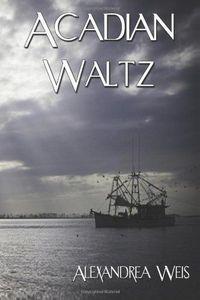 Purchase
World Castle Publishing
January 2013
On Sale: January 2, 2013
Featuring: Nora
270 pages
ISBN: 1938961781
EAN: 9781938961786
Kindle: B00B0MJ0BM
e-Book
Add to Wish List

At thirty, Nora Kehoe is feeling pressured to settle down. On a blind date, Nora unexpectedly ends up in the emergency room where she meets Dr. John Blessing. She hopes the pragmatic Dr. Blessing can make her life complete. Then, a passionate encounter with a childhood friend changes everything.

The charismatic Jean Marc Gaspard manages the family business, Gaspard Fisheries. But rumors abound that Jean Marc is running more than seafood through the waters around Manchac Louisiana. When a family crisis sends Nora to Manchac, she is thrown headlong into the dangerous world of smugglers and swindlers. And as Jean Marc tries to protect Nora from his past, he realizes he may lose her because of it.

The dark bayou waters run deep with secrets in Louisiana, and every Cajun knows how to dance the fine line between the right and wrong side of the law. But for strangers, learning the steps to staying alive in the swamps can be tricky. Life, and love, will be dependent on how well one can master the ... Acadian Waltz
Comments
25 comments posted.
Re: Acadian Waltz

This sounds like a good book, I'd love to read it.
(Wilma Frana 3:35pm May 13, 2013)
It looks like I have some books to catch up on!! I love the way you put things - the thought process you use before you put pen to paper in order to write your Romances. These are the types of books that I enjoy reading, and I know you won't let me down. I'm looking forward to reading your book, and reading your other books as well. Thank you for keeping real Romance alive!!
(Peggy Roberson 4:04pm May 13, 2013)
Love how you separate them! :)
(May Pau 4:43pm May 13, 2013)
I like how you think!! Love Story & Romance..
(Cate Sparks 5:03pm May 13, 2013)
Thank you for your post, Alexandrea. I've long wished there were more love stories, as you define them, on the market.

Yes, there's a place for both love stories and romances. But the former is very much overshadowed by the latter.

Perhaps with the rise in self-publishing, more love stories will become available. I certainly hope so.

Keep up the good work!
(Mary Anne Landers 5:55pm May 13, 2013)
Your book sounds great. Thanks for a chance to win.
(Linda Hall 9:06pm May 13, 2013)
Love your definitions
(Denise Holcomb 10:21pm May 13, 2013)
Wow, I agree that a Love Story is greater than a Romance and
yes it does touch our soul and life in a way we never
expected or anticipated it would do. You have some fantastic
books and I would love to read all of them and ACADIAN WALTZ
sounds so fascinating. I cannot wait to read it. Thanks for
the great contests. Thanks, Cecilia CECE
(Cecilia Dunbar Hernandez 11:07pm May 13, 2013)
sounds like a heartwarming read, I love the love!
(Darci Paice 12:14pm May 14, 2013)
I always think of a romance as a slightly lighter read.
(Mary Preston 6:04am May 14, 2013)
Give us a great love story! I'd love to read it.
(Mary Hay 8:52am May 14, 2013)
I like how you distinguish between love and romance---I guess love is deeper in my mind, too.
(Sue Farrell 9:02am May 14, 2013)
i love a romance love story the book sounds great
(Denise Smith 9:28am May 14, 2013)
I love a good love story.
(Rita Wray 9:35am May 14, 2013)
Love the distinction between a love story and a romance. Awesome.
(Pam Howell 9:36am May 14, 2013)
Sounds like a great book. And I loved your explanation of the difference between love story and romance. Great insight. Thanks for the chance to win.
(Nancy Reynolds 9:41am May 14, 2013)
This novel sounds captivating and very special. Thanks for
this lovely post.
(Sharon Berger 9:53am May 14, 2013)
This novel sounds interesting. Also, I'm always fascinated by books with a Louisiana background.
(Anna Speed 11:39am May 14, 2013)
i want to read this real soon!
(Debbi Shaw 7:18pm May 14, 2013)
It is kind of sad that we often have to go to books to find true love. Loving other people can truly fill your heart.
(Kathleen Yohanna 11:01pm May 14, 2013)
I enjoy a great story; romance, love or any other genre!
(Tracie Travis 11:04pm May 14, 2013)
Love romance books. This sounds like a great read. It will
definitely be on my to read list!
(Sandie White 11:16pm May 14, 2013)
A love story has romance but a romance isn't always a love story.
Love story has longevity but a romance can be casual. A love
story becomes part of a person's whole being while a romance
can have a beginning and ending.Love is affects your heart, mind
and soul, romance can be fun but can be turned off and
forgotten.
(Carla Vespe 11:48pm May 14, 2013)
I would take true love over romance any day!
(Vicki Hancock 12:08pm May 15, 2013)
All of us ladies love to be woo even if we are married. This is a way that we know our significant other is as much in love with us as we are with them.
(Kai Wong 1:32am May 15, 2013)
Registered users may leave comments.
Log in or register now!