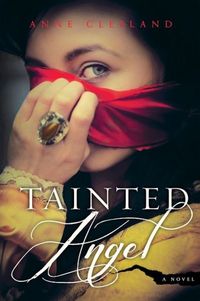 Purchase
Sourcebooks Landmark
June 2013
On Sale: June 4, 2013
368 pages
ISBN: 1402279051
EAN: 9781402279058
Kindle: B00BEXP516
Paperback / e-Book
Add to Wish List

Romance Historical | Romance Suspense
A Deadly Game of Deception
Notorious and beautiful, Vidia Swanson works as an "angel," trying to coax incriminating secrets from powerful men who may or may not be traitors of the Crown. Her latest target is suspected of stealing gold from Wellington's troops, but matters take an alarming turn when Vidia realizes that her spymaster thinks she is the one who is tainted—a double agent working for Napoleon.
Backed into a corner, she can only hope to stay one step ahead of the hangman in a race to stop the next war before it destroys her—and destroys England. Tainted Angel offers up a compelling game of cat and mouse in which no one can be trusted and anyone can be tainted.
Comments
33 comments posted.
Re: Tainted Angel

I love spy stories and would love to get the opportunity to win your book! I love to read a book then write a review, thank you!
(Nicole Laverdure 2:32am June 6, 2013)
Spy stories are so interesting! Thanks for the contest - your
book sounds great!
(Dianne McVetty 3:28am June 6, 2013)
The spy is ultimately selfish, out to survive and evade capture, finding whatever information or item he has been told to get. So love life is a temporary thing as far as he is concerned - or she!
(Clare O'Beara 7:46am June 6, 2013)
i love spy stories this sounds really good
(Denise Smith 8:14am June 6, 2013)
Mr and Mrs Smith meet The Regency Era? Cool! I love it!
(Felicia Ciaudelli 8:18am June 6, 2013)
If the inside of your book is as intriguing as the cover, I'm sure I'll be in for one heck of a good ride!! I'm really looking forward to reading your book. Your posting today was very entertaining, and I, too, love a good spy story!! Congratulations on your latest book!!
(Peggy Roberson 9:15am June 6, 2013)
A spy story is enthralling and gripping. Love this wonderful
post and learning about your book.
(Sharon Berger 9:36am June 6, 2013)
I love spy stories. And I never heard the term "angel" used the way you are using it in your book - a first for me. You book sounds totally intriguing. Thanks for a chance to win. Best of luck with the book - it sounds like a real winner.
(Nancy Reynolds 9:48am June 6, 2013)
Thank you so much for your encouraging comments, I wanted to write Regency adventure stories and this seemed like a good premise. I hope you enjoy the series!
(Anne Cleeland 10:19am June 6, 2013)
Well, you caught me from the mention of James Bond. I'm a huge fan of his and he's the ultimate Alpha. I think we all harbor that little bit of wishing we could be the woman he absolutely can't live without.

Love your premise and the cover!
(Tamara Hunter 10:34am June 6, 2013)
Exactly, Tamara! Although usually the woman he can't live without winds up d-e-a-d. :)
(Anne Cleeland 10:43am June 6, 2013)
Would love to read! I enjoy reading spy stories.
(Lazydrag0n Puff 10:56am June 6, 2013)
Thanks for the contest. I usually don't read spy stories, but this one sounds intriguing.
(Anna Speed 11:59am June 6, 2013)
Give it a try, Anna! There's also a (hopefully)satisfying romance plot.
(Anne Cleeland 12:05pm June 6, 2013)
Would love to read,love spy stories!!
(Jaclyn Tonyan 1:06pm June 6, 2013)
This sounds amazing - I love spies and the intrigue. I think The Scarlet Pimpernel got me hooked.
(Carla Carlson 2:07pm June 6, 2013)
I do love spy stories. Your book sound terrific!
(May Pau 2:13pm June 6, 2013)
Love spy stories...they are so intriguing.
(Bonnie Capuano 2:35pm June 6, 2013)
And for those of you who like the cover, it was the work of Eileen Carey-many thanks to her.
(Anne Cleeland 2:45pm June 6, 2013)
I loved the movie Mr. & Mrs. Smith, and I'm sure your new book is just as good. Love spy stories and your book cover is great! Can't wait to read it.
(Linda Luinstra 5:06pm June 6, 2013)
I love spy stories and mysteries! The twists are always so interesting. Thanks for
the contest.
(Becca Luman 7:53pm June 6, 2013)
I love spy stories, keeps you wanting to read more. Thank you for the giveaway :)
(Aimee Robison 7:53pm June 6, 2013)
i love bible stories.
(Kent Cook 9:26pm June 6, 2013)
I love the spy romances so many remind me of The Scarlet
Pimpernel, which is a favorite of mine.
(Theresa Norris 9:37pm June 6, 2013)
Enjoyed reading your blog. I'm a hugh fan of spy stories.
(Sheila True 10:00pm June 6, 2013)
I was drawn in by the cover and I am super intrigued by the description. I haven't read many books about that era.
(Jennifer Beyer 10:18pm June 6, 2013)
i love reading spy stories! thanks
(Debbi Shaw 10:52pm June 6, 2013)
Love mystery and the intrigue. It's a life so few live so it's interesting.
(Vicki Hancock 11:21pm June 6, 2013)
Spys just seem so super human.
(Sue Farrell 11:25pm June 6, 2013)
Yes, I love spy stories and look out James Bond and Sherlock
Holmes because your new book: TAINTED ANGEL is going to blow
their socks off. I love the book cover too. Thank You for the
fantastic book and I would love to win and read it too.
Thanks, Cecilia CECE
(Cecilia Dunbar Hernandez 11:27pm June 6, 2013)
I have always love a man of mystery. If he is anything like James Bond, I take him any day.
(Kai Wong 12:40pm June 7, 2013)
I like spy stories - and James Bond movies.
(Sandy Giden 11:35am June 7, 2013)
I'm intrigued by spy stories and like it when they aren't too
predictable.
(Alyson Widen 5:21pm June 8, 2013)
Registered users may leave comments.
Log in or register now!