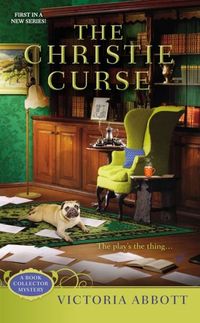 Purchase
Book Collector Mystery #1
Berkley
March 2013
On Sale: March 5, 2013
Featuring: Jordan Kelly
304 pages
ISBN: 042525528X
EAN: 9780425255285
Kindle: B0099CGY2S
Paperback / e-Book
Add to Wish List

In 1926, Agatha Christie disappeared—making headlines across the world—only to show up eleven days later at a spa under an assumed name. During those eleven days, did she have time to write a play?
Jordan Kelly needs a new job and a new place to live. She's back in Harrison Falls, New York, living with her not so law-abiding uncles, in debt thanks to a credit card–stealing ex and pending grad school loans.
Enter the perfect job, a research position that includes room and board, which will allow her to spend her days hunting down rare mysteries for an avid book collector. There's just one problem: her employer, Vera Van Alst—the most hated citizen of Harrison Falls.
Jordan's first assignment is to track down a rumored Agatha Christie play. It seems easy enough, but Jordan soon finds out that her predecessor was killed while looking for it, and there is still someone out there willing to murder to keep the play out of Vera's hands. Jordan's new job is good…but is it worth her life?
Comments
49 comments posted.
It is really great that you are working with your daughter. I don't believe that I could ever work with my daughter. We just don't think alike and have different interests. But, we make great traveling buddies!!!
(Kathleen Yohanna 12:47pm March 3, 2013)
Not sure cause my daughters are so much different in our thinking but it
sure would be fun to try I love my daughters
(Ava Curtis 3:05am March 3, 2013)
My daughters and I are very close but something like writing a book? Well I don't think so...
(Bonnie Capuano 6:22am March 3, 2013)
I don't have a daughter, but I am certain that my Mother and I could have written a great,funny book. She and I had such a wonderful relationship.
Blessings,
Marjorie
(Marjorie Carmony 6:32am March 3, 2013)
My mother once tried writing a mystery for a murder mystery weekend, along with a friend of ours who is a journalist. They had to stop the partnership halfway. Mum was making all the characters very nice, and our pal was making them all very nasty! Mum also wanted to insist on a Miss Marple character, but we had no elderly ladies available to play the part! The basis they had established was turned into a great mystery and our pal is now the author of a few books.
So going by that experience, no I don't think it would work out!
(Clare O'Beara 7:30am March 3, 2013)
Your series sounds very interesting and fun! I have no daughters but an awesome daughter-in-law who thinks just like I do. I think we would work well together!
(Renee Pajda 8:23am March 3, 2013)
Hmm... I think my mother and I would probably kill each other by the time the book is finished! My mom and I love each other but it would be hard working with that.

My daughters are only 4 yrs old and 2 months old so hard to say for now. But my 4 yrs old is very head strong so we'll see in the future.
(May Pau 8:53am March 3, 2013)
Maybe my granddaughter as my daughter is not a reader. It would have been fun to have done it with my mother as she was a mystery reader. Thanks for the giveaway. It was fun to read the messages from other readers.
(Leona Olson 9:52am March 3, 2013)
Of course you could both work together, and of course you could write a best seller.

I'm predicting that this series WILL end up on the NY Times Book Review and we (your friends) will "shep nachus" from you.
(Nora-Adrienne Deret 10:14am March 3, 2013)
I have a former colleague who 'supported' her daughter while she wrote her first novel (successfully) and is now 'polishing' their first joint novel. It's so funny: daughter comes up with the plots, Mom comes up with the 'local colour background' of the 60's and 70's in their rural/historic community. And, they now have an intergenrational household including son in law and 2 grandchildren...all helping to keep the historic family homestead in good working order. So, more power to you and Victoria !
(Diane A Morris 10:27am March 3, 2013)
I could never work with my mother - now my sister and her, most definitely. There is a running joke about my sister and mother having one brain they share between them, for if you separated them and asked 100 questions, they would answer it the same way.
My daughter is different - I would work with her in a heartbeat. She loves to write and comes to me for help sometimes (she writes on Wattpad) - she is extremely talented and we are able to bounce ideas off and twists in the plot. What a great bonding experience to write together and get published - great job.
(Carla Carlson 10:30am March 3, 2013)
Work with my mother or my sister? Impossible, we are too much alike.
(Kathy Sullivan 10:37am March 3, 2013)
It would be impossible for me to write with my daughter, since I don't have one! As for writing with my mother, it might be possible, but only if we could do our work by phone and exchange of drafts. Having the two of us in one house for more than a few days could well be the basis of a murder story -- the only mystery involved is who would be the murderer. We get along fine at a distance and could bounce endless ideas back and forth, so maybe we should try the letter game? Could be fun!
(Adrienne Stevenson 10:56am March 3, 2013)
If my mother were still with us, alas sadly not, this would be
a wonderful and successful idea since she loved writing.
(Sharon Berger 11:28am March 3, 2013)
It would be fun working with my mom on a mystery. But I think there would be some heated arguments. We are both perfectionists with our own ideas that sometimes clash.
(Pam Howell 11:47am March 3, 2013)
If I wrote a mystery about either, there is no way they would NOT be alive. Would kind of freak me out.
(Vicki Hancock 1:44pm March 3, 2013)
I have not had the chance to work with my daughter, but we were in similar positions and both of us excelled beyond our dreams. Together we would either sink or sail. I prefer to think we would have made a great partnership.
I'm so excited about your new book. I'm such a Christie lover. Kudos ladies!!
(Rosemary Simm 2:04pm March 3, 2013)
I would love to write something with my daughter. She writes really well and has a wonderful imagination. We get along fantastically so this sounds fun!
(Shawn Andree 2:16pm March 3, 2013)
I would definitely be able and love to write something with my mother. She has great memories from the past which would make great reading.
(Shirley Younger 2:31pm March 3, 2013)
SOUNDS LIKE family fun
(Debbi Shaw 2:31pm March 3, 2013)
It wouldn't be possible for me to write with my daughter, as I don't have any daughter, only sons. I also don't think I'd enjoy writing with my mother from another state. She loves to write, however. If we lived in the same city, it might then be a possibility. I love that the two of you had that experience and it worked out. I guess the saying holds true, "two heads are better than one." Can't wait to read this book which sounds good!
(Linda Luinstra 2:39pm March 3, 2013)
No way could I write with my mother---she actually has a way with words while I am a numbers person and only enjoy reading words.
(Sue Farrell 3:32pm March 3, 2013)
nope couldn't do...Mom moved in with us 2yrs ago and I'm still
trying not to kill her on things!!!
Now with my daughter she's only 5 so that might work...
(Billie Gaskill 4:18pm March 3, 2013)
I would love to have been able to written something with her before she had passed.
(Cynthia St. Germain 4:46pm March 3, 2013)
My mother has passed away but if she were here I would have loved to have written something with her. My mom wrote short stories that were absolutely hilarious. My siblings and I told her to try to publish them but she never did.
(Rita Wray 4:55pm March 3, 2013)
My daughter and I were alot alike, so I think we could have worked will togather.
(Sheila True 5:36pm March 3, 2013)
Nope... my daughter is too much of a drama queen and anything she would write would not be realistic enough. Unfortunately, my mother has no interest in writing anything, so it would be a no go there too. I could see sitting down and writing a book with my son, because he has a real talent for it.
(Donna Holmberg 5:37pm March 3, 2013)
My daughter is 8 and has already created some mysteries of her own and made her own books out of typing paper. They include "The Missing Earrings" and "The Missing Shoes". I think it would be fun to write with her.
(Connie Schultz 5:47pm March 3, 2013)
Sometimes working with your mother can be great. Other times when we have been together too long we definitely need a time out for a few hours to reset our moods.
(Laura Gullickson 6:05pm March 3, 2013)
..looks good .....
(Kent Cook 7:13pm March 3, 2013)
Woring with my mother would be okay in the beginning, but as the story progressed, diffeent opinions would doom the story.
(Mary C 7:28pm March 3, 2013)
I would have loved to try. But my Mother is gone now 3 years so anything I could do with her would work. But we were so different I doubt it would have worked. But we both seem to like the same books and she gave me the love of reading.
(Jane Squires 7:34pm March 3, 2013)
It would be fun and crazy making. Certainly not dull.
(Shannon Scott 7:37pm March 3, 2013)
Congratulations on the new book! I think it's wonderful having a mother-daughter writing team. Even though my mother and I have a great relationship, I don't think we could finish writing a book together.
(Bonnie H 7:38pm March 3, 2013)
sounds like another read till you are through, without stopping book. The best kind.. Thank you for the giveaway.
(Holly Vanderhule 8:30pm March 3, 2013)
Sounds like you and your daughter had quite an experience. I am afraid working with my mom or daughter would prove a disaster. lol
(Gladys Paradowski 8:36pm March 3, 2013)
working with my mother would be a riot. I dont know what we would be doing but she gets along with anyone and she makes the day a brighter one.
(Lisa Fitzgibbons 8:37pm March 3, 2013)
At the holidays if my mother, my sister and I attempted to work in the kitchen at the same time IT DID NOT WORK. Sparks flew. Any two of us was fine, but three DID NOT WORK.
I have to assume that writing would have similar results.
(Elizabeth Dodd 8:43pm March 3, 2013)
Sounds like a fun book. Would love to win. Thanks for a chance,
(Linda Hall 8:52pm March 3, 2013)
Can't wait to read this - love these kind of books!!
(Diane Teunessen 8:55pm March 3, 2013)
It is a kind of relationship that I would like to do: work with my Mom. Unfortunately, my Mom is stuck with her traditional upbringing that is in conflict with my ideology. We can't even compromise. It would be fun if we could.
(Kai Wong 9:46pm March 3, 2013)
I actually like the idea of working with family. It could be a
lot of fun.
(Mary Preston 10:04pm March 3, 2013)
Honestly, as long as I got paid I could work with my mom. It's hard to imagine though because as a norm, you don't really see yourself working with your mom as an official job.
(Meghan Anderson 10:21pm March 3, 2013)
i would love to work with my mother on a book
(Ann Unger 10:39pm March 3, 2013)
I adore my family, so I think it would be a blast! I can't wait to read this book!
(Chelsea Brooks 10:47pm March 3, 2013)
i moved back home to help my mom with my stepfather and when he passed i can't leave her alone. so i pay rent and we live togother and it's great!!!
(Jennifer Beck 10:57pm March 3, 2013)
Love the cover! It looks like my room a couple of weeks ago. I had a nice, neat pile of papers on the floor, out of the way, and my curious Pug Dorii decided she needed to go through them and managed to spread them all over floor and act innocent about it!
There is no way in any realm that I could work with my mother she is way too controlling but I could definitely work with my daughter. Hmmmm, I wonder what each of them would answer about working with me. Hah!
(Tracie Travis 11:39pm March 3, 2013)
I would love to work with my daughter on a book. It would be
a blast since we are so very much alike. We are both in the
same career field and often share ideals with each other.
(Beverly Rhodes 9:47am March 4, 2013)
I think it's cool that you are able to write a book together.
(Kiki Winn 10:54pm March 6, 2013)
Registered users may leave comments.
Log in or register now!