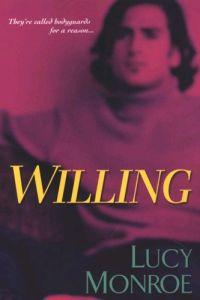 Purchase
They're called bodyguards for a reason...
Ready, Willing and Able series
Kensington Brava
December 2005
Featuring: Josie McCall; Daniel Black Eagle
310 pages
ISBN: 0758208758
Trade Size
Add to Wish List

Erotic | Romance | Romance Erotica Sensual
They're the good guys fighting the bad guys. They'll get the job done—if the price is right and so is the cause. Meet three sexy men who individually are READY, WILLING, and ABLE to go the distance—and together, are unstoppable…
Josie McCall has been raised to be a soldier, and she could be the best—if she wanted it. Instead, she left her dad's mercenary school behind for a normal job in computers. But now that someone has torched the school and her dad is MIA from the hospital, Josie's going to use every bit of her merc training to find him and hunt down the culprits who took him. Josie knows a lot about explosives, hand-to-hand combat, and tracking. What she doesn't know about is sex. She has no idea what to do with the volcanic attraction she feels for her dad's new partner, Daniel Black Eagle. And that feels more dangerous than any bomb…
Daniel knows exactly what he'd like to do about that attraction. The brooding explosives expert can't get within five feet of Josie without wanting to touch, taste, and protect her—even if he's sure she would happily drop-kick him if she knew one sizzling moment of his fantasies. But he'll save it for later. Right now, he's got his hands full figuring out who set that bomb and took Josie's dad. Daniel's sure of one thing, though—he's not letting Josie McCall out of his sight for a single second. Convincing the cutest, most desirable trained soldier he's ever met that she needs a bodyguard isn't going to be easy. But if she'll let him, he'll show her he's willing to do whatever it takes to keep her safe, and along the way, he'll make her feel every inch a woman…
Comments
No comments posted.

Registered users may leave comments.
Log in or register now!