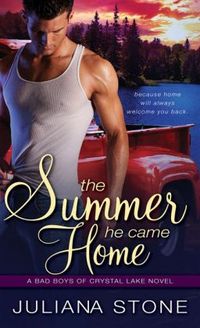 Purchase
Bad Boys of Crystal Lake #1
Sourcebooks
April 2013
On Sale: April 1, 2013
Featuring: Maggie O\'Rourke; Cain Black
384 pages
ISBN: 1402274807
EAN: 9781402274800
Kindle: B00AOB1E4Q
Paperback / e-Book
Add to Wish List

Falling asleep in a different bed every night has made it easy for Cain Black to forget his past. It's been ten years since he packed his guitar and left Crystal Lake, Michigan, to chase his dreams. Now tragedy has forced him home again. And though Cain relishes the freedom of the road, one stolen moment with Maggie O'Rourke makes him wonder if he's missing out on something bigger than fame.
For Maggie—single mother and newly settled in Crystal Lake— love is a luxury she just can't afford. Sure, she appreciates the tall, dark and handsome looks of prodigal son Cain Black. But how long can she expect the notorious hellion to stay?
The last thing either of them wants is something complicated. But sometimes love has its own plans.
Comments
48 comments posted.
Neil Diamond, Chubby Checker, The Supremes, Berti Higgins. Wow do I show my age? But this is the mucis that I took to the beach with me to relax and rewind.
(Betty Hamilton 8:41am April 18, 2013)
Mick Jagger, and currently King Charles (google him) his hair
is amazing! :) Excited to read!
(Brittany Savage 8:45am April 18, 2013)
Well, they're not rockers, but every member of Lifehouse! I
love them. :-D
(Karin Anderson 8:52am April 18, 2013)
The Coasters, The Platters, Paul Anka, Leonard Cohen.
(Sharon Berger 9:28am April 18, 2013)
I truly love the band Hall and Oates and grew up on Alice
Cooper and Three Dog Night and other great bands. When, I
was young I got to see Three Dog Night with my cousins in
Charlotte, NC. They were fantastic and the drummer did a
great song with the drums over 10 minutes and then threw his
sticks up in the crowd and everyone went wild. What a thrill
to see when I was a young teenager. Thanks for the memories
and the great contest too. May God Bless You with success
always and I would love to win and read THE SUMMER HE CAME
HOME. Thanks, Cecilia CECE
(Cecilia Dunbar Hernandez 9:48am April 18, 2013)
I'm not really into rock...too old, I guess.
(Mary Hay 9:50am April 18, 2013)
I love old rock and look forward to reading this book!!!!
(Bonnie Capuano 9:58am April 18, 2013)
I have always loved Jon Bon Jovi. I love his dedication to his wife and kids.
(Sue Galuska 10:11am April 18, 2013)
pink floyd
(Kent Cook 10:17am April 18, 2013)
Beatles
(Bonnie H 11:11am April 18, 2013)
Bret Michaels... just yum!
(Trasina McGahey 11:18am April 18, 2013)
The book sounds great, I like some rock and roll.
(Wilma Frana 11:20am April 18, 2013)
I love music - but I can't say I've idolized any music "stars" - I'm more into "movie stars" for my adoration. But your book sounds great - and I would love to win a copy. Best of luck with it.
(Nancy Reynolds 11:39am April 18, 2013)
I too love Jon. I once got the hubby mad because I said that Jon was one
man I would never kick out of bed. Lol I was never one of those groupie
drooling teenagers but him....he got me. I have this on my reading list
already. Thank you for sharing your sexy man with us.
(Patti Paonessa 11:47am April 18, 2013)
I grew up with my parents always playing oldies... still love listening to it today.
(Colleen Conklin 12:47pm April 18, 2013)
Roy Orbison was always a favorite of mine for his dedication
to music despite some horrible personal tragedies. I've
always been a huge fan of the Beatles.
(Judith Greenberg 12:54pm April 18, 2013)
I don't think I've ever idolized a rocker. My heros have always been military, police, firefighters...the ones that earn the title hero.
(Deb Diem 1:13pm April 18, 2013)
The beatles.
(Sandy Giden 2:14pm April 18, 2013)
The 80's and 90's were the most awesome times of my life. I loved Jon Bon Jovi
(who didn't?) Then there was the whole band of Skid Row. There was just
something about guys with longer hair than mine. Thanks for the giveaway.
(Val Pearson 2:31pm April 18, 2013)
I think some of the greatest rock bands (and men) came from the 80s and 90s - I don't know but put on some Whitesnake to Poison, add a dash of Van Halen and Def Leppard stir some Mr Big, Train and I am in heaven. I am sure I am dating myself but remember when MTV actually played videos and Head Bangers Ball was on Fri night late -- funny to think that G & R was "headbanging" compare to the crazy things my children have listened to - yup, definitely dated myself
(Carla Carlson 3:20pm April 18, 2013)
The first concert I ever went to was Chicago. My brother surprised me with tickets.
(Marcy Shuler 3:23pm April 18, 2013)
I still love the Beatles, the Rolling Stones and Eric Clapton. Thanks for visiting today.
(G S Moch 3:38pm April 18, 2013)
Wow, hard, loved the 70's and 80's, I loved the soul sound,someone that influenced is hard to say, Stevie Wonder, with his disabilities, his abilities were more than compensating, Elvis was the first probably to bring notice. So many.
(Deana Connelly 4:07pm April 18, 2013)
Love The Beatles!
(Timothy Younger 4:32pm April 18, 2013)
Brian Adams, I have been to every concert held in Calgary and even had the pleasure to meet him once.
(Janis Milford 4:53pm April 18, 2013)
My husband loves the Beach Boys. Elvis was the only rocker I found interesting.
Please enter me in contest.
(Jane Squires 5:25pm April 18, 2013)
I grew up on the Beatles---and still love their music. But my crush has always been on Jon Bon Jovi.
(Sue Farrell 5:36pm April 18, 2013)
Your book looks great- I can't wait to read it. One of my favorite storylines!
All this talk of Jon Bon Jovi. :) He still looks great. I just saw him again in
concert last month. The last time I saw him was in 1987. His hair is shorter,
he's got lines by his eyes, doesn't dance as much (he needs his Advil
now... Lol!) but he's still got it!
(Debbie Burdeen 5:37pm April 18, 2013)
Oh I loved the Doors and Jim was amazing, sadly died from over dose and I also love musice, rock stars, Bon Jovi, you name it!!!!!! Music is good for the soul!!

Joanne
(Joanne Bozik 6:50pm April 18, 2013)
Rod Stewart is the one I love and have loved for ages....he gets better and better. Just read his biography, ROD.

Pat Pascale
[email protected]
(Patricia (Pat) Pascale 6:54pm April 18, 2013)
FABIAN, FABIAN, FABIAN
Enjoyed reading your blog, brought back memories.
(Sheila True 7:09pm April 18, 2013)
love the 80,90 music was my favored ..love to win this book..after done with it i donate it to my local library so many more can enjoy...thanks
(Kimberly Hoefs 7:12pm April 18, 2013)
Bon Jovi... I like his hair short though rather than long...
(May Pau 7:32pm April 18, 2013)
I loved Elvis and still do. I was lucky enough to see him in concert, he was fabulous.
(Rita Wray 7:44pm April 18, 2013)
I don't really have a fave rocker. I just love all different types of music. But if I have to pick one, it's fellow Canadian Bryan Adams! Thanks for the giveaway, Juliana, can't wait to read your new book!
(Anita H 8:10pm April 18, 2013)
It all depends on the day and my mood. I'm more of a fan of the music than the singer. I've been enjoying the various artists on the reality shows.
(Laura Gullickson 8:11pm April 18, 2013)
Bruce Springsten. I grew up with his music especially on MTV.
(Kai Wong 8:19pm April 18, 2013)
THE BEATLES
(Debbi Shaw 8:20pm April 18, 2013)
Rod Stewart and Neil Diamond. No telling how many hours I listened to
them on 8track tapes!!!!
(Debbie Rudder 8:35pm April 18, 2013)
Growing up in a bit of a strict family, I had to sort of watch who I listened to. Chicago was always a big influence in my music as a teenager, as was ELO, Earth, Wind, and Fire, and more artists than I have room to mention!! Since I was in the orchestra in school, I also listened to classical music, which gave me a balance. I still do this today, depending on my mood. I shift from light rock to something with a little more "soul" if I need some motivation to get something done around the house, for example, to classical, if it's a laid back day, or if I'm working on my knitting. Your book sounds interesting, especially knowing the background on them, and I'd love to read them!!
(Peggy Roberson 9:05pm April 18, 2013)
Bryan Adams, Bon Jovi
(Cheryl McEwen 10:44pm April 18, 2013)
Not really big fan of rock music, but I listen to Bon Jovi,
The Beatles. What a great giveaway, thanks Juliana!
(Ada H. 10:54pm April 18, 2013)
Living in Ireland I have to say U2 of course - but also Thin Lizzy with Phil Lynott, a Dubliner as well.
(Clare O'Beara 7:11am April 19, 2013)
I would have to say the Beatles. Love their work!
(Eileen Roth 7:38am April 19, 2013)
As a teenager, The Beatles. Now one of my favorites is Train.
(Pat Lieberman 8:04am April 19, 2013)
Love the sound of this book. Would love to win it.

My favorite was Elvis.
(Helen Livermore 10:03am April 19, 2013)
I always loved the Beach Boys, the Beatles, the Rollingstones and Elvis when I was younger and still do. I actually attended an outdoor Beach Boys 3-hr. concert and stood in front of the stage after playing their record albums for years, when I was in my early 20's--this was a real treat seeing them entertain me live!
Beautiful book cover--I'm looking forward to reading it!
(Linda Luinstra 2:56pm April 20, 2013)
The rocker groups that have made a lasting impression upon me are...The Beatles, The Doors, ZZTop, Kiss, Queen, Led Zeppelin, Guns N' Roses, and Kansas (to name of few of my favorites). Great giveaway, thanks!
(Rich Cook 4:27pm April 20, 2013)
Registered users may leave comments.
Log in or register now!