"He needs to come home and she needs to find home, they find each other in Chrystal Lake..."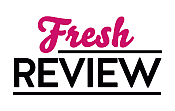 Reviewed by Mandy Burns
Posted January 17, 2013

Cain Black, lead singer and guitarist of BlackRock, is returning to his hometown of Crystal Lake, MI after following his dreams for 10 years. The fact Cain is returning for the funeral of one of his best friends is daunting and tragic at best leaving Cain tired and heartbroken. Cain's first night back becomes a night of healing and reminiscing with old friends and a ton of alcohol but his world tilts when he meets the beautiful redhead cleaning up the party. Cain has no intentions of starting anything new with a woman from his hometown but there is something about Maggie O'Rourke and her son that draws Cain to them like a moth to the flame, he just can't resist. Cain is unable to resist attempting to get to know Maggie but her own walls of defense are keeping him at a distance he plans to eliminate as soon as possible.
Maggie O'Rourke and her son Michael have made a home in Crystal Lake but times are difficult while trying to out run a past better forgotten. Keeping to herself and making very few friend's while cleaning other peoples homes is all she can do to survive with her son. Meeting the brooding and beautiful tattooed Rock Star is not part of her plan for the future but with his endearing smiles and his willingness to be kind to her son, Michael, Maggie is having a very difficult time resisting Cain Black and his charm especially when it is directed at her. Maggie resists the chemistry she has with Cain for as long as she can, happiness can be just a breathe away but her past is never far behind threatening something she never thought she would find, Love.
As the first book in the Bad Boys of Chrystal Lake it is a brilliant start. Juliana Stone builds each character to perfection pulling you deep into the main characters while teasing you with the others who will have their own story. I love this series already!
SUMMARY
Falling asleep in a different bed every night has made it easy for Cain Black to forget his past. It\'s been ten years since he packed his guitar and left Crystal Lake, Michigan, to chase his dreams. Now tragedy has forced him home again. And though Cain relishes the freedom of the road, one stolen moment with Maggie O\'Rourke makes him wonder if he\'s missing out on something bigger than fame.
For Maggie—single mother and newly settled in Crystal Lake— love is a luxury she just can\'t afford. Sure, she appreciates the tall, dark and handsome looks of prodigal son Cain Black. But how long can she expect the notorious hellion to stay?
The last thing either of them wants is something complicated. But sometimes love has its own plans.
---
What do you think about this review?
Comments
No comments posted.

Registered users may leave comments.
Log in or register now!