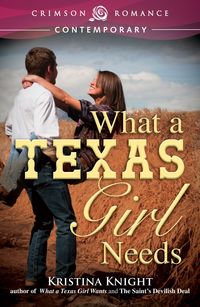 Purchase
Crimson Romance
December 2012
On Sale: December 17, 2012
Featuring: Vanessa Witte; Matias Barnes
ISBN: 1440555702
EAN: 9781440555701
Kindle: B00AB3TF8Y
e-Book
Add to Wish List

Vanessa Witte is ready to finally claim her life. The middle of three daughters born into the Witte family – a powerful Texas name – she's been content to float through life. Being dumped by her shady ex? A blessing in disguise. Having a one–night–stand with Matias Barnes? Not one of her more stellar moments. But she's back in Lockhardt with a secret and a reason to start fresh: A baby.
Matias Barnes knows all about society women – it's part of the reason he left his wealthy family behind and took a job on a ranch. He doesn't like the endless string of parties, the inane conversation, or the gold–digging tricks those women have perfected. But that doesn't stop him from wanting Vanessa Witte. Mat knows she's so not right for him, but with her back in Lockhardt, can he resist her charms long enough to really let her go?
Comments
9 comments posted.
Decorating can be complicated as there are cats here .. which love to play with trees, baubles, strings and parcels! So some we years we put up a tree and some we don't depending on the age of the cats. I love to unwrap the presents on Christmas Day - we are only allowed to do this when we're both there - and give the wrapping paper to the cats. They have wonderful games ambushing each other from behind bundles of paper, scrunching it up and attacking it. They get a present too but the paper is definitely a big feature for them.
(Clare O'Beara 5:36am December 26, 2012)
My daughter decides everything! This yr it's a tinkerbell tree top!
(May Pau 9:46am December 26, 2012)
It's funny that you mentioned handmade ornaments. I have a couple of ornaments that I made with my Mother when she was still living. Every year, they have a prominent place on my tree, and bring back good memories. I love a tree with hand-made ornaments on it, and my tree consists of ornaments that I made over the years. At least the majority of ornaments are ornaments that I made. The other spots I had to fill in with store bought ornaments for the time being. I think it adds a homey touch to Christmas. I hope that you had a lovely Christmas, and wish you all the best in the coming year!! Your book sounds like great reading to curl up with this Winter. It's the perfect pairing with a cup of hot chocolate!!
(Peggy Roberson 12:27pm December 26, 2012)
I like putting out the handmade decorations.
(Cheryl McEwen 7:05pm December 26, 2012)
Mine is baking Christmas cookies and gifting them. I just can't seemed to help myself around this time of the year. I tend to be baking a lot more during the Holiday Seasons then the rest of the year.
(Kai Wong 9:20pm December 26, 2012)
My 2.5 year old gson made me an ornament this year. And I have ones the
other gkids made too. Those deserve a prominent place on the tiny tree I
have this year. :)
(Penny Mettert 9:40pm December 26, 2012)
Our house so small, no room for tree, etc. we set out our cards and then
go to a relatives house for Christmas Day. They have a real tree, you can
smell it when you walk in. Yum.
(Susan Falkler 11:47am December 27, 2012)
Well we leave our Christmas tree up all year long...after all, everyday should be like Christmas...but we do take the ornaments down and put them up when the holiday season starts. The finale to the tree decorating is a small gold bird my mom made by hand 45 years ago that goes at the very top.
(p c 10:53pm December 27, 2012)
We bake a homemade cheesecake every year . Tradition is decorate the tree then on xmas eve hang the angel
(Danielle McDonald 1:04pm December 28, 2012)
Registered users may leave comments.
Log in or register now!