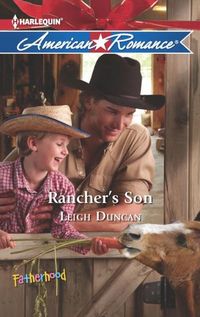 Purchase
Fatherhood
Harlequin American Romance
December 2012
On Sale: November 27, 2012
Featuring: Sarah Magarity; Ty Parker
224 pages
ISBN: 0373754353
EAN: 9780373754359
Kindle: B0092MLBSM
Paperback / e-Book
Add to Wish List

Sarah Magarity just broke the first rule of social work: don't get personally involved. But how can she ignore the orphaned tyke who shows up in her office on Christmas Eve? The chance to make a difference is awfully tempting.
So's the rancher with the sexy smile who might be the boy's father. Still, Sarah has to be nuts to let Ty Parker sweet-talk her into a cattle drive across rugged Florida wilderness.
Ty can't believe he might have a son to carry on his legacy. Still, until the DNA results come back, he isn't making any plans. But a strange thing happens on the open road. Amid rattlesnake scares and cozy campfires, he's growing closer to the boy…and to Sarah, the fiery redhead Ty can't keep out of his arms. They could be a happy family, unless the truth tears them apart…
Comments
48 comments posted.
Re: Rancher's Son

aaa1 great contest
(Kent Cook 3:34am December 6, 2012)
I actually knew Florida was known for its cattle, but a "cattle drive", not so much. For me, when I make my yearly drive to Florida, driving through cattle country is one of the most scenic parts of Florida, it just shows you one part of the state most people don't even realize exsists. And it is beautiful!
(Amy Conley 5:13am December 6, 2012)
A cattle drive in Florida...never heard of it!! but would love to read this book. Thanks for the chance
(Bonnie Capuano 9:17am December 6, 2012)
Good morning! I'm delighted to be at Fresh Fiction today! Thanks for stopping by Kent, Amy and Bonnie! Hope you have a great day!
(Leigh Duncan 10:04am December 6, 2012)
I was surprised that Florida is a large beef producing state.
I would never have guessed this. I don't know any other odd
things about Florida. However, I would love to learn more
about Florida and their "cattle drives." Thanks for a chance
to win this!!
(Rebecca Hagan 11:53am December 6, 2012)
That's interesting! I've never heard of a cattle drive across Florida. I usually think of beautiful beaches, oranges, Disney World, and hurricanes, but not cattle. We never get too old to learn.
(Anna Speed 1:11pm December 6, 2012)
I have several relatives and friends that have retired in Florida. My grandparents were two of them but returned to New York when my grandmother got too sick to take care of herself. It must be the beautiful beaches because all I can think of is the hurricanes.
(Kathleen Yohanna 1:31pm December 6, 2012)
Book sounds interesting,thanks for a chance to win. Merry Christmas to all the Fresh Fiction fans.
(Linda Hall 3:23pm December 6, 2012)
THANKS FOR WRITING AND THIS CHANCE!
(Debbi Shaw 3:57pm December 6, 2012)
Hi, Leigh! I don't really know anything about Florida, except it's beautiful, Disney is there, it's warm throughout the year, and they have hurricanes. Now, I know it's the 3rd largest beef producing state and they raise cattle and have cattle drives. I guess you never get too old to learn. Lol!
(Cathy Phillips 4:25pm December 6, 2012)
I visited Florida many years ago. What I knew then I don't remember now. That's
what age does to you. I never heard of Florida cattle drives. Live and learn. I
have learned something new today. Thank you.
(Sandra Spilecki 4:34pm December 6, 2012)
I knew that Florida was known for their cattle ranches....Black Angus being the major breed. Where there are cattle ranches one might assume (I suppose) there would also be cattle drives. Although it may not be unusual, there are many wind farms there as well generating electricity.
Did you know that in the Tampa Bay area the pirate Jose Gaspar invades every February and takes over the city? Fun is had by all.
(Beth Charette 4:35pm December 6, 2012)
I did know there are many cattle and horse ranches in Florida.
Not coming from there and only having visited a few times,
years ago, I don't know any other interesting facts. Thanks
for the contest.
(Mary Hay 4:43pm December 6, 2012)
It's great to see so many comments and "hear" what everyone thinks when they think of Florida. Yes, we have hurricanes. And beautiful beaches. Disney World and Universal Studios and lots of theme parks. Kennedy Space Center and two of the busiest ports in the US at Cape Canavaral and Miami. Also great fishing, one of my favorite pasttimes. Don't forget the organge groves! And :) lots of cattle ranches and dairy farms.
(Leigh Duncan 5:01pm December 6, 2012)
I didn't know that Florida herded cattle!! I do know, however, that they have a lot of very large bugs there, as well as scorpions, besides the alligators and crocodiles, and have to have exterminators come to their house if they don't want the bugs to encroach on their living spaces. The Keys are supposed to be beautiful. I've never been to Florida, and it isn't on my bucket list. I don't care for bugs, although the heat would be good for my health problems. Congratulations on your book!! After reading about the story line, it sounds like I may even be able to pass it along to my Husband when I'm done with it!! He loves reading books about the West, and even though this is about Florida, the cattle drive would get his attention. Have a great Christmas, and a Happy New Year!!
(Peggy Roberson 5:33pm December 6, 2012)
Never realized cattle was even raised in Flordia, let along have cattle drives. Book sounds like a delightful read.
(Sheila True 6:46pm December 6, 2012)
I did know that there is a lot of beef raised in Florida.
I've been to Florida four times, but only to Disneyworld. My
Dad spent most of his WWII stint in the Navy in Florida at Ft.
Pierce, but he never took us to visit there.
(Diane Sallans 7:39pm December 6, 2012)
I didn't know about all the cattle in Florida; I thought it
was all Disney & sunshine. The only odd things I know about
Florida are all of my relatives that live down there!!
(Christy Keen 8:35pm December 6, 2012)
No, I didn't know about cattle in Florida, The book sounds great.
(Wilma Frana 8:39pm December 6, 2012)
Sounds like a sweet read. I will have to re-evaluate my view on FL. Now that I know there are cattle drives it has more appeal because where there are cattle, there are cowboy and I love all things cowboy.
Good luck and happy writing!
(Tracie Travis 9:55pm December 6, 2012)
I was really surprised, when I read the book description I thought it might
be a mistake. I think the story sounds wonderful and the trek across Florida
should be an eye opener.
(Ann Sheiring 9:57pm December 6, 2012)
I didn't realize cattle was raised in Florida. I'll have to
ask a couple of friends that lives in Flor1da.
(Kathy Fowler 10:05pm December 6, 2012)
LOVE the cover..sounds like a great read...love to win it...thanks and merry xmas
(Kimberly Hoefs 11:39pm December 6, 2012)
I would like to read this book and thanks so much for the chance
(Bonnie Capuano 10:15am December 7, 2012)
Wow, I have never heard of the Great Florida Cattle Drive. I
would truly love to see that because I was raised on a
cattle farm in Kansas and every year we had around 250 head
of cattle on our 1000 Acre Farm and we were treated like the
Cartwright Family on Bonanza TV Show. Your book sounds
fantastic and I would truly love to read it and give you my
feedback from a cattle farmers opinion. Thanks for the
contest. Cecilia CECE
(Cecilia Dunbar Hernandez 10:38am December 7, 2012)
I did not know but am not surprised. We forget a lot of history of the old West. I enjoyed this read. Enter me to win.
jrs362 at hotmail dot com
(Jane Squires 10:49am December 7, 2012)
I found out about the cattle a few years ago when I moved to Florida. Any tidbits I know is from being a tourist and now a resident and from that Weird Florida with Charles Carlson (no relation) and Miss Scarlet. My favorite story and place to visit is The Coral Castle. As legend or story goes a man from nothing in love with a much younger woman, was left at the altar, in his broken heart he built a castle entirely through carving. There is a table in the shape of FL (even had a hole for Okeechobee) and a way to see the stars through rock holes. If you find yourself going to the Keys, a quick stop in Homestead and you will find the place. Also Flagler (whose name came be found from a college to a road in every town) was the man with a vision and his ideas created the state as we know it - a mix of industry and tourism (he was the one with the idea of a train to the Keys and his college can be found in the oldest town in America - St Augustine *guess that was another tidbit).
(Carla Carlson 10:55am December 7, 2012)
Great to have this side of Florida presented.
Blessings,
Marjorie
(Marjorie Carmony 10:56am December 7, 2012)
I'm originally from Texas, so western stories are dear to my heart!
(Sandy Fielder 11:31am December 7, 2012)
I had no idea that any cattle ranches were in Florida. I guess I'd better start reading more about that state.
(Sue Farrell 11:46am December 7, 2012)
Did not know that about Florida... very interesting! Love Cowboys and kids in books... sounds like a book I would enjoy reading! Thanks for sharing!
(Colleen Conklin 12:33pm December 7, 2012)
Seriously, I never would have guessed Florida to be a top beef contender. I always thought Nebraska & Iowa held those titles. I love romance of any type, whether it be Regent England or on a dusty trailride, bring it on!
(Kathy Walsh 12:37pm December 7, 2012)
Wow, we learn something new every day, don't we? Cool! Thank you for the opportunity to win this book
(Felicia Ciaudelli 1:16pm December 7, 2012)
Sounds like a wonderful books to read
(Cynthia St. Germain 1:21pm December 7, 2012)
I never knew about Fla. being a top beef cattle until I moved to a town and met some cowboy's that work on a cattle ranch...I started dating the owner-the funny thing is I can't eat beef but were still dating...love to read your book, have never read you before...love reading about cowboy's or ranchers.
(Carole Fiore 2:45pm December 7, 2012)
I've heard that there are lots of bugs in Florida, including no-see-ums. A lawyer I used to work for said there was a certain vitamin you could take that was supposed to ward them off -- maybe B12? I'm not sure though.
(Michelle Fidler 2:52pm December 7, 2012)
A cowboy is just I need in my stocking. Thanks
(Shelby S 4:17pm December 7, 2012)
I don't know much about FL, we just moved to TX from PA this summer. I do know we both have alot of winter residents though! lol
(Michelle Schafer 5:02pm December 7, 2012)
I know that each spring the state is invaded with "love bugs" little things that get into everything. My aunt and Uncle lived there for years. I went to school at Lake Gibson for about 6 weeks in the '80s. Milk all comes in radiated boxes that can be stored on the shelf-I'd had never heard of this before we lived there. To me milk is always kept in a refrigerated case.
(Carolyn Overholser 7:40pm December 7, 2012)
I knew there was a big cattle population in Florida, because my brother-in-law lives there and mentioned this to me. I was surprised at the time, though because I had no idea! Thanks for the giveaway.
(Martha Lawson 9:56pm December 7, 2012)
Thanks for all the wonderful comments! I've lived in Florida for most of my life, but still learned lots of new things about my home state from your comments!
(Leigh Duncan 8:13am December 8, 2012)
My sister lived in Florida for 25 years; she was a court reporter there and worked long hours. I visited her once and Disney World and was amazed at all the palm trees and orange trees and the humidity in Ft. Lauderdale/Miami. I enjoyed the ocean, which I'd never seen before or walked along! I had no idea that Florida was a big beef producer. It was a beautiful state to visit, but I know of nothing unusual about the state.
(Linda Luinstra 5:44pm December 8, 2012)
When I think of Florida I think of Disney. I was amazed to find out about the large herds of cattle
Debbie Rudder
(Debbie Rudder 8:24pm December 8, 2012)
When I was traveling with a tour group to China, I met several people in my group from Florida. We were talking about our states. One of the tourist in my group mentioned that there is a bed and breakfast placed named WildLife on Easy Street. She said it located on the outskirts of Tampa. This bed and breakfast allows you to cuddle with an endangered cat of your choice for just a $100 donation to the refuge. You can choose baby bobcats, cougars, and leopards. This place has perked my curiosity. Need to find this place when and if I'm in Tampa, Floria.
(Kai Wong 1:34pm December 9, 2012)
I had no idea they had cattle ranches in Florida.
(Rita Wray 4:33pm December 9, 2012)
Cowboys sure are sexy and this is the first I heard of cattle drives down in Florida.
(Alyson Widen 5:46pm December 9, 2012)
I don't know a lot about Florida except that it can get very
hot.
(Mary Preston 7:04pm December 9, 2012)
I'd like to visit the Everglades and see the mangrove swamps. I know the alligators are most usually found on golf courses and when they wander near homes, may have to be collected carefully and removed to safety so they don't eat dogs. I know the avocado pear which grows there was first named alligator pear!
No I hadn't heard much about cattle but I guess the tough ones would do okay. Andalusia is a very warm part of Europe.
(Clare O'Beara 9:17am December 10, 2012)
Registered users may leave comments.
Log in or register now!