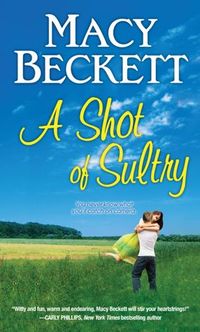 Purchase
Sultry Springs #2
Sourcebooks
March 2013
On Sale: March 1, 2013
Featuring: Bobbi Gallagher; Trey Lewis
352 pages
ISBN: 1402270399
EAN: 9781402270390
Kindle: B00A2XV1FS
Paperback / e-Book
Add to Wish List

Romance | Romance Contemporary
To save her career, TV producer Bobbi Gallagher must return to her hometown of Sultry Springs, Texas to shoot Sex in the Sticks, a piece on single life in rural America. The only problem is getting a single, good-lookin' guy to do the show...
Ex-infantryman Trey Lewis promised his best buddy, Luke, two things: he'd let his sister Bobbi follow him around with a camera, and he wouldn't seduce her. But Bobbi's so uptight she practically squeaks when she walks, and he can't resist pushing her buttons. Bobbi tries to keep it all business, but the scorching looks Trey throws her way are enough to steam up any gal's camera lens...
Sultry Springs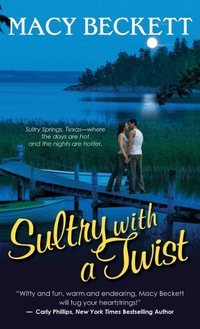 Sultry With A Twist
#1.0
Amazon.com | BN.com | | |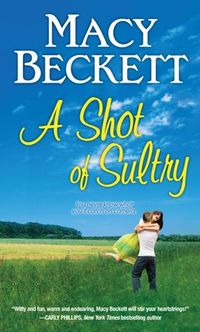 A Shot Of Sultry
#2.0
Amazon.com | BN.com | | |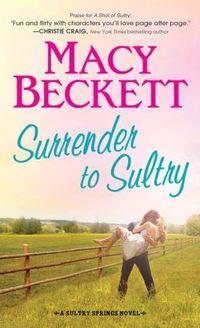 Surrender To Sultry
#3.0
Amazon.com | BN.com | | |
Comments
35 comments posted.
Re: A Shot Of Sultry

intriguing! went to read an excerpt - it's so well written! I could see everything, just as if I were in the book.
(Beth Fuller 9:27pm March 18, 2013)
Love Macy reading. Treys story is terrific. The relationships in the story are really fun. Highly recommended reading.
(Lisa Hutson 9:32am March 19, 2013)
That was so sweet of your husband! The most romantic gift I received from Hubby was a Valentine's Day poem that he wrote and sent to me one year when I was working out of state for the holiday.
(G S Moch 9:49am March 28, 2013)
I'm with you - the most romantic presents are the ones that may not cost a cent but show that your partner in life has realized what matters most to you - like a pair of "work" glasses for me to wear when outside mowing the lawn - to make sure nothing flings up in my eyes while working. I LOVE to be outside and doing lawn work/gardening, so this meant a lot. Your book sounds great - thanks for chance to win. Great luck with it.
(Nancy Reynolds 9:52am March 28, 2013)
I'm a photographer and my friend bought me a mug that looks
exactly like a Zoom Lens! I know it's cheesy, but I loved it!
(Karin Anderson 9:52am March 28, 2013)
The most romantic gift that I ever received was a weekend away
after I had recovered from breast cancer.
(Sharon Berger 10:54am March 28, 2013)
I haven't recieved any romantic gifts. I have gotten thoughtful gifts. My mom didn't want to get me a certain CD that I've always wanted, it was just the Jonas Brothers, who are still my favorite band. My best friend got me the CD for Christmas and I still have it. I love it.
(Meghan Anderson 11:11am March 28, 2013)
When hubby and I first started dating, I was 17 and he was 18. We met in May and he left for college in September. The night before he left, he gave me a gold charm that said I LOVE YOU. He told me it was so I could see every day that he loved me. Still have it 31 1/2 years later. :)

Don't add me to the contest. Already have and read this wonderful book. Just thinking of Trey makes me melt! ;)
(Sue Galuska 11:35am March 28, 2013)
the most romantic gift i have received was from my huband who made up a a presentation of pictures of us together. it was really nice and took a ton of time but i loved it.
(Lisa Fitzgibbons 12:13pm March 28, 2013)
Thoughtful gift.... my sister once gave me a candle making kit... she knew how much I love candles and how creative I am... it was perfect!
(Colleen Conklin 12:31pm March 28, 2013)
Thoughtful as opposed to romantic? My younger brother made me a wooden jewellery box and his then girlfriend made watercolour pictures of horses for the sides and a satin-lined drawer for the inside. It was a fantastic project as we were all just out of school.
(Clare O'Beara 12:33pm March 28, 2013)
Well, a friend of mine gave me a box of hollow point bullets for Christmas last year--so that might qualify as one of the most unusual gifts I've ever recieved!
Most romantic? Nope, not the year I got the vaccuum cleaner (that was also the last time I got a household appliance as a gift, BTW).
The in-line skates were kind of cool, except I was 8 months pregnant at the time.

I think I'm going to have to keep thinking about this one..
(Teri Anne Stanley 1:01pm March 28, 2013)
I can't think of the best gift I have received. That's tough. Nothing nearly as thoughtful as the one you describe.
(Pam Howell 1:53pm March 28, 2013)
The first Christmas after I was married my husband gave me my first bicycle. it was a milestone.
Blessings,
Marjorie
(Marjorie Carmony 2:15pm March 28, 2013)
Before we got married, and before I even knew that we were going to be an item, my Husband bought me a record that reminded him of me and our relationship. That was over 30 years ago, and I thought it was so sweet!! He also had a Birthday Cake made out for me with "Happy Birthday" made out in Chinese symbols, and a little Chinese man bowing on it. He got the symbols from a Chinese man he made friends with that owned a restaurant. I thought it was sweet to go that extra mile. It was one of several special cakes he had made up for me over the years.
(Peggy Roberson 2:21pm March 28, 2013)
My husband is not romantic at all. I can list gifts that were not very thoughtful but I can't come up with a single one that was thoughtful.
(Kathleen Yohanna 2:31pm March 28, 2013)
The most romantic gift I have received is a cd of romantic
duets by a favorite artist. It was a Valentine gift, and I
know he really put some thought into what he was purchasing.
We will NOT talk about the Eskimo joe sweat pants he bought
another time....
(Marguerite Guinn 2:51pm March 28, 2013)
A single rose.
(Rita Wray 3:02pm March 28, 2013)
My sweetheart of 31 years, built our new home six years ago. Just for me. Because I can sit for hours in a hot bath, reading.
(Phyllis Lamken 3:31pm March 28, 2013)
I would say the sweetest thing my husband does, also does not cost any money, he is always supportive of my volunteering or going over board for kids birthdays or classes for something new I want to learn....He is always supportive and I find that incredibly sweet. And yes, I do try to return the support to him as well. :-)
(Lisa Hutson 3:56pm March 28, 2013)
My hubby isn't romantic, but once the night feedings were over with our two boys, he took over getting up at night if the boys ever called out. I was with them during the daytime and also worked in the evenings, so he gave me the gift of sleep.
(Marcy Shuler 4:57pm March 28, 2013)
a flowering tree
(Debbi Shaw 5:37pm March 28, 2013)
A rose bush to plant in our front yard. I had mentioned that I always wanted one, forgot about it and a couple of years ago I came home to a little bush in the yard. I had forgotten but he hadn't. Everytime they bloom I think of the man I married 38 years ago.
(Annetta Sweetko 5:56pm March 28, 2013)
A romantic weekend at a bed and breakfast near the ocean.
(Bonnie H 6:50pm March 28, 2013)
I guess the most romantic gift I ever got was a dozen red roses for my birthday.
(Carol Woodruff 7:02pm March 28, 2013)
A gold pendant with a dragon on one side and a rose on the
other.
(Mary C 8:04pm March 28, 2013)
When my husband and I started dating, he gave me a Neal Diamond album. I just loved it. We have been married for 36 years. Thanks for a chance to win your book.
(Linda Hall 8:13pm March 28, 2013)
The most thoughtful gift that I received was hugs from my cat. My Mom was in the hospital and I was on the phone with my friend telling her what had happened to my mom. My cat heard the distress in my conversation with my friend and started meowing and then she starting hugging me and nipping me to calm me down. She is just an awesome cat. She does this every time I'm upset.
(Kai Wong 9:26pm March 28, 2013)
My most treasured gift is a cross necklace with my daughters birthstone, a few months after her death.
(Sheila True 10:30pm March 28, 2013)
One of the most romantic presents my husband ever gave me was cooking me a candlelit gourmet meal for my birthday and then again years later for our anniversary/valentine dinner. Several courses too.
(Tiffany Gronn 10:33pm March 28, 2013)
My hubby let me sleep in one mother's day, and while I was sleeping, he did ALL the housework, fed the kids, fed the dogs, and brought me lunch in bed. AMAZING!!!
(Donna Holmberg 11:04pm March 28, 2013)
It was Valentine's 2010 when I hear someone knocking on my door. When I open it up I was bombarded with mixed
flowers in a vase, a teddy bear & assorted chocolates. I was so happy even though I kept telling my boyfriend
not to send anything.
(Lazydrag0n Puff 1:00am March 29, 2013)
I think I get thoughtful gifts all the time, when my husband brings me coffee in the morning, when - if he works the night shift- he picks up breakfast, and when I am having a bad day it becomes Movie Night or he makes dinner. I think he celebrates me all the time, even when he has had to go out of state he has hidden letters for me to find around the house (mostly in the garage) for each day he is gone.
(Carla Carlson 10:38am March 29, 2013)
I think the thought counts as points in the long run, but
what counts more is the person who stands behind the gift
when they give it to you. My most romantic gift was a trip
to Cancun, Mexico, for our honeymoon. The hotel had 5 pools
outside and Casablanca restaurant which was superb.
(Alyson Widen 4:45pm March 29, 2013)
Best gift I ever got was a trip to Hawaii.....so long ago, and can still feel this great feeling of being somewhere just so warm and unfamiliar
(C Culp 2:49pm April 3, 2013)
Registered users may leave comments.
Log in or register now!