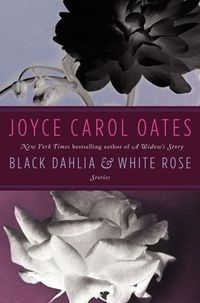 Purchase
Ecco
September 2012
On Sale: September 11, 2012
274 pages
ISBN: 0062195697
EAN: 9780062195692
Kindle: B007JL8RVW
Hardcover / e-Book
Add to Wish List

A wildly inventive new collection ofstories by Joyce Carol Oates that chartsthe surprising ways in which the worldwe think we know can unexpectedlyreveal its darker contours
The New York Times has hailed Joyce Carol Oates as "adangerous writer in the best sense of the word, one whotakes risks almost obsessively with energy and relish."Black Dahlia & White Rose, a collection of eleven previouslyuncollected stories, showcases the keen rewards ofOates's relentless brio and invention. In one beautifullyhoned story after another, Oates explores the menace thatlurks at the edges of and intrudes upon even the seeminglysafest of lives—and maps with rare emotional acuity thetransformational cost of such intrusions.
Unafraid to venture into no-man's-lands both real andsurreal, Oates takes readers deep into dangerous territory,from a maximum-security prison—vividly delineatingthe heartbreaking and unexpected atmosphere of such aninstitution—to the inner landscapes of two beautiful andmysteriously doomed young women in 1940s Los Angeles:Elizabeth Short, otherwise known as the Black Dahlia,victim of a long-unsolved and particularly brutal murder,and her roommate Norma Jeane Baker, soon to becomeMarilyn Monroe. Whether exploring the psychologicalcompulsion of the wife of a well-to-do businessman whois ravished by, and elopes with, a lover who is not what heseems or the uneasily duplicitous relationships betweenyoung women and their parents, Black Dahlia & White Roseexplores the compelling intertwining of dread and desire,the psychic pull and trauma of domestic life, and resonatesat every turn with Oates's mordant humor and hertrenchant observation.

Media Buzz
All Things Considered - September 19, 2012

Comments
No comments posted.

Registered users may leave comments.
Log in or register now!