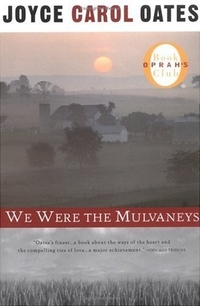 Purchase
Plume
September 1996
On Sale: September 1, 1996
464 pages
ISBN: 0452277205
EAN: 9780452282827
Trade Size
Add to Wish List

Michael and Corinne Mulvaney are the parents of four children: Michael, Patrick, Marianne, and Judd. Living in a picture perfect farm in upstate New York, the Mulvaneys own a successful roofing company; Michael Mulvaney is considered a serious businessman. Corinne is a bubbly, earthy mother whose life revolves around the family unit. For nearly twenty years the Mulvaney clan thrives, admired throughout Mt. Ephraim for being the model family.
On St. Valentine's night, 1976, Marianne Mulvaney, after prom, goes to a party where she becomes intoxicated and is raped by an upperclassman whose father is a well respected businessman and friend of Mr. Mulvaney.
Marianne's rape is the beginning of a tumultuous fifteen-year period. Her father, lost and angry, does not understand why his daughter will not press charges against her attacker. He can no longer look at his daughter the same way, and sends her to live with a distant relative of Corinne's in Salamanca, NY. Marianne, moving haphazardly from place to place, continues to wait for her father to call on her—but he never does.
For the other family members, things continue to get worse. All three of the Mulvaney boys leave home angrily, never to return. One even attempts to murder his sister's rapist. Michael Mulvaney's casual drinking turns into full-fledged alcoholism. Gradually, his reputation as a respected businessman disintegrates. The Mulvaneys are forced into bankruptcy and forced to sell the farm.
Eventually, Corinne and Michael split up. After many years, the Mulvaneys meet once again in a family reunion at Corinne's new home which she shares with a friend. The family has extended to include spouses and children. Finally, the Mulvaneys come full circle and receive closure.
Comments
No comments posted.

Registered users may leave comments.
Log in or register now!