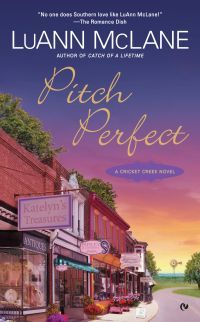 Purchase
Cricket Creek #3
Signet
September 2012
On Sale: September 4, 2012
302 pages
ISBN: 0451237803
EAN: 9780451237804
Kindle: B007T94XA8
Paperback / e-Book
Add to Wish List

Cricket Creek, Kentucky, is a sweet river town known for its theater, shopping, and cuisine. But tough times are crushing tourism—until a hard-swinging baseball team and three hometown heroes begin revitalizing the community one inning at a time.
Determined to prove her independence, Mia Monroe is no longer Daddy's little rich girl. Buying an old car with the last of her money, she sets out for who knows where…until her clunker clunks out in Cricket Creek. With no plan and no credit cards, Mia has to find more resilience than she's ever needed before. And a little help from an attractive new acquaintance wouldn't hurt…
As first baseman for the Cricket Creek Cougars, Cameron Patrick has two jobs: win games and stay out of trouble. If he can do both, he might just make it back to the minor leagues. He knows Mia is trouble from the moment she catches his eye—but he can't stop looking. And maybe her kind of trouble is exactly what he needs.
Cricket Creek
Comments
11 comments posted.
Re: Pitch Perfect

I love LuAnn's books. The romance, humor, settings are perfect! I also love to people watch. I have a bad habit when we go to ball games to do more people watching the game watching. lol
Can't wait to get started on this new book!
(Jodi Shadden 1:07pm September 10, 2012)
I must admit that I'm not familiar with your series, but I'm in love with the name of the town that you chose!! After reading your posting today, and knowing that I, too, can't help but overhear conversations, due to the fact that people don't realize the volume that they're using on the phone and in conversation, I'm sure that I'm going to love reading your books!! I've already put you on my TBR list. Congratulations on your latest book. I think the cover is really gorgeous!! The artist did a bang-up job on it!!
(Peggy Roberson 2:39pm September 10, 2012)
I am guilty of people watching. My brother and I and now my spouse and I have been guilty of playing with the observations - doing our versions of their conversations, giving people backgrounds and personalities. It is a great way to keep up creativity and have a bit of fun.
(Carla Carlson 2:42pm September 10, 2012)
I pick up a lot overlistening to conversations that happen to be near me when I'm around others. Having a writer's imagination, I try to fill in the blanks as the talk goes along. In a Writers' Workshop, I finally learned how to write dialogue when paired up with then professor for an exercise. She was fascinated with how far I can go with an idea. The exercise was kindof like the old parlor game, Telephone, where what you start out saying is nowhere near where it ends up after passing through a few people. We took turns adding to a scene and she said, "You have that stream of conscious thing down." And asked, "How do I do it?" Seeing as I don't do anything and let it flow, I said that it's a natural thing.
(Alyson Widen 3:18pm September 10, 2012)
LuAnn, sometimes people say things in public that are truly amazing. I love
people watching.
(Nancy Northcott 4:23pm September 10, 2012)
LuAnn's books are the best... She keeps me reading her books by using wonderful stories and chaacters that I have come to know and love.. She make you want to be friends with heroine and love the hero... People watching is something I do too and try not to be too obvious about. It's fun.
(Kathleen O'Donnell 11:01am September 11, 2012)
I admit to writing character based work myself and often just have to keep going in order to find out what happens to the people!
I do not watch any soaps which do tend to be contrived for the sake of ongoing drama. But these must be the ultimate in character writing.
If I read a book in which the people are just cardboard cutouts I am not concerned about them. So no doubt your people watching is leading you in the right direction.
(Clare O'Beara 11:52am September 11, 2012)
Doing the stealth-listening thing seems to be a favourite thing of a lot of people. I know that I'm just as guilty of doing it as the next person! The worst time to do it, however, is when I'm out with friends, and we catch each others eyes, and burst out laughing from something the listenee has just said to whomever it is they are talking to, and they figure out that we've been listening in. Can you say embarrassing? But oh, so worth it!!

And the title, "Perfect Pitch"? I assumed it would be about music, because as a professional musician, that's the first connection I make to that terminology. However, the excerpt I read sounded quite hilarious, even without being about music!

Later,

Lynn
(Lynn Rettig 4:43pm September 11, 2012)
I'm constantly amazed by what people talk about in public places!
(Mary C 10:48pm September 11, 2012)
Another book to add to my TBR list and a new author to check out:)
(Barbara Studer 9:41am September 12, 2012)
I'm one those people who love listening to someone's else conversation. If they don't want other people to listen in, they shouldn't be talking about it in public.
(Kai Wong 8:57pm September 12, 2012)
Registered users may leave comments.
Log in or register now!