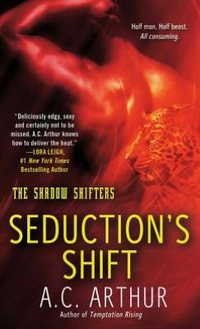 Purchase
Half Man, Half Beast. All consuming
Shadow Shifters #2
St. Martin's Press
October 2012
On Sale: September 25, 2012
352 pages
ISBN: 0312549113
EAN: 9780312549114
Kindle: B007TJ549W
Paperback / e-Book
Add to Wish List

They hide their true nature from the world—part man and part animal—sworn to defend the human race against the untamed beasts among them…
She was his first love, his only love. But trying to rescue his beautiful Ary from captivity is one wild risk no man should take. Luckily, Nick Delgado is no ordinary man. His work in the urban jungle as a high-powered litigator has only fueled his ferocity, enflamed his passion—and sharpened his claws—to protect his mate.
Ary is a born healer who has devoted her life to the tribe—and her heart to Nick. But when the fierce and sadistic Sabar turns his jaguar eyes upon her, Ary becomes the unwilling pawn in a deadly game of shifting alliances. One man wants to use her talents to enslave humanity. The other wants to free her from their natural enemy. If Nick hopes to save Ary, he must unleash the beast within—and fight for the woman he loves…
Shadow Shifters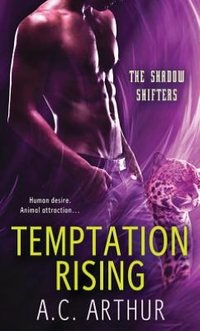 Temptation Rising
#1.0
Amazon.com | BN.com | | |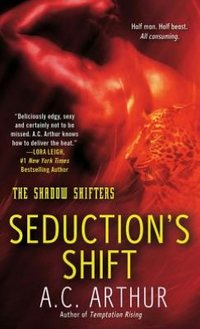 Seduction's Shift
#2.0
Amazon.com | BN.com | | |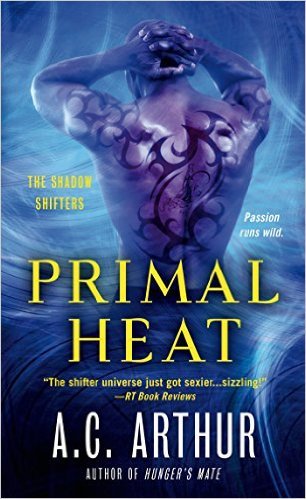 Primal Heat
#6.0
Amazon.com | BN.com | Apple Books | Kobo | Google Play
Comments
32 comments posted.
Would love to win a copy of Seduction's Shift as I love shapeshifter love stories.
(Judy Miller 12:49pm September 23, 2012)
Fantastic story line - I am hooked already!
(Barbara Hanson 5:07am September 23, 2012)
Panthers certainly get my attention. Incredibly beautiful creatures. I can see the appeal.

The series looks amazing. I would love to read TEMPTATION RISING thank you.
(Mary Preston 5:07am September 23, 2012)
I'm definitely a fan of felines so I would enjoy a read of your latest!
I am wondering why you picked Jaguars, which come from South America - is it harking back to the car? That's a lovely car too!
(Clare O'Beara 7:22am September 23, 2012)
A male panther is definitely the essence of "sexy." Not only to a female panther ... this may take in all earthly forms of beings, or maybe only we humans are included in the web of creatures who secretly worship
(Mary Lou Loyanich 9:12am September 23, 2012)
WOW I love to read about shapeshifters and would love to read this series...think I'd start with Temptation Rising!!!
(Bonnie Capuano 9:24am September 23, 2012)
I must tell you that I've never read any books about shape-shifters, because I never thought the stories were believable. After reading what your books are about, not only do I think you chose well as to the names of your characters, but the stories are well-plotted out and are not off-the-wall. Not only do I love the cover of your latest book, but I would love to read it as well. Great job!! I can see why you would choose a panther, too!!
(Peggy Roberson 10:13am September 23, 2012)
I like books where people can shift into something other than the standard wolf.
(Sandy Giden 11:01am September 23, 2012)
I like shapeshifters. Never read about ones that change into panthers. Sounds interesting.
(Pam Howell 11:03am September 23, 2012)
I love shapeshifter stories and there is just something awe inspiring about a panther!
(Christine Mead 11:08am September 23, 2012)
I think your books sound amazing, I would love to win. I love
stories with shape-shifters they are so exciting. Tha k you
(Jane Thompson 11:31am September 23, 2012)
This sounds like a great read.. Thank you for the opportunity..
(Holly Vanderhule 12:01pm September 23, 2012)
Panther shifter--Great! Sounds much better than the average wolf.
(Sharon Extine 12:04pm September 23, 2012)
This looks like an interesting book. The first paranormal romance I read involved feline shifters & I usually lean towards other books about feline shifters because I usually enjoy them. I have never read about panther shifters in particular but I am ready to give them a try. I look forward to reading your book. Thanks for the giveaway & have a great day.
(Chelsea Knestrick 1:31pm September 23, 2012)
Love shifters... panthers are wonderful... all sleek and beautiful. Thank you for sharing... have to keep your books in mind.
(Colleen Conklin 1:35pm September 23, 2012)
This book sounds amazing.
(Kathy Fowler 1:38pm September 23, 2012)
Panthers - Dense sculpted muscles that ripple under a sleek
and luxurious coat, eyes that can mesmerize with deadly and
seductive intensity = WOW, I'm already panting just think
about it.
(Kamla Layne 2:09pm September 23, 2012)
When I was a girl (around 10 or 11), I really wanted to have a black panther as a pet, because I thought they were so beautiful!
(Janie McGaugh 3:23pm September 23, 2012)
Panthers have mysterious eyes and are sleek and beautiful looking. Paranormal romance with panther shifters is very unique. Looking forward to reading your book!
(Linda Luinstra 3:54pm September 23, 2012)
I has been always enthrall by panthers. I even love the other term to describe them jaguars. I love saying jaguar. Of course, jaguar sounds better then typing or writing it.

I just love their sleekness and smoothness of their movements: Calm, seductive, calculating, and deadly, all rolled up into one beautiful yet deadly beast. They are quite an entrancing creature.
(Kai Wong 4:04pm September 23, 2012)
Interesting story line, panthers are a new read for me. Enjoyed your blog.
(Sheila True 4:09pm September 23, 2012)
I LOVE PANTHERS THEY ARE BEAUTIFUL. I LOVE SHAPESHIFTERS
STORIES THEY ARE THE BEST. LOVE YOUR BOOKS THEY ARE MARVELOUS.
(Shelly Caggiano 5:32pm September 23, 2012)
first i got to ask you somthing the cover of the books are they the same person who did it i love the cover and then i love shifter type of boos and read all
(Desiree Reilly 6:18pm September 23, 2012)
Your book reminds me of one of my all-time fav authors, Dean Koontz. Did you draw on his subjects for the theme of you novels? Would love to win this especially for HALLOWEEN! Boo!
(Susan Coster 6:55pm September 23, 2012)
Love em!! There aren't enough panther/panther shifter books!!
(Ashley Applebee 7:39pm September 23, 2012)
i loved the 1st one and i can't wait to read this one!!!!!!!!!!!!
(Jennifer Beck 7:52pm September 23, 2012)
Hi! I think panthers are some of the most beautiful animals in the world, especially black panthers. You are a new to me author, which I love finding. Your books look awesome and I'm putting them on the wishlist!! Thanksfor the giveaway.
(Martha Lawson 10:46pm September 23, 2012)
Heute existierenden 63-j?hrige Sportswear-Marke in der
ganzen Welt in der ersten Linie der Charme und beeinflussen.
PUMA schuhe 6
Generationen, die historische Vergangenheit der Seite einer
Website innerhalb der tollen sportlichen Leistungen zu
schreiben. PUMA begleiten King Billy, um die Fu?ball-
Weltmeisterschaft geben, und Baker, von Tennisspielern
begleitet regieren das Quartier w?hrend der Wimbledon Gras.
Zusammenarbeit mit f¨¹hrenden Sportlern und immer nach dem
neuesten Stand der Technik zu gehen, um die effektivsten
Sportarten Produkte zu machen. Gr¨¹nder Rudolf Dassler G¨¹nstig puma
schuhe deutsche Modell wurde im Jahr 1948 bew?hrt und
seit Jahrzehnten PUMA gehrt zu den wichtigsten Spielern, w?
hrend in der Sport ganzen Welt in j¨¹ngster Zeit zus?tzliche
bl¨¹hende Mischung aus Pop / sports, sprang geliebten Marke
f¨¹r j¨¹ngere ein.
(Wu Anna 3:58am September 24, 2012)
I like Panthers as long as they can't get to me:)
(Sally Hannoush 9:27am September 24, 2012)
I think that panthers are beautiful and lend themselves well to a shifter story.
(G. Bisbjerg 12:03pm September 24, 2012)
Shapeshifters are so cool to begin with - and panthers are such beautiful animals - a cool combination for sure!!
(Felicia Ciaudelli 12:50pm September 24, 2012)
Interesting concept for shapeshifters with panthers as their alter ego.
(Alyson Widen 5:41pm September 26, 2012)
Registered users may leave comments.
Log in or register now!