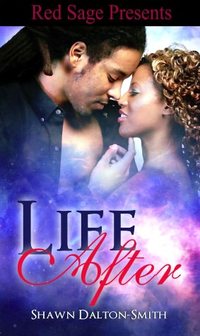 Purchase
Red Sage
June 2012
On Sale: June 1, 2012
ISBN: 0014739224
EAN: 2940014739221
Kindle: B0088BU71U
e-Book
Add to Wish List

Erotic | Romance Erotica Sensual
Kalyste Spradlin had it all. By the time she was thirty, her women's magazine was about to go international. She had money, beauty, youth, happiness, and about to marry the man of her dreams. Until the night before her wedding, she was killed by a drunk driver, her best friend Chantal. When she wakes up in Haven, and told she has to embrace her new life after death, she is hell-bent on revenge.
Jude has been a counselor in Haven for the past thirty-two years when he gets his first tough assignment. A woman who had everything to live for and wants revenge. Jude must help her embrace her new life in Haven. If she doesn't, and decides to seek revenge on the woman who killed her, he will be duty bound to hunt her down once she re-enters the human realm, and kill her. Jude never expected to fall in love with Kalyste, but it will all come crashing down on him. The woman who killed her is his daughter, Chantal.
Comments
20 comments posted.
Re: Life After

I think as time passes it becomes easier to forgive and if you
don't forgive everyone it only hurts yourself.
(Mary Hay 8:48am June 8, 2012)
What Mary said - definitely. This book is definitely on my Wish List - what a great story.
(Felicia Ciaudelli 8:52am June 8, 2012)
Goodness, I will have to find out how you solved that dilemma.
Blessings,
Marjorie
(Marjorie Carmony 9:45am June 8, 2012)
wow sounds so intense would love to read this
(Denise Smith 10:50am June 8, 2012)
Will she ever forgive or just want payback. Sounds like an amazing story
(Shelly Itkin 12:09pm June 8, 2012)
I don't think I would ever get over the fact that my best friend killed me and then married my fiance...no way
(Angie Lilly 12:47pm June 8, 2012)
looks like a great summer sizzler
(Debbi Shaw 3:08pm June 8, 2012)
I think forgiveness is the greatest gift, to both the forgiver and the forgiven. Forgiving is one thing, going on with a relationship is another. Not sure how I'd be. It's interesting to think about though. Good post, Shawn.
(Liz Flaherty 3:13pm June 8, 2012)
Sounds like a great book. I like the twist to it. It takes me a while to forgive somebody (depending on severity).
(Kristin Bingham 5:44pm June 8, 2012)
Sounds really good! It's hard to forgive sometime. Thanks for the chance to win!
(Natasha Donohoo 6:18pm June 8, 2012)
I have to agree with Mary. Carrying such negativity will only hurt in the long run.
(Nacomy Blue 6:52pm June 8, 2012)
Looks like a great read. Thanks for giving me a chance to win your book.
(Linda Hall 6:58pm June 8, 2012)
Interesting quandary, I think I would have to rattle some cages before I forgave either of them.
Good luck and happy writing!
(Tracie Travis 7:06pm June 8, 2012)
i would never date or marry someone my best friend or sister was dating or going to marry!!!
(Jennifer Beck 8:00pm June 8, 2012)
In the beginning, I think it would be hard to forgive Chantal, although accidents DO happen (no pun intended). As for Jude, I haven't read the book, so I don't know how much of a background there is to know how well the two of them really know each other. If there was a chemistry before, I couldn't fault him for wanting to fill a void in his life. I suppose part of it would be how soon after my passing they got married. I would also want him to move on with his life, and I'm sure that he would remember me from time to time, so any anger I might have, would be let go with time. Since I'm supposedly supposed to be in a better place, all I can do now is make the best of where I am, until we meet again someday, and see what happens. I must say that you wrote a very strong story line that makes you stop and think. I can't wait to read your book to find out what happens. I'm sure this is the type of book that I'm going to be passing on to my friends, and recommending to those that don't live nearby. Thank you for writing such a thought-provoking book!! I'm sure it will do well.
(Peggy Roberson 9:29pm June 8, 2012)
That would be really hard. I would like to believe I would do the right thing, but one never really know what you would really do in a situation until you are in it and living the moment. Situations vary and emotions are so intense and fluid. I can't wait to read this one though. What a great concept for a story!
(Patti Paonessa 10:47pm June 8, 2012)
Forgive ...yes, forget NO and really truly sometimes when you are facing that person again the emotions are too raw to stay in check
(Darci Paice 2:05am June 9, 2012)
Your first paragraph reminded me of 'Pack Up The Moon' which I recently read, but then veered off into stranger territory. We are supposed to forgive, but if we do, the offender may just keep up their thoughtless behaviour. I would find it easier to forgive an accidental transgression than one which was deliberate and planned.
You sometimes just cannot help falling in love, or who you fall in love with, and you also cannot be blamed if you fall out of love. Life brings changes. I don't know about your version of the afterlife, if the world was full of vengeful Furies taking it out on people who fell in love, we'd all be too scared to see anybody!
(Clare O'Beara 6:24am June 9, 2012)
Thanks everyone for all of your thoughtful comments. I had to put myself in Kalyste's shoes when writing this. During the scene when she watches the love of her life marry her best friend, I put myself in the chapel, and imagined it was my husband. I cried through most of it.
Luckily, there are no vengeful furies in the story, lol! The people of Haven are all there because of a rare genetic anomally, so they don't go to Heaven or hell when they die. I wish I could say Haven was paradise, but I can't make that claim.
Good luck in the contest. Happy reading!
(Shawn Dalton-smith 9:27am June 9, 2012)
What a way to start a book. Catastrophes get my attention fast and don't let it go.
(Alyson Widen 3:59pm June 10, 2012)
Registered users may leave comments.
Log in or register now!